NEWS
WAIPA visits Poland
The experience sharing visit to Poland by World Association of Investment Promotion Agencies (WAIPA) has just started. This is the third time when Poland hosts the delegation of WAIPA. During the study tour, the representatives of the Association will focus on how investment incentives impact on the inflow of FDI do Poland.

Among WAIPA delegation visiting Poland this week there are representatives of investment agencies from the Eastern Europe and Central Asia countries: Belarus; Kirgizstan; Azerbaijan; Moldova; Turkey; Tatarstan (federated with Russia) as well as Croatia. The delegation is headed by WAIPA executive director Ismail Ersahin who paid a visit to PAIiIZ president Sławomir Majman on Wedenesday, 25 August, to talk about the development of the association that is now working on new strategy and is planning to intensify the cooperation with international organizations.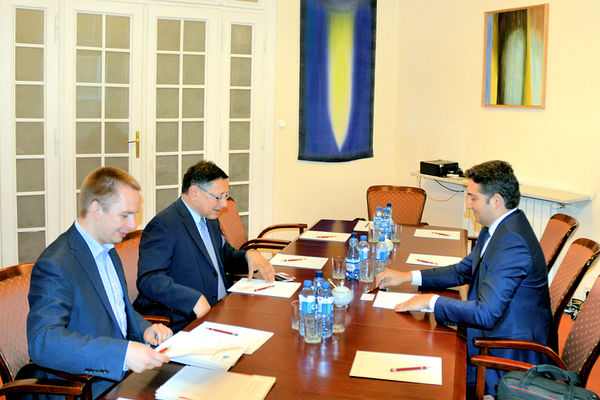 Talks between PAIiIZ president Sławomir Majman and WAIPA Executive Director Ismail Ersahin
This year's WAIPA study tour in Poland focuses on the exchange of experience regarding the incentives supporting the inflow of FDI to WAIPA Member States. Poland presents itself showing the Special Economic Zone offer and opportunities for automotive investors. The visit to Jastrzębsko - Żorska subzone of Katowice SEZ has been arranged for WAIPA members. The delegation will also meet representatives of Wrocław Agglomeration Development Agency and take part in the study tour to investors active in there, including Wabco and Nokia.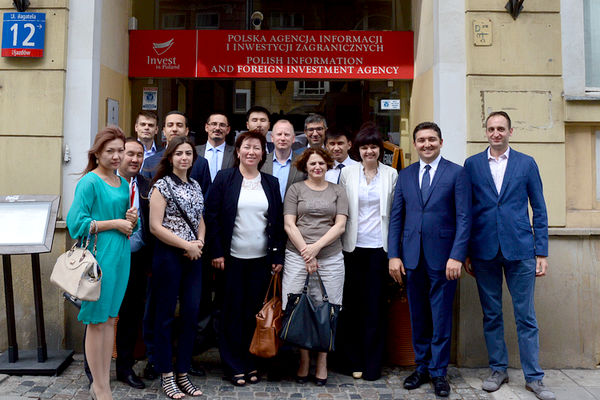 WAIPA representatives in PAIiIZ ( source: WAIPA)
The World Association of Investment Promotion Agencies (WAIPA) is an international non-governmental organization established in 1995 by the United Nations Conference on Trade and Development (UNCTAD) that acts as a forum for investment promotion agencies, providing networking and supporting best practice in investments promotion. The Associations gathers 173 investments investment agencies all over the world. (PAIiIZ)
Government says "yes" for Poland's membership in AIIB
On 25 August, the Council of Ministers agreed on signing the agreement establishing the Asian Infrastructure Investment Bank (AIIB) by Poland. Acting as a Founding Member of AIIB should lead Poland to strengthening economic and political cooperation with Asia and create new business opportunities for Polish companies.

As the Founding Member of AIIB, Poland will participate in decision making of the bank's authorities and due to that it will have a real impact on the bank's strategic actions. Moreover, Poland's membership in AIIB will be useful in creating favourable political climate in diplomatic and economic relations with the whole Asia in the medium and long term.
Poland may become a significant player of the Asian Infrastructure Investment Bank since the infrastructural "One Belt One Road" initiative established by China is developing successfully and Poland is the fist EU country taking part in this project. Restoring the Silk Route that is the main objective of "One Belt One Road" is among strategic areas of the AIIB Bank activities. Therefore, joining AIIB is a great opportunity for Polish companies interested in developing business in with Chinese and Asian partners.
The signing of the Agreement presenting Poland as a Founding Member of the Asian Infrastructure Investment Bank has been planed for 31 December 2015. (Ministry of Finance)
Investments run by PAIiIZ
The next two projects supported by PAIiIZ were finalised. Currently, the Agency portfolio includes 173 investment projects with a total value of €3,760.18m, which may generate 32,274 new jobs.
In terms of country of origin of investors, among the projects serviced by PAIiIZ, the United States still remain the undisputed leader. Currently, the Agency is working on 42 American projects worth €721.31m, which can generate 6,408 new jobs. The second place is held by German investments. 28 projects worth €367.55m may lead to the creation of 4,718 new jobs in Poland. The third position is taken by investors from France that run 12 projects worth €233.2m in total and (1,617 new jobs planned). The "Big Five" closed by Japan (11 projects) and Italy (10 projects).
Among 173 investments run by PAIiIZ the automotive sector dominates (36 projects, €672.75m; 7,724 jobs), business services sector (34 projects, €32.2 m; 8,940 jobs) and R&D sector (15 projects with the total value of €59.6m; 1,625 jobs). The further positions are held by investments from the aviation sector (14 projects), food industry (12), and IT (10).
This year PAIiIZ has completed 31 projects with a total value of nearly €410m that in the future will create 6,619 new jobs. Recently completed project include investments of American company SolarWinds (R&D sector) and US-Canadian concern Heinz (food industry). (PAIiIZ)
MACROECONOMIC POLAND
Exchange rates (as of 27.08.2015):
| | | |
| --- | --- | --- |
| | Buy | Sell |
| USD | 3.6860 | 3.7604 |
| EUR | 4.1938 | 4.2786 |
Source: www.nbp.pl
FROM THE REGIONS
Bydgoszcz - a specialist in IT services
56% of companies providing business services (BSS) in Bydgoszcz represent ICT services sector. Moreover, local ICT centres employ 55% of the city's BSS staff that is the biggest share among all Polish cities. The investment attractiveness of Bydgoszcz and its competitive advantages for BSS sector were presented during PAIiIZ and Hays conference, entitled "Morning coffee with BSS", arrange on 25 August in Bydgoszcz.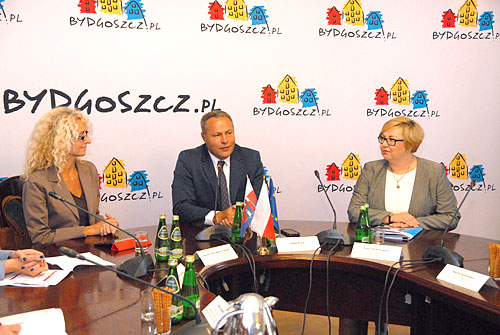 Morning coffee with BSS in Bygdoszcz. From the left: Iwona Chojnowska-Haponik (PAIiIZ expert), Rafał Bruski (major of Bydgoszcz), Edyta Wiwatowska (BARR president )
Over 5,000 people already work in shared services centres located in Bydgoszcz. They all are hired by 24 BSS companies in the city. The majority of them (14) has Polish capital and generate nearly half (2,120) of employment in BSS sector in Bydgoszcz. More than 2,500 jobs in the sector were created within BSS centres from France, which is the largest foreign investor in the city.
"Development of the BSS sector is linked with the access to good quality of human capital and the good environment for doing business. Every year, more than 11,000 well-educated young people enter the local job market, of which approx. 2,300 are IT programmers, and specialists in economics and foreign languages", said Rafał Bruski, the mayor of Bydgoszcz. "The city has discovered the opportunities of BSS in good moment - just when this sector started to look around the country" added Edyta Wiwatowska, president of the Bydgoszcz Regional Development Agency (BARR), noting that the creation of BARR was aimed also in supporting the development of BSS. "Currently 10,000 people study faculties related to the BSS. Investors cooperate with universities, which have quickly started to create postgraduate courses to adapt graduates to local employment market", noted Ms Wiwatowska.
Number, employment and foreign capital present in BSS centres in Bydgoszcz
Good climate for business in Bydgoszcz is appreciated by investors operating in the region. "We are in Bydgoszcz for a long time. This is our only office in Poland. It is as important as other locations in the world," said Maciej Sikora, business development manager at SDL Poland. "In Bydgoszcz we found a very qualified staff. Next year we will need to hire about 150 people more people in the city", added Sikora.
According to Maciej Ruszkiewicz, head of Managed Services Global Delivery Centre at Atos Poland, Bydgoszcz is a good place for investment. " It was worth it to invest here. We plan to develop and to hire another 500 people by the end of the year" said Ruszkiewicz.
The "Morning coffee with BSS" was organized by PAIiIZ Hays, City of Bydgoszcz and Bydgoszcz Regional Development Agency. The next Morning coffee with BSS will be held on Wrocław. (PAIiIZ)
Cooperation agreement with Tarnów

On 18 August, PAIiIZ signed a cooperation agreement with the City of Tarnów. The goal is the economic promotion of the City that should increase its chances in attracting new foreign investments.
PAIiIZ and Tarnow will cooperate under professional preparation of the city for attracting and servicing foreign investors. The project will consist of training regarding preparation of investment offers, collecting and distribution of business data as well as creating and managing databases on the city's economy.
So far, PAIiIZ has signed agreements with 47 cities as well as with the Wrocław Agglomeration Development Agency and the Bydgoszcz Regional Development Agency. (PAIiIZ)
---

Editorial office:
Polish Information and Foreign Investment Agency, 00-585 Warsaw, Bagatela Street 12
Information and Communication Department, tel: +48 22 334 99 49, fax: +48 22 334 99 99,
e-mail:
redakcja@paiz.gov.pl