NEWS
Local authorities from Eastern Poland in Italy
Between November 28th and December 3rd, 2010 representatives of local authorities from Eastern Poland took part in a study tour and an investment mission to Italy.
During their 4-day stay in Italy, participants visited Parma and Rome where they had the chance to get an insight into the workings of Italian business support organisations, state and local administration and a trade consortium. Moreover, participants presented investment opportunities of their regions to Italian entrepreneurs.
In Rome the visit's agenda focused on meetings with representatives of institutions which support the region's development, attract foreign investors to Italy and with associations which gather small and medium-sized enterprises.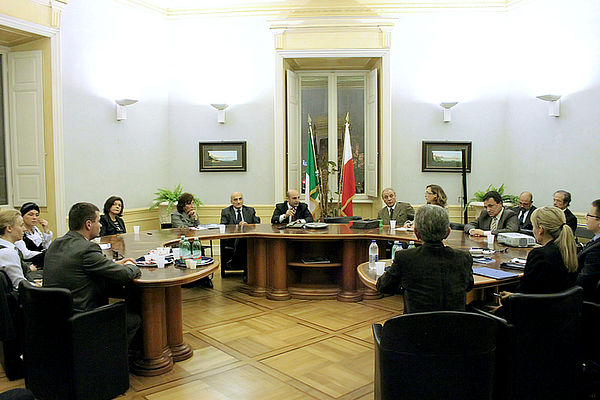 Meeting with authorities of the region of Lazio
Representatives of Eastern Poland could not only get to know the way work is organised in Italian institutions but had also chance to present concrete investment project which could be located and developed in the macroregion of Eastern Poland through meetings with Italian businessmen.
The visit was organised in the framework of the Programme of Economic Promotion of Eastern Poland financed from the Operational Programme - Development of Eastern Poland 2007-2013. (PAIiIZ)
Go to top...
INVESTMENTS IN POLAND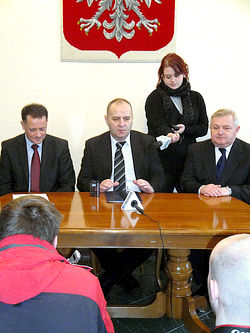 The business activity permission is being presented to Faurecia. From left: President of the SEZ, Artur Malec, Faurecia Managing Director Artur Zieleń and President of Gorzów Wielkopolski, Tadeusz Jędrzejczak
Faurecia invests in Gorzów Wielkopolski
On December 21st, 2010 Faurecia got a permission to make new investments in the Kostrzyn-Słubice Special Economic Zone.
The company, which has for several years now been operating in Gorzów, plans to expand its business and buy two new production lines and a painting workshop thanks to which the investor will be able to produce innovative products - dashboard and door panels for new Mercedes-Benz S-Class and Volvo.
Expansion of production will require further investments in the company's facility infrastructure - enlargement of the production floor, improvements in logistic system, construction of warehouses as well as more workshop and office space.
By the end of 2013 investment outlays in the project are estimated to reach PLN40 million and create 10 new jobs while maintaining its current level of employment i.e. 685 by the end of 2018.
The Faurecia project closes a very good year at the Kostrzyn-Słubice SEZ. In 2010 the SEZ issued 12 business activity permissions according to which new investment projects worth jointly PLN539.5 million will create 2694 new workplaces. The 2010 project will be localised in Kostrzyn nad Odrą, Gorzów, Słubice, Poznań, Karlin, Swarzędz and Stęszew. (Kostrzyn-Słubice SEZ)
Go to top...
Michelin Polska invests in Warmia - Mazury Special Economic Zone
Michelin was granted the business activity permission in December 2010.
The French investor declared to invest at least PLN81 230 000 by the end of 2015. The aim is to increase production from 38,000 tons of tires per year (about 447 000 units), to 50 thousand tons (about 588 000 units) in 2015, which will increase productivity by over 30%.
In Olsztyn Michelin plans to install a prototype of a tire packaging machine which will be made in Poland and will effectively improve the quality and range of products manufactured in the facility. There are plans to introduce two other machines of the type if the first one proves successful.
Ultra Flex tires in Olsztyn will be manufactured with the usage of a new technology. 95% of production will be exported to Western Europe and North America.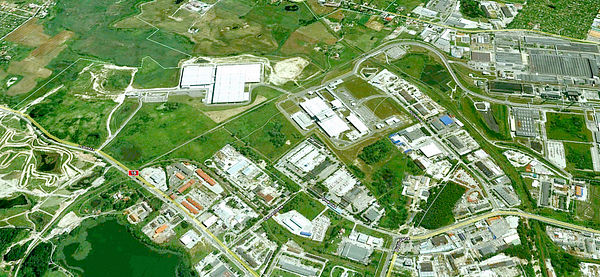 The Michelin facility in Olsztyn
Michelin Poland is one of the biggest employers in the region of Warmia and Mazury which usually suffers from high unemployment rate. The company declared to create 15 jobs and to keep hiring 4,154 by the end of 2015.
The Michelin project in Poland was supported by the Polish Information and Foreign Investment Agency (W-M SEZ)
Go to top...
Norwegian Nevion invests in Tri-city
Investor chose Tri-city due to access to highly-qualified and experienced managers and proximity to its HQ as well as a direct flight connection to Scandinavia.
The fact that the investor has been co-operating with the Gdańsk-based NOTE and TStronic for three years played a part in the decision. - We start now with 15 persons. The employment in Gdansk may rise in the future but this will depend on the market situation in general and the success of the Polish operations during the first years - explains Jacek Małecki, President of Nevion Manufacturing. Nevion offers comprehensive solutions in the field of video data transfer over optical fibre Synchronous Optical Networking (SONET) and Synchronous Digital Hierarchy (SDH), IP and 3G mobile telecommunication. The company provides also signal processing systems, routing services and advanced monitoring, control and management systems.
The Gdańsk-based branch will assemble, test and distribute worldwide advanced telecommunications equipment (audio and video transmission device for TV broadcasters) of the whole Nevion group.
The project is worth PLN 1.000.000. The expected sales volume in the branch for 2011 is EUR6 million.
The Nevion project in Poland was supported by the Polish Information and Foreign Investment Agency (ARP)
Go to top...
The Płock Industrial and Technological Park gets EU funds for development projects
PLN 61.6 million from EU funds will be allocated to the development of Business Services Center and Central Laboratory.
The funds were granted under the Regional Operational Programme of the Mazowsze Region 2007-2013. The agreement on financing the Park's project from EU funds was signed on December 23rd, 2010 by Adam Struzik, Marshall of the Mazowsze regiom and the Management Board of the Park.
Main goal of the project is to build a Business Services Center and a Central Laboratory for investors representing BPO/SSC, R&D and the laboratory sector.
The Business Services Center consist of a Corporate Services Center and a Data Center Complex. The Corporate Services Center will be located in a three-wing Class A building with usable area of 9.500 m2. The Data Center Complex is designed as two separate facilities: first one as the technology facility of Class Tiere III and the second one as the research and administrative Class A building with the area of ca. 2.500 m2. The whole complex is designed in a way which will streamline and help economize on energy thus helping reduce energy consumed by end users, as well as primary energy.
| | |
| --- | --- |
| | |
| Project of the Corporate Services Centre | Project of the Corporate Services Centre |
The Central Laboratory Complex includes two integrated facilities with a total area of 6.700 m2. In the Laboratory Facility of ca. 5.600 m2 labs and analytical workrooms will be located. The remaining 1.100 m2 is intended as a three-storey administrative building.
The project will provide a platform for the development of technological and scientific components tand thus will build a co-operative partnership between entrepreneurs representing the BPO/SSC and R&D sector, including small and medium sized businesses. Thanks to its scale, the initiative will positively influence the region's economy.
The project's promotion among foreign investors will be carried out with active participation of the Polish Information and Foreign Investment Agency (PAIiIZ). The Park in Płock, as the first industrial and technology park in Poland signed a partnership agreement with PAIiIZ on joint marketing and promotional activities that will strengthen the processes of attracting foreign investors representing BPO/SSC sector. (PPPT)
Go to top...
MACROECONOMIC POLAND
Harmonized Indices of Consumer Prices (HICP) for the euro zone in December 2010 stood at 2.2% y-o-y against 1.9% in November, informed Eurostat on January 4th, 2011. Revised final data will be published on January 14th, 2010.

In November the HICP inflation in Poland was 2.6% y-o-y and according to the CPI indices it was 2.7% y-o-y. (Eurostat)


Exchange rates (as of 06.01.2011):
| | | |
| --- | --- | --- |
| | Buy | Sell |
| USD | 2.9279 | 2.9871 |
| EUR | 3.8482 | 3.9260 |
Source:
www.nbp.pl
Go to top...
FROM THE REGIONS
Podlasie Investor Assistance Centre
First contact point for everyone considering investing capital in Podlasie.
The Podlasie COI is the official partner of the Polish Information and Foreign Investment Agency. We were positively assessed and awarded a certificate which confirms high quality of services which we provide to investors interested in our region.
We provide complete support to everyone interested in investing in Podlasie we provide information about the region's economy and its sectors and opportunities.
Therefore we closely co-operate with state institutions, local government units and organizations gathering private entrepreneurs.
We are a four-person team of young and hard-working people with adequate education and good knowledge of realities of our region. We constantly strive to develop our qualifications and participate in saminars and trainings. It allows us to do our work efficiently and offer comprehensive services. We kindly invite you to contact us and visit our website at www.wrotapodlasia.pl/coi. (PCOI)
Go to top...
DID YOU KNOW...?
Outsourcing, Managed Services - good business model for the Polish market
Nokia Siemens Networks consolidates its leading position as a provider of services for the telecommunications sector and other industries.
- The transfer of competence to professional services providers, such as Nokia Siemens Networks allows operators to become not only more competitive, by reducing operating costs, but also gives them the opportunity to compete and become better positioned in the market that is becoming increasingly saturated - says Stephen Cullen Head of Sales, Global Services at Nokia Siemens Networks in Europe. Today Nokia Siemens Networks (NSN) is the second biggest enabler of telecommunications service in the world. - This trend is also more visible in Poland where the telecommunications market is nearly as developed as in the West. Here we no longer have to deal with a growing market but rather a mature one where operators need to focus more on meeting the needs and requirements of customers and offer them the newest products- said Rafal Walczak, Head of the Global Services at Nokia Siemens Networks in Poland.
- Poland is one of the key countries for our company. We plan to further develop the department of professional services in Poland and probably double or triple the number of our employees - adds Cullen. - We are considering the possibility of building in Poland, one of our global operating centres that can handle not only the Polish market, but also our customers in various countries of Europe.
In the area of Outsourcing and Managed Services, it is essential to trust your partner. If the operator decides to transfer part of its infrastructure or network to an external partner, such as Nokia Siemens Networks, it must be confident that they choose a partner with extensive experience, proven capabilities and coverage. References and experience are the best interpretation of the efficiency of the partner.
Undoubtedly Nokia Siemens Networks has an original approach to services and has its own model - Global Service Delivery, thanks to which a company can optimize, integrate and manage customer networks remotely, with a high degree of automation of processes, through Nokia's three centres - Global Newtork Solutions Centers.
Thanks to its innovativeness and activities in the new technology sector, Nokia Siemens Networks, ranks among the most popular employers among students of technology universities and is generally one of the biggerst employers in Poland. (NSN)
Go to top...
---

Editorial office:
Polish Information and Foreign Investment Agency, 00-585 Warsaw, Bagatela Street 12
Economic Promotion Department, tel: +48 22 334 99 49, fax: +48 22 334 99 99,
e-mail:
redakcja@paiz.gov.pl