NEWS
PAIiIZ: First results after mission to Japan
Polish entrepreneurs continue talking with their Japanese business partners and some of them are expected to visit Poland. The OSI Poland Foodworks company has already signed an agreement according to which Polish-Japanese business cooperation will start in April these year. These are the first effects after Polish business mission to Japan which took place between 14-16th of February 2016 and was headed by Mr Radosław Domagalski, Undersecretary of State in the Ministry of Development.
- Meetings in Japan confirmed that both parties are interested in developing economic relations - said Mr Wojciech Pobóg-Pągowski, Director in the Ministry of Development to sum up the results of the business mission to Japan. - We should combine the political scope of the mission with the business one - he added. This opinion is shared by the entrepreneurs and they are convinced that this kind of missions help to create a positive image of our country. As Justyna Dziewota-Jabłońska from the Symbiona company estimated - Tokyo visit was a perfect occasion to develop business contacts with Japanese entrepreneurs. - Economic missions combined with the political aspect increase significantly the level of trust among Japanese companies.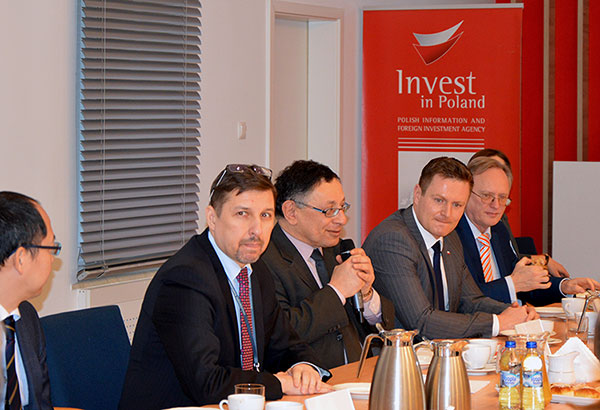 Sławomir Majman: "Japan is becoming once again one of the most important investors in Poland"
Mr Sławomir Majman, President of PAIiIZ, who moderated the meeting assessing the results of the mission, paid attention that Japanese entrepreneurs are more and more interested in establishing cooperation with Polish partners. - Japan is becoming once again one of the most important investors in Poland - he added. (PAIiIZ)
EC winter economic forecast
Gulf Industry Fair in Bahrain
Polish entrepreneurs presented their cooperation offers at the Gulf Industry Fair which was organized between 9-11th of February 2016 in Bahrain.
Poland presented its offer at the National stand organized by the Trade and Investment Promotion Section of the Polish Embassy in Abu Dhabi. The formula of the whole event was a so-called 'one stop shop' and companies represented the following scopes of activities: aluminium production&processing, industrial metal supply, energy and environment protection, industrial processes, logistics and construction of industrial plants, industrial safety and industrial safety trainings.
More information on the fair: www.gulfindustryfair.com/en
Amazon wants to generate over thousand new jobs in Poland
By the end of 2016 Amazon plans to create over one thousand new jobs in Poland - company announced. Right now it employs 4.5 thousand people full time.
New employees will find jobs in three logistics centres located near Poznań and Wrocław, in the Amazon Development Centre in Gdańsk or in Amazon's Web Services office in Warsaw. Amazon hires over 40 thousands people in Europe. Last year the company created all in all 10.000 new jobs on the continent, next few thousands are supposed to come this year.
More information: http://biznes.pl/kraj/amazon-zwieksza-zatrudnienie-w-polsce-tysiac-nowych-miejsc-pracy/44jq28
Clothing's export will grow
Polish manufacturers will be able to use the support from EU's funds, if they focus on innovations.
Polish export of textile materials and other textile products is growing fast. After first three quarters of 2015 the value of the abroad sale of clothing and textiles was estimated at more than 4.62 bln euros. It is by 15.2% more than in the corresponding period of time one year before. Clothing and textiles are one the Polish export specialties. What concerns textiles over a half of production goes abroad. In clothing - almost a half. The export grows mainly due to the orders from EU's markets. The largest recipient is Germany, other significant markets are the Netherlands and Austria.
More information: www.rp.pl/Program-Rozwoju-Eksportu/302089844-Eksport-odziezy-jeszcze-wzrosnie.html
Polish yachts has become popular among the French
France is one of the main markets for Polish exporters. Last year's sales value in this country amounted to 9.17 bln euros in comparison with 8.55 bln in the exact period of time one year before. Poland has also a large surplus in trade flows with France: January-November 2015 it amounted to 3.37 bln euros.
Polish export to France is dominated by highly processed goods, such as: mechanical appliances, vehicles and transport equipment, measuring instruments, tools, electrical equipment and defence equipment. They all make almost the half of export's value. French market is also significant for the Polish yacht's and boat's manufacturers. This luxury industry has become one of Poland's export specialties and France is one of their key recipients. Polish yacht- and shipyards find there purchasers of goods, which value in millions of euros.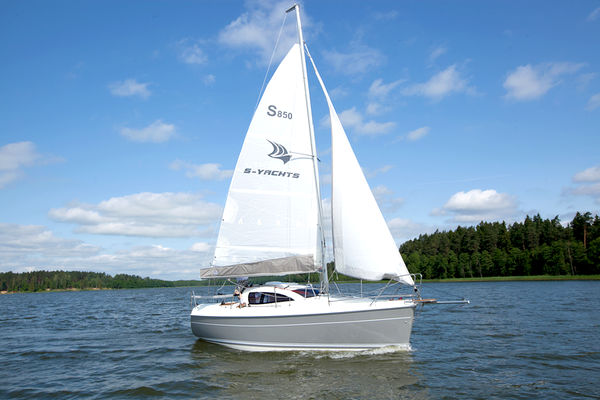 S-Yachts
More information: www.rp.pl/Program-Rozwoju-Eksportu/302039937-Francuzi-polubili-polskie-jachty.html
Polish furniture makers search for new markets
Poland is the fourth furniture exporter in the world. The manufacturers sell their goods mainly to Europe, but they are willing to enter other continents.
Polish producers estimate that last year export's value crossed 36.6 bln zloty. It means that from the beginning of the decade it has increased by over 40% and if compared with mid 90' it nonupled. In global rankings of furniture exporters Poland is placed just off the podium with 6.3% global market share.
More information: http://biznes.onet.pl/wiadomosci/przemysl/polska-to-4-eksporter-mebli-na-swiecie-eksport-mebli-za-36-6-mld-zl/jnn63b
Poland advanced in the Index of Economic Freedom
Poland has made some progress in the global Index of Economic Freedom carried out by The Heritage Foundation and The Wall Street Journal. The country has moved up by 3 positions in year-to-year comparison. This year's index is one further in which Poland has improved.
It is Poland's best result in the history of the index. In this year's report the attention should be drawn to the improvement in the scope of infringements of property, corruption level, business conditions, monetary policy and the freedom of investment. What concerns the size of public sector and fiscalism we do stand relatively poor.
More information: http://biznes.onet.pl/wiadomosci/swiat/awans-polski-w-indeksie-ekonomicznej-wolnosci/lndd1v
The Board of the Kraków Technology Park (KTP) issued two permits for doing business in Kraków special economic zone as two companies Comarch and Alupol Films sp. z o.o. decided to return to the zone with their investments.
Comarch will invest in the Czyżyny subarea in Kraków, where it has run research and development as well as IT activity for years. The company will spend at least 14 million zloty and open at least 15 new jobs. In turn, Alupol Films, a part of the Alupol Packaging group being a branch of Grupa Kęty, has received the second permit for operation in the Oświęcim subzone of the Kraków Special Economic Zone. By 2022, Alupol Films will have invested from 90 million to 117 million zloty. The investment aims at increasing the operational capacity for production and enhancement of synthetic foils.
More information: www.kpt.krakow.pl/wydarzenia