NEWS
PAIiIZ has been supporting 172 investment projects
Currently Polish Information and Foreign Investment Agency is supporting 172 investment projects. The biggest number of investors comes from the USA. The 39 American projects currently served by the Agency are jointly worth EUR 1.21 billion and are expected to generate 8982 jobs.
The other two most numerous groups are formed by the British (18 projects, EUR 355,6 mln, 6158 jobs) and the Chinese investors (14 projects, EUR 244,5 mln, 3031 jobs).
Among the most active investors there are also Germans (12 projects) and South Koreans (11 projects).
As for the sectors, it is the automotive industry that attracts the greatest number of projects - 30 projects which may generate 14266 jobs and are jointly worth EUR 2,3 bln, and the machine industry - 15 projects, which are jointly worth EUR 705 million and may generate 3611 jobs.
Foreign investors are continuously interested in ICT (10 projects), chemical (8) and R&D (8) sectors.
In 2011 the Polish Information and Foreign Investment Agency closed 28 projects worth EUR 854 million. The projects will generate 7014 jobs. (PAIiIZ)

Go to top...
Agreement between PAIiIZ and Czech Invest
PAIiIZ has signed a memorandum of cooperation with its Czech counterpart - Czech Invest.
Both parties committed to cooperate in order to increase mutual investments and to support Polish-Czech business contacts.
The Agencies will exchange economic information, promote business potential in both countries, support new forms of investment cooperation between Poland and Czech Republic, provide information on promotional events such as fairs, conferences and exhibitions, exchange experience in conducting business.
The Memorandum was signed on the 29th of July 2011 by the President of Polish Information and Foreign Investment Agency, Mr Sławomir Majman and the Managing Director of Czech Incest, Investment and Business Development Agency, Mr Miroslava Křížka. (PAIiIZ)
Go to top...
New regional flights
Eurolot introduces new flights: from Krakow to Poznan and Szczecin, and from Rzeszów to Szczecin and Wroclaw.
The flight from Krakow to Szczecin is expected to last 90 minutes. This will allow the residents of Western Pomerania and tourists form Germany visiting the region to go for a weekend trip to the capital of Malopolska. - During the winter we would like to provide at the airport in Krakow busses for passengers arriving from Szczecin (and Gdansk) which will take them directly to Zakopane - says Mariusz Dąbrowski, President of Eurolot. Planes between Krakow and Szczecin will run twice a day, in the morning and late evening on Mondays, Wednesdays and Fridays, while on Mondays and Fridays with a stopover in Poznan. This route was designed especially for business passengers. Flights between Krakow and Poznan will commerce already in mid September.

Source: Eurolot
From October the company will launch other domestic flights: from Rzeszów to Szczecin (on weekends) and to Wroclaw - on Mondays, Wednesdays and Fridays.
Domestic flights in Poland are becoming more and more popular. According to Jacek Balcera - Eurolot's spokesman, regional flights between Krakow and Gdansk launched in mid July 2011 are very popular and the average number of passengers on this rout reaches 90 present.
Eurolot SA is a subsidiary of the State Treasury of Poland. Until now it provided flights for PLL LOT and charters. (Eurolot)
Go to top...
PAIiIZ takes part in XXI Economic Forum in Krynica
XXI Economic Forum takes place on Sep. 7-9th in Krynica Zdrój. "European dilemmas: partnership or competition" is this year's edition catchphrase. PAIiIZ organizes a panel discussion dedicated to relations with China.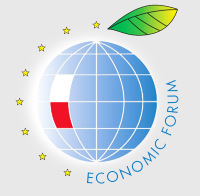 The Krynica Economic Forum works as a consultation platform for politicians, businessmen, scientists and journalists from European countries, especially from Central-Eastern Europe. The aim of the Forum is to promote and to create friendly ambience for development of economic, scientific, technological and cultural co-operation between European states.
In the framework of the Forum, on September 7th, Polish Information and Foreign Investment Agency under the patronage of the Foundation Institute for Eastern Studies organizes a panel discussion: "China- Central-Eastern Europe". The aim of the panel is to present the investment climate in the region in the context of the development of the economic cooperation with China. Is Asia becoming a major world power? What does it mean for CEE countries? Have they already lost their chance? Should we be afraid of China? Is it possible to take advantage of the emergence of the new player on the economic world map?
Experts invited to the discussion panel will try to find the answers to these questions , Mr Sławomir Nowak, Secretary of State in the President of Poland Office, Mr Gyorgyj Nyikos, Secretary of State in the Ministry of Development of Hungary, Mr Rafał Baniak, Undersecretary of State in the Ministry of Economy, Mr Hongtao Wang, Vice-Secretary of China Industrial Overseas Development & Planning Association and professor Dariusz Rosati. (PAIiIZ)
Go to top...
Poland in a Japanese guide
Information about eight Polish voivodeships will be published in one of the most popular Japanese guides. Authors of the guide have visited Poland collecting information and taking photographs.
The Japanese guide will be published in a very popular series "Gem Stone". These guides are characterized by a very attractive form: a lot of high-quality photographs, practical information and interesting details.
Due to limited space, only couple of most important places has been chosen. In general Japanese reporter crew visited 8 out of 16 Polish voivodeships.
The selection of the places to be visited was consulted with the Polish Tourism Centre in Tokio, and reflects current interests and trends in tourism to Poland. It also shows unknown (or barely known) places, which due to the opinion of Diamond Big and POIT publishing houses, have the biggest chances to become embedded by Japanese tourists.
The publishing house pointed out Warsaw, Cracow and other places listed by the UNESCO as World Heritage Sites. (ROTW/LROT)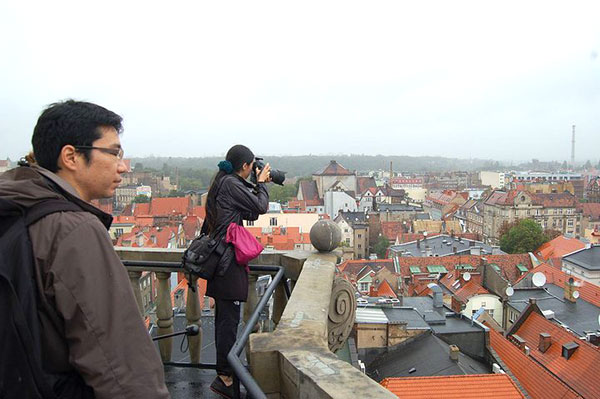 Source: Poznań Local Turistic Organisation
Go to top...
ANALYSES AND REPORTS
Poles choose public transport
The global Reader's Digest's poll "How do you get to work" shows that in most of the countries car is the most frequent mean of transport on the way to work. Poland stands out with the 50% of respondents choosing the public transport.
"How do you get to work" - this question was asked to respondents from all over the world, from South Africa to China. Even though we declare our support to clean environment, we complain about the fuel prizes and traffic jams, we still choose our own car.
The biggest number of people using cars can be found in South Africa (87%), US (80%) and Malaysia (72%). In Poland - only 34%.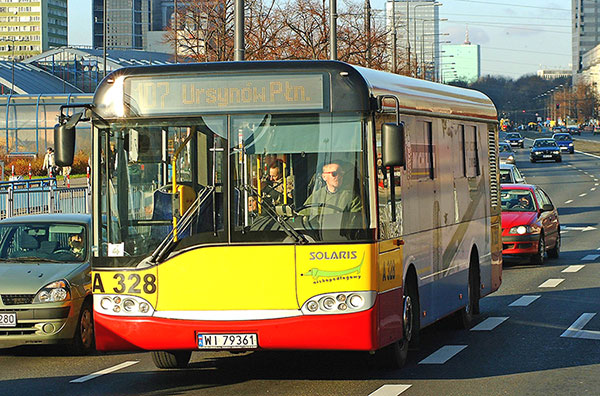 Author: G. Rogiński
Bicycles are chosen by Indians (33%) and Dutch (30%). In Poland only 6% of respondents have chosen bicycles. Walking to work is popular among Spanish (47%), Romanians (28%) and Russian (24%). Poles are not so fond of walking, only 10% of us go to work on their foot.
What distinguishes us is popularity of the public transport. 50% of Poles use this kind of transportation. (EuroRSCG)
Go to top...
MACROECONOMIC POLAND
Exchange rates (as of 18.08.2011):
| | | |
| --- | --- | --- |
| | Buy | Sell |
| USD | 2.8134 | 2.8702 |
| EUR | 4.0817 | 4.1641 |
Source:
www.nbp.pl
Go to top...
DID YOU KNOW...?
Polish games awarded
Three Polish computer games awarded during the prestigious European Games Awards.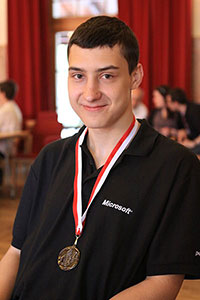 Dariusz Świercz (Source: Witold Chylewski, Wikipedia)
The Witcher2 created in CD Projekt Red studio won in three categories including "Best European Gamedesign", "Best European Gameworld" and "Best Special Edition". In the "Best European Game" category The Witcher2 got the second prize proving to be one of the most outstanding games of 2011. The authors of the game - CD Projekt Red were ranked second in the "Best European Studio" category.
The other Polish game, Bulletstorm from People Can Fly Studio was appreciated for its soundtrack, game design, game ambient and the expansion pack (Bulletstorm: Gun Sonata). It also scored high in the "Best European Action Game" category. People Can Fly Studio itself has been ranked 8th among European computer games studios.
Techland Studio's new game Dead Island was listed among the most expected games of 2011. It is going to be released after the summer 2011.
- IT sector, and computer games particularly may become our best export product - said Mr Waldemar Pawlak, Deputy Prime Minister and the Minister of Economy during the meeting with the authors of the computer games Witcher 2 and The Book of Elm. The meeting took place in the Ministry of Economy on the 12th of August.
Over half million people have taken part in the voting. The Europen Games Awards show proceeds the most important computer games event in Europe: Gamescom fair which has started on the 17th of August in Cologne, Germany. (CD Project Red/ www.european-games-award.com/)
Go to top...
17 years old chess master from Poland
Polish chess player Dariusz Świercz, won the gold medal during the World Junior Chess Championships in the Indian city of Chennai. Darek is the first Pole to win the title in the 61 years of the event's tradition.

The end of the tournament was stunning: Darek scored 5,5 points out of 6. Such a score is a great achievement of the Polish player, especially if we bear in mind how tired he was after all the matches. Other players, including titled Russians, could not keep up with such a pace.
Darek's success was the result of his own hard work but also of a special training program that started back in 2010. This program combined efforts of Darek's parents, involvement of his club - Polonia Votum Wrocław, and the co-operation of Polish Chess Association with Microsoft company.
Darek received financial support i.a. for the special sessions with the top chess trainers. - The fact that Darek achieved such a success already in the second year of the special training conducted by Polish Chess Association with the support of Microsoft proves that Polish youth has great potential in such fields as informatics and mathematics. - said Jacek Murawski, General Director of Microsoft Poland.
World Junior Chess Championships has marked the starting point for the great careers of such chess players as Boris Spassky, Anatoly Karpov, Vishy Anand or the great Garry Kasparov.
Dariusz Świerszcz has many times won championships of Poland, he also has been awarded during the Europe and the World Championships. During last year's edition of the World Junior Chess Championships Darek won the bronze medal. (PZSzach)
Go to top...
---

Editorial office:
Polish Information and Foreign Investment Agency, 00-585 Warsaw, Bagatela Street 12
Economic Promotion Department, tel: +48 22 334 99 49, fax: +48 22 334 99 99,
e-mail:
redakcja@paiz.gov.pl