NEWS
Mission to Ethiopia - challenges & potentials
A mission to Ethiopia, under the leadership of Sławomir Krużmanowski, PAIiIZ member of the Board has been launched as a part of governmental programme "Go Africa". During the Polish - Ethiopian seminar which took place in Addis Ababa on 18 November, Polish companies from machine, mining and energy sectors were trying to win new investment and commercial contracts on the market, which is considered to be challenging.

Co-organized by PAIiIZ, the meeting has enjoyed a high interest among entrepreneurs. Both representatives of local business communities and experts from consulting companies invited to the seminar were advising the Polish companies how to do business in the Eastern Africa effectively.
- Ethiopia is considered to be a tough market, however business here, if conducted skilfully, might yield profit - said Getu Jemaneh of Deloitte consulting company. In his opinion, mostly companies from Turkey, China and India have gained a strong market position there. He also noticed a growing interest in Ethiopia among European business partners. EU companies, including those from Poland as well, can count on participation in many projects dedicated to development of African economy that are co-financed by EU or UNIDO.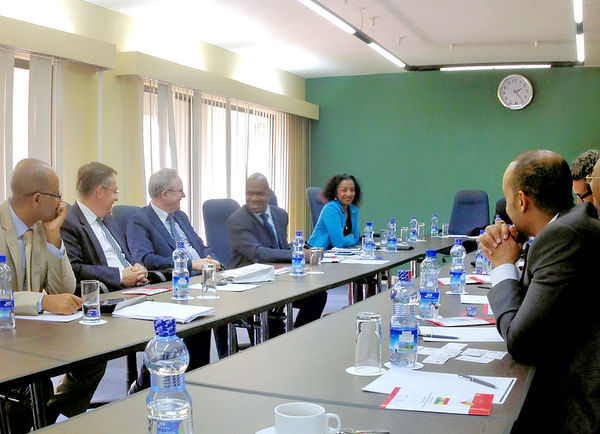 Doing Business in Ethiopia seminary
More information: www.paiz.gov.pl/20151119/mission_to_ethiopia_challenges_potentials. (PAIiIZ)
Doing business in Malaysia
How to invest effectively in Malaysia, despite cultural and geographical differences was discussed on 17 November, during the meeting entitled "Business and investment opportunities in Malaysia". The workshop co-arranged by PAIiIZ was held in Warsaw and.
According to PAIiIZ expert, ambassador Maciej Górski, Malaysia is Poland's important business partner in Asia. "Poland and Malaysia have very similar long-term goals. Both Poland and Malaysia are striving to enter a group of highly development countries", he said. Poland exports to Malaysia mechanical and electronic and optic devices as well as metal products, and food. However, the majority of trade exchange between Poland and Malaysia goes via Singapore. Poland would like to change it by improving direct business contacts, Górski argued. "Since two years, PAIiIZ has organized two business missions to Malaysia: in 2014 dedicated to Polish defence sector and in 2015 to food and machine sectors", said Maciej Górski.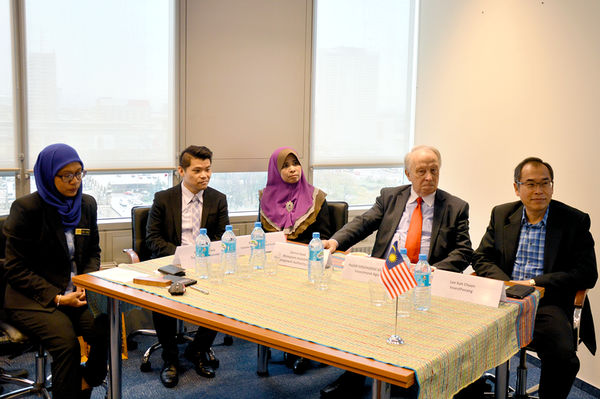 Maciej Góski: "Poland and Malaysia have very similar long-term goals"
Malaysia is one of the fastest growing economic in the world. In 2014, Malaysia reported economic growth a 6% and has become one of the most developed countries in the South-East Asia.
More information: www.paiz.gov.pl/20151117/doing_business_in_malaysia. (PAIiIZ)
PAIiIZ and CCIIP are starting cooperation
China Council for Interactional Investment Promotion signed a memorandum of understanding with PAIiIZ. Polish side was represented by PAIiIZ deputy president Sławomir Krużmanowski while CCIIP was represented by the deputy general secretary Li Shaojun.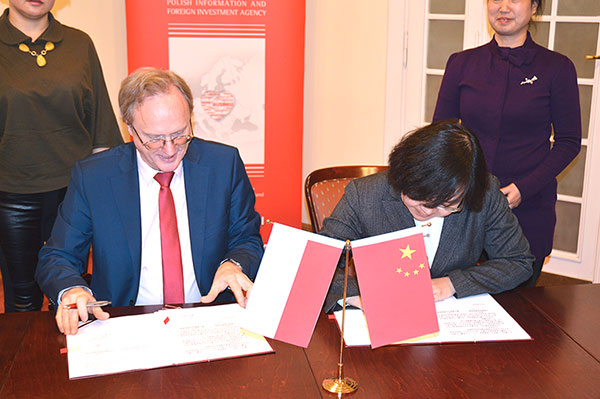 Signing the MoU between PAIiIZ and CCIIP
According to the agreement, two national agencies will provide researches, exchange information on crucial sectors of Polish and Chinese economies, investment opportunities and law regulations. Cooperation will be also focused on organization of Polish - Chinese exhibitions, economic missions and other investment marketing projects. Chinese agency is especially interested in Polish food industry, ICT and BPO sector.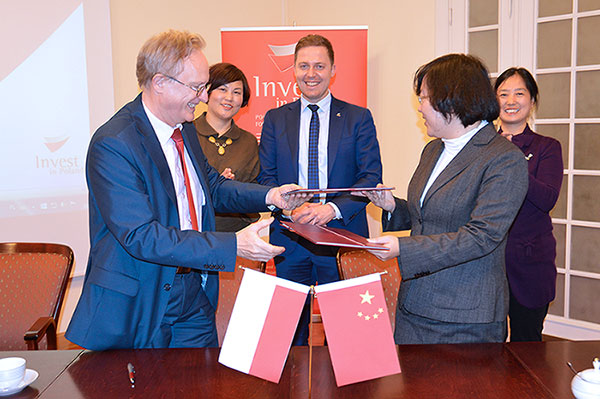 Signing the MoU between PAIiIZ and CCIIP
More information: www.paiz.gov.pl/20151117/paiiiz_and_cciip_are_starting_cooperation. (PAIiIZ)
Hunting for new investors in Germany
In the middle of November, the mission of PAIiIZ experts focused on acquiring new investors from Germany has started.
Germany is the first biggest economic partner of Poland and one of the biggest investors in the country. The position of Poland's western neighbour is reflected in the portfolio of investments supported by PAIiIZ. With 20 investments worth €306.3m, Germany has the biggest - just after the US - number of projects supported by the Agency. German investors are active in Poland mostly in automotive industry. PAIiIZ experts visited Germany to encourage new companies from the production sectors to enter Poland. The negotiations were held in Hamburg, Hannover, Cologne or Stuttgart.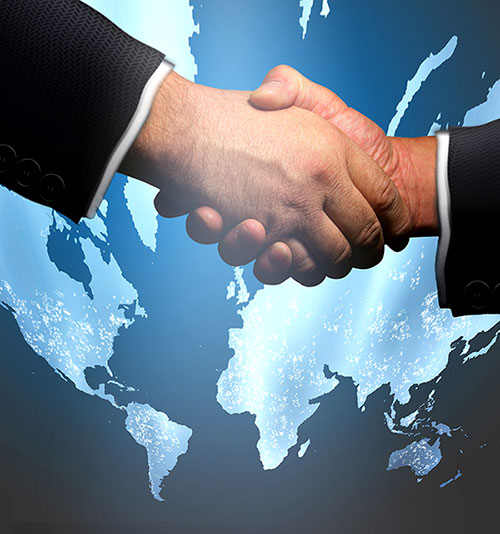 © Robert Mizerek - Fotolia.com
In the next days another business mission of PAIiIZ experts will leave Poland. This time the Agency will present Polish companies in China. The business mission will be arranged by PAIiIZ and will join the official delegation of the president of Poland Andrzej Duda. (PAIiIZ)
Wierzejki expands to Great Britain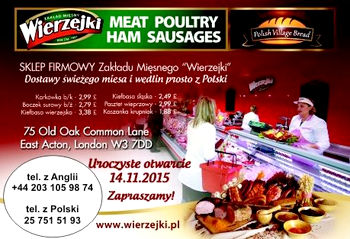 On 14 November Polish meat producer has opened its first shop in London. Until recently, "Wierzejki" products have been present on British market since 3 years, however, the company sold them only through external partners.
"This is our first shop in London and a foothold for further expansion in Great Britain", declares representative of the company, Adam Zdanowski. In the coming years, the company plans to open another 10 units in various cities in the UK. Speaking with PAIiIZ, Zdanowski also noted that "Wierzejki" will continue to distribute its butchery products by external exporters. "The synergy of both business models is the most beneficial for us", he added.
Meat is one of the main food products exported from Poland to the UK. According to GUS data, last year the British consumed Polish meat worth PLN 2.4 bn in total. (PAIiIZ/Wierzejki)
W-M Glass invests in WM SEZ
Operating in Warmia and Mazury SEZ since 2000, W-M Glass has received a permit to reinvest within the zone. The value of project will reach PLN 5m.
W-M Glass will extend the production hall and buy new technological line to manufacture product made of glass. Project will be competed in 2020. (Ministry of Economy)
Logistic hub in Pomerania SEZ
In Pomerania Special Economic Zone, Flextronics International Poland is building a new logistic and production facility. The object will have over 9,000 m2.
The centre of Flextronics International Poland has been adapted to manage and distribute products manufactured in the neighbouring production halls. Flextronics International Poland cooperates with companies in the telecommunications, industrial, mining and consumer electronics. (Ministry of Economy)
MACROECONOMIC POLAND
Exchange rates (as of 20.11.2015):
| | | |
| --- | --- | --- |
| | Buy | Sell |
| USD | 3.9320 | 4.0114 |
| EUR | 4.2096 | 4.2946 |
Source: www.nbp.pl
EVENTS
Poland - real estate investment opportunities
BPCC, PAIiIZ, Polish Embassy in Great Britain, JLL and Cushman&Wakefield invite all to join the "Poland - real estate investment opportunities - commercial, industrial and retail". The meeting will be held in the Polish Embassy in London on 26 November.
Poland's economy continues to demonstrate robust growth despite the sluggish economy of the euro zone and Russian sanctions. GDP is expected to grow by 3.5% this year and at a similar pace next year. New foreign investments continue to stoke the shared services/BPO, IT and R&D sectors. Poland's regional capitals have low vacancy rates and demand for quality space, and a young (and increasingly choosy) workforce wants better offices to work in.
The meeting will be conducted in English. Participation is free of charge for BPCC Members and invited guests.
Registration available by: http://bpcc.org.pl/en/events/poland-real-estate-investment-opportunities-commercial-industrial-and-retail. (BPCC)
27 factors shaping investment climate in Poland
PAIiIZ invites all to take part in presentation of the survey regarding the investment climate that was provided by Grand Thornton and HSBC among foreign investors in Poland.
During the survey, respondents were asked to assess 27 crucial factors that might shape the investment landscape in Poland.
The presentation will be held on 3 December in HSBC headquarters (Rondo 1 building in Warsaw).
Registration is available until 1 December by: www3.paiz.gov.pl/konferencje/?investment_climate_2015&lang=en
5th Report on R&D+I in Poland
Crido Taxand has prepared a report on Support for R&D + Innovative business activity in Poland. The presentation of the report will be held on 25 November in Warsaw. PAIiIZ took the patronage over the event.
During the meeting, three upcoming trends supporting innovations will be presented by Crido Taxand's experts. We also welcome you to join the panel discussion between foreign experts and representatives of the Ministry of Economy, PAIiIZ, Crido Taxand, National Centre for Research Development, MJWPU, Polish Agency of Enterprice Development, EIT+, TechBrainers, on how the UE supports the R&D activity in Poland.
Join the meeting on 25 November, at 12:30 in The Centre for Innovation and Technology Transfer Management of Warsaw University of Technology (ul. Rektorska 4).
Participation of free of charge. There is limited number of sits.
To register, visit: http://techbrainers.com/open-innovation. (Crido Taxand)
ANALYSES AND REPORTS
IT professionals want to work in Poland
According to Antal's report "IT@PL" on the IT labour market in Poland, IT specialist are interested in continuation of their career in Poland rather than in going abroad. When looking for new employer, they like more to choose prestigious companies than those that offer them better salaries. The results of the survey conducted under PAIiIZ patronage were presented on 19 November.
One fifth of Polish programmers is not interested in looking for job abroad. Furthermore, 34% of them have never worked outside Poland. However, if asked about factor that would push them to work abroad, the vast majority of IT professionals mentioned 'money' as the crucial condition (72%). When considering emigration, Polish programmers are looking for new opportunities to improve their skills (50%) while 30% of them would like to experience new business environment. Antal also asked the respondents about the country they would like to go to. The closest destination in the Western Europe occurred to be the most attractive for them (72%).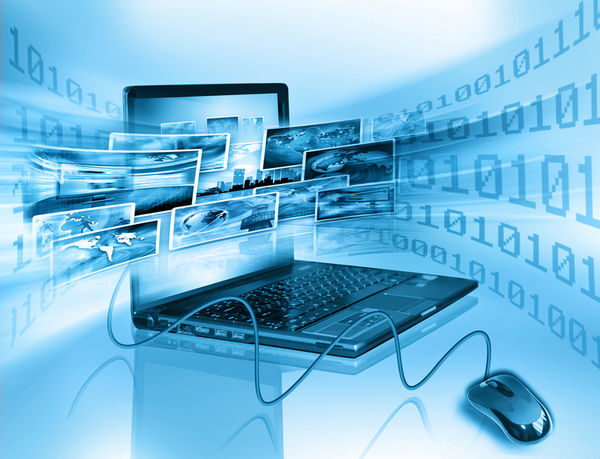 © Victoria-Fotolia-com
According to Michał Szaraniec, PAIiIZ expert, IT sector is one of the fastest growing in Poland. Today, the internal IT market is matured and covers not only metropolitan areas. Also medium and smaller cities as Bielsko-Biała, Koszalin or Zielona Góra seem to be a very fast growing IT centres as well.
More information: www.paiz.gov.pl/20151119/it_professionals_want_to_work_in_poland. (PAIiIZ)
FROM THE REGIONS
Graphene research centre opened in Warsaw
Centrum Grafenu i Innowacyjnych Nanotechnologii (Centre of Graphene and Innovative Nanotechnology) was opened in Warsaw. It will work within Institute of Electronic Materials Technology.
The Centre is a specialized institution providing research into graphene, photonic crystals and nanocomposites. The first stage of the project has been completed in the middle of November 2015. For €9m the institute purchased the most modern equipment and modernized laboratories of ITME. The new R&D equipment will allow scientists from Warsaw to cooperate with research centres from all around the world. In the next stages of the project, the new headquarter of the centres will be built. It will consist of several specialized laboratories.
The total estimated budget for the implementation of graphene centre is to reach €30m. The majority of the project is co-financed by the European Union
ITME is the leading Polish Institute working in the multidisciplinary area of research and development of materials and innovative devices and components. (ITME/PAIiIZ)
DID YOU KNOW...?
Global Entrepreneurship Week also in Poland
This year the whole world is celebrating the Global Entrepreneurship Week that focus 10 millions of people all-around of the world.
The Week gathers people in 145 countries who want to change the world by their creativity. Everyone has opportunity to explain his or her idea and find an angel of business. People, who have never thought about their own business before, can also meet the top, world-class businessmen like Richard Branson, Michael Dell or Muhammed Yunus.
Also Poland joined GEW. About 2,000 events including workshops, seminars and lectures has been scheduled. For more information visit: www.tydzienprzedsiebiorczosci.pl/#wydarzenia
---

Editorial office:
Polish Information and Foreign Investment Agency, 00-585 Warsaw, Bagatela Street 12
Information and Communication Department, tel: +48 22 334 99 49, fax: +48 22 334 99 99,
e-mail:
redakcja@paiz.gov.pl