NEWS
New Base of Co-operative Projects
The new PAIiIZ Base of Cooperative Projects gathers information on projects run by Polish communes, towns, regions and enterprises.

The Base of Co-operative Projects is a kind of Internet platform which enables entrepreneurs, representatives of local administration, foreign investors and other interested parties transfer and get information on possibilities to buy or sell properties, join a project, and about projects run in the frame of public-private partnership.
All the interested parties are invited to register and publish their offers on:
www.paiz.gov.pl/investment_offers
(PAIiIZ)
Go to top...
B2B meetings for companies active in the IT/ICT sector from Eastern Poland and Israel
The Polish Information and Foreign Investment Agency invites companies from the IT and ICT sectors to take part in matchmaking session with companies from Israel. The session will take place on March 29th, 2011 in Warsaw.
There are already 20 companies from Israel which applied to take part in the session. Profiles of the applicants are available after registraion at:
http://www.enterprise-europe-network.ec.europa.eu/public/bemt/registration.cfm?eventid=2588&layout=3
The session is open only for entrepreneurs who have been running business in one of the 5 regions of Eastern Poland for no less than 5 years. Each company may be represented by the maximum of 2 employees. Applications will be accepted by February 27th, 2011.
Rules and regulations of the session, registration form and the rest of required materials are available at:
http://www.paiz.gov.pl/o_agencji/przetargi_ogloszenia/polska_wschodnia/misje
For more information please contact: Anna Krasoń, anna.krason@paiz.gov.pl
(PAIiIZ)

Go to top...
Polish-Ukrainian Memorandum of Understanding
On February 3rd, 2011 the Polish Information and Foreign Investment Agency together with the Polish-Ukrainian Chamber of Commerce and the Ukrainian State Agency for Investment and National Projects signed a Memorandum of Understanding and Co-operation.
| | |
| --- | --- |
| | |
| From left: Vladislav Kaskiv, the Ukrainian State Agency for Investment and National Projects; Jacek Piechota, the Polish- Ukrainian Chamber of Commerce and Sławomir Majman, President of the Polish Information and Foreign Investment Agency | President of Ukraine - Wiktor Janukowycz and President of Poland - Bronisław Komorowski |
The purpose of this Memorandum is to determine the practical trends of co-operation for stable business relations development between the Parties, to determine cooperation procedures that shall contribute to the realization of mutual aims in the investment sphere in Ukraine and Poland. (PAIiIZ)
Go to top...
Products from Eastern Poland on the International Green Week in Berlin
This year's International Green Week in Berlin was attended by 8 food producers from the macroregion of Eastern Poland.
The International Green Week (IGW) is a one-of-a-kind international exhibition for the food, agricultural, and horticultural industries attended by 1600exhibitioners from over 50 countries. This year's edition was a special event for Polish participants because Poland became the IGW's Partner Caountry. The event was attended by: Marek Sawicki, Minister of Agriculture and Rural Development, ministers of agriculture from other countries and representatives of a variety of institutions and delegations from the sector. The majority of exhibition stands presented regional or national products. Visitors could not only try products presented by exhibitors but could also buy them.
During the first two days of the fairs the well-know Polish chef Karol Okrasa was preparing traditional dishes from Eastern Poland.
The stand of Eastern Poland gathered together representatives of OCTIM Wytwórnia Octu i Musztardy from Olsztynek, UREN NOVABERRY from Lublin, Przetwórnia Owoców i Warzyw Robert Kowalkowski from Lubawa, Przedsiębiorstwo Handlu Zagranicznego KASOL J.A Kazberuk from Białegostok, EDPOL Przedsiębiorstwo Produkcyjno-Handlowe Export-Import Edward Dąbrowski from Łomża, Przedsiębiorstwo Usługowo-Produkcyjno-Handlowe MONROL form Mońki, LACTIMA from Morąg and NERO from Lublin.
Participants took part in the fairs thanks to the Programme of Economic Promotion of Eastern Poland co-ordinated by the Polish Information and Foreign Investment Agency in the framework of the Operational Programme - Development of Eastern Poland. Measure I.4 Promotion and Co-operation. (PAIiIZ)
Go to top...
INVESTMENTS IN POLAND
New business activity permits in the Bytom Odrzański subzone
The first 2011 permission to invest in the Kostrzyn-Słubice SEZ was granted to "Dried Flowers" Export-Import-Produkcja.
This is the company's third permission and the 191st permission issued by the SEZ. The new investment project will help the company introduce pellet on the market. Pellets are a type of wood fuel, generally made from compacted sawdust, straw, canola straw and other plants.
"Dried Flowers" has been producing decorative articles from natural materials and finishes the production process with natural leftovers, including sawdust and straw. Moreover, the company has natural resources and plans to use the material to manufacture pallets and sell them to distributors. The company will also buy natural raw materials form local farmers. The final product will be biofuel used to generate energy.
In the agreement concerning the business activity permission "Dried Flowers" Export-Import-Produkcja declared to increase the current level of employment and to invest at least PLN 1.700.000,00. The project is expected to be finished by the end of 2015. (Kostrzyn-Słubice SEZ)
Go to top...
Bridgeston Diversified Products Poland in the Wałbrzych SEZ
Bridgeston Diversified Products Poland was granted the permission on January 18th, 2011.
The investing company will construct a factory and produce Ethylene Vinyl Acetate plastic foil. The company will invest PLN130 mln and create 67 jobs. The project is scheduled to be finished by the end of 2013.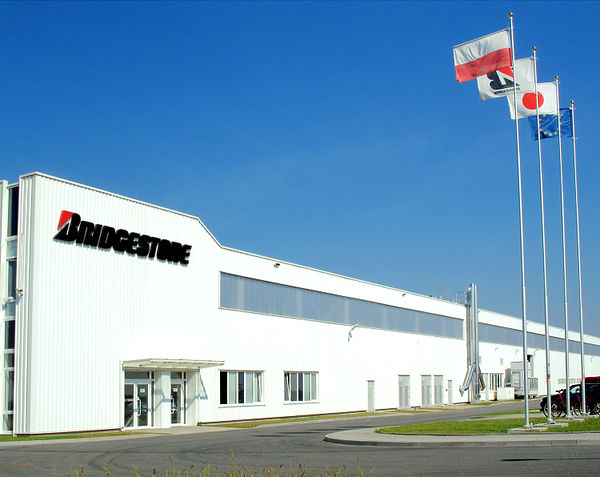 Brigestone production floor
In the facility the company will expand its operations and will focus on the production of the Ethylene Vinyl Acetate plastic films. The EVA plastic film is used mainly in the production process of photovoltaic (PV) panels which are used in the production of solar panels which have been widely used in the last few years. Some 10% of the output is planed to be distributed among producers of laminated glass.
The production line which will be installed in the new facility in Żarów will be the third line of the type in the Brigestone Corporation Group's global facility structure. Due to the fact that it will be equipped with the latest solutions designed by the Group's R&D centre, the Poland-based facility stands a good chance of becoming the leading provider of solar panels in Europe.
The investment is located in Poland thanks to the commitment of the Polish Information and Foreign Investment Agency.
(Wałbrzych SEZ)
Go to top...
Winkelmann gets its 3rd permission to invest in the Legnica SEZ
This is the 96th permission issued by the SEZ.

Winkelmann produces mainly water heaters and components for the car industry. Winkelmann plans to construct and install with modern equipment its new facility which will be located within the Legnickie Pole subzone and wants to expand its production plants in the Legnica subzone. The company is the third biggest, after Sitech and Volkswagen, employer in the Legnica SEZ. Now Winkelmann has over 100 employees in its five factories.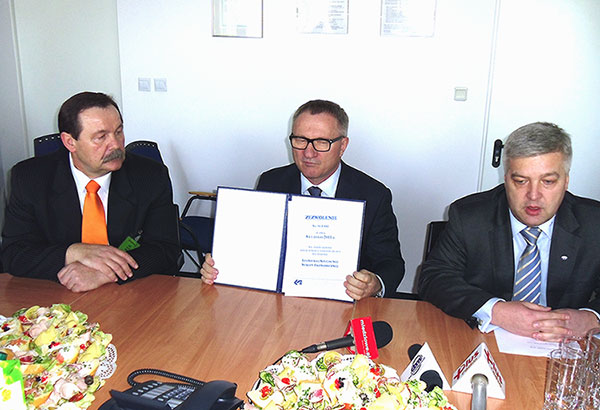 From the left: Aleksander Kostuń, Head of the Legnickie Pole commune; Alfred Jerszyński, Dorectorrof Winkelmann Poland and Adam Grabowiecki, President of the Legnica SEZ
The new operation will involve an investment of PLN120 mln and will result in the increase of the current employment level up to 990 by the end o f 2016. (Legnica SEZ)
Go to top...
New investment in the Starachowice SEZ
ARGUS received the permission to invest in the SEZ on February 1st, 2011.

ARGUS wants to create a new factory in which the company will produce fresh and preserved pastry products. The facility will be located in the Morawica subzone near Kilece.
By the end of 2014 planned investment outlays should equal PLN1 920 000. The company declared to increase employment to at least 12. (Starachowice SEZ)
Go to top...
MACROECONOMIC POLAND
Direct investments of Polish companies abroad as of December 2010 equalled EUR1.1 bn.

Polish entrepreneurs are more and more inclined to spend their money abroad. - If the trend continues we will see Polish capital groups grow abroad in 2011. This tendency shows that our companies and more and more competitive - says Małgorzata Starczewska-Krzysztoszek PhD, senior economist at PKPP Lewiatan (PKPP Lewiatan)


Exchange rates (as of 24.02.2011):
| | | |
| --- | --- | --- |
| | Buy | Sell |
| USD | 2.8069 | 2.8637 |
| EUR | 3.8742 | 3.9524 |
Source:
www.nbp.pl
Go to top...
FROM THE REGIONS
Forecasts for dynamic expansion of companies from Dolny Śląsk

Dolnośląskie - it is a good place to do business. Wrocław and the voivodship are high in rankings of places friendly for entrepreneurs and are granted awards from business organisations. Good climate creates favourable conditions to attract international companies the list of which is long and includes several dozen corporations from a worldwide shortlist.
They are accompanied by local economic operators which are often their co-partners. According to the Regional Statistical Office at the end of 2010 in Dolnośląskie Voivoidship there were registered 330.6 thousand market operators a large number of which are modern, resilient and ambitious companies which apart from aspirations also have a development potential. The climate of Dolnośląskie which facilitates economic activities is supported by institutions appointed by local self-government and voivodship authorities which do not hesitate to cooperate in this field with non-governmental organisations and scientific units. The Wrocław Agglomeration Development Agency, the Economic Cooperation Agency of Dolny Śląsk, the Wrocław Research Centre EIT+ have in their portfolios a number of interesting projects the effect of which is a longer and longer list of companies operating in Dolnośląskie Voivodship and an increase of their competitiveness also in the field of implemented innovations.
With such a base of qualified workers (but in comparison to other parts of Poland, not the cheapest ones) and taking advantage of the natural argument related to the neighbourhood of Germany and the Czech Republic, economic operators from Dolny Śląsk more and more willingly and without complexes make plans to expand their activities across the country and abroad.
Will 2011 facilitate development of ambitious companies? What sectors are most likely to be successful? What benefits can a merger or consolidation with other market operators bring? How to finance expansion? How to prepare and enter a new and unknown market? Where to look for support, including financial and legal assistance? How much does it cost?
Answers to these questions will be given by panellists and speakers at the seminar "One step ahead" which will be held ... in the Hotel Monopol in Wrocław.
The seminar is another meeting within the series "Prospects in Poland" promoting Polish cities and their business environment.
The aim of the conference in Wrocław which will last half a day is to:
analyse potential of local companies in the process of development and expansion

talk over the policy of the authorities of Wrocław and Dolnosląskie Voivodship on supporting development of local business

present companies which operate in Dolny Śląsk and make large steps on the road of success

discuss ways of expansion and improving competitiveness of local companies on the Polish and foreign markets

present feasible options of financing development and expansion for the sector of small and medium-sized companies

define the most important challenges related to organisation, logistics and law for companies which want to expand their activities.
To the group of presenters we have invited representatives of the most important institutions of the local self-government in Wrocław and Dolnośląskie Voivodship which cooperate with business. The seminar will be also attended by advisers from the best global consulting companies, lawyers, financiers and experts of business organisations. Equally important guests will be representatives of companies which operate in Dolny Śląsk.
target=_blank
For more information please visit: www.bluevine.pl and www.prospectsinpoland.com
(Bluevine Consulting)
Go to top...
DID YOU KNOW...?
Advantages of external employment
The Polish labour market is very dynamic. While in the first half of 2010 the country experienced a strong employers' market, the last quarter of the year saw more and more sectors feel the emerging employees' market.

The Polish labour market resembles more and more labour markets of developed countries. That is why external employment and temporary work has become a part of everyday life. This type of work has been erroneously associated with the least qualified workers. This association results from the fact that this flexible form of employment first appeared in Poland at the beginning of the 1990s when the temporary work agencies were mainly helping recruit temporary workers in mass quantities for menial work e.g. in times of increased production. - Undoubtedly demand for temporary workers in the production and processing sectors largely depends on the time of the year and other factors but in the case of people on medium land higher levels it has a lot to do with them feeling more independent - explains Justyna Mazur from Antal International.
More and more companies tend to take advantage of this kind of employment and are thus able to better adjust employment level to their real needs. - Due to the growing interest in this form of employment Antal International has been implementing new services connected with temporary work, outsourcing and contracting. (Antal International)
Go to top...
---

Editorial office:
Polish Information and Foreign Investment Agency, 00-585 Warsaw, Bagatela Street 12
Economic Promotion Department, tel: +48 22 334 99 49, fax: +48 22 334 99 99,
e-mail:
redakcja@paiz.gov.pl