NEWS
Katowice among the leaders of BSS in Poland
PAIiIZ data show that there is a growing number of foreign companies that are interested in opening IT service centres in Poland. This is a good news for Katowice, which has become the second - after Warsaw - biggest centre of business services sector in Poland, argued experts of the Agency during the press conference entitled "Morning coffee with BSS" that was arranged on 15 July.
Poland has a mature market of business services sector. Located around Katowice conurbation is the second biggest BSS hub in Poland. "With 83 companies, the Katowice Agglomeration holds the second position on the podium, following Warsaw, where currently 133 BSS centres operate", argued Iwona Chojnowska-Haponik, director of the PAIiIZ Foreign Investment Department, at the conference in Katowice. Among the most popular processes implemented in the Katowice there are: accounting, customer, HR and finance services.
| | |
| --- | --- |
| | |
The region has also become an important ICT centre for global companies. According to PAIIIZ and Hays's data, software development is the most important business process offered in Katowice and represents 47% of all services provided there. Currently, in the Katowice Agglomeration there are 33 ICT service centres, which hire more than 4,000 specialists. According to PAIiIZ expert, Rafał Szajewski, still, insatiable IT market is one of the big advantages of ITC market in Katowice. That is why the city can expect the rapidly increasing popularity among investors from this sector.
"We are the fifth on the Polish investment map of business services sector in terms of the number of employed people", said Bogumił Sobula, deputy major of Katowice. Local BSS market employs 15,000 highly educated specialists with fluency in foreign languages - mainly in German and French. Also Katowice Special Economic Zone operates there and offers vast range of various office space for any investor. Katowice is well connected with the entire country. There are three airports in close distance to the city. Katowice's City Hall offers flexibility in adjusting public transport to the needs of investors.
More information: www.paiz.gov.pl/20150715/katowice_among_leaders_of_bss_in_poland. (PAIiIZ)
INVESTMENTS IN POLAND
179 investment projects in PAIiIZ portfolio
Portfolio of investments supported by PAIiIZ has been enriched with 11 new projects, while another two investments have been successfully finalised. Currently, the Agency runs 179 projects worth over EUR 3.17m in total. If all are completed, 3, 371 new jobs can be created.
The majority of foreign entrepreneurs who are considering investing in Poland, represent: the automotive sector (37 projects), BPO (33 projects) R&D (17), aviation (14), food industry (13) and IT (10). In terms of value of planned investments, the automotive industry (€704.15m), food industry (€532.72m) and ICT (€250.36m) dominate.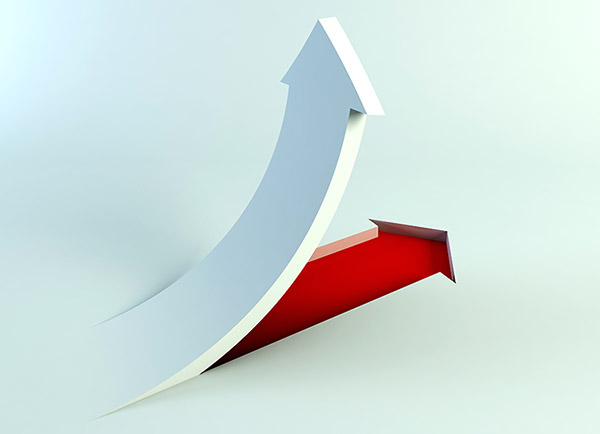 auris - Fotolia.com
In terms of the country of origin, US maintained its leading position with 46 projects (€862.31 m, 7,519 jobs planned), followed by Germany - 29 projects (value of €324.65m, 4,516 jobs planned). Third place is held by French investments (12 projects worth €233.2 m, thanks to which 1,617 new jobs may be generated). The other places are held by Italy and Japan - respectively 11 and 10 projects. (PAIiIZ)
New jobs in Bolesławiec
Over 50 new people will be employed by Favorite Gifts Print Europe that will operate in Bolesławiec in a warehouse built by the Wałbrzych SEZ. The investor will spend PLN 9,5m on that purpose.
Favorite Gifts Print Europe is a Duch, family-owned advertisement producer. The company has been operating in Holland and Belgium. Until now 20 people has been employed in Bolesławiec. "Many young people from local community returned from Ireland or Great Britain to work and develop with us", comments Paweł Zech, MD of Favorite Gifts Print Europe in Bolesławiec.
This is the eight company operating under Wałbrzych SEZ in Bolesławiec. The total value of investments established there is PLN 220m. 490 people have been working the Bolesławiec sub-zone which is located on the German border. 54 hectares of the investment plot still waits for new investors. (INVEST-Park WSEZ)
Pomeranian Special Economic Zone: PLN 104m in the first half of 2015
Seven new business permits were issued by the Pomeranian Special Economic Zone, during the first half of 2015 the zone. Due to that the zone recorded PLN 104m of the capital inflow.
Construction of new production facilities was announced by: manufacturer of steel doors KL Poland (value of investment PLN 17m; 122 new jobs planned), BAUS AT, which plans to start production of vehicles for special purposes in Łysomice for PLN 13m, as well as Normex. In addition, GDA, intends to spend nearly PLN 16m and launch manufacturing of innovative composite membranes using natural properties of minerals in the sub-zone in Gdańsk Kokoszki. Within the sub-zone in Stargard, SPG Poland is going to start the production of packaging, investing PLN 28m and creating at least 20 new jobs. Investments in new production lines were declared by Plastica (value of investment PLN 20m; 30 new jobs planned). Moreover, Mueller Candle Factory decided to start a business in a warehouse facility rented from Grodzisk Logistics Poland in Pomeranian Special Economic Zone sub-zone - Łysomice.
As a result of seven new investments in the first half of 2015, 122 new jobs are supposed to be created in the SEZ. (Ministry of Economy)
Investment in Warmia-Mazury Special Economic Zone
Vivenge received permit to conduct business activity in Warmia-Mazury Special Economic Zone. The value of investment is estimated at PLN 1.7m. The project is supposed to generate 10 new jobs.
Vivenge's investment plan consists of construction of production and service facility, where regional logistics centre will be created. The company produces and distributes promotional and functional components, as well as exterior signage and furniture. (WM SEZ)
MACROECONOMIC POLAND
Exchange rates (as of 16.07.2015):
| | | |
| --- | --- | --- |
| | Buy | Sell |
| USD | 3.7345 | 3.8099 |
| EUR | 4.0929 | 4.1755 |
Source: www.nbp.pl
EVENTS
Morning coffee with BSS. Poznań and Lublin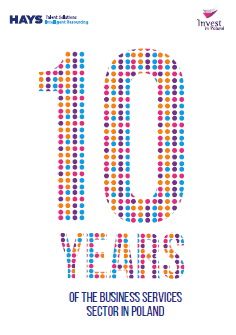 PAIiIZ and HAYS Poland invite media to join "The Morning Coffee with BSS" press meeting. After successes in ŁódĽ and Katowice, we invite you to join us on 21 July in Poznań and on 23 July in Lublin.
What makes two cities - Poznań and Lublin - from two different parts of Poland attractive investment destination for BSS sector? How BSS projects impact on the cities' development, creation of new jobs and improvement of life quality?
Those questions will be answered on 21 July in Poznań City Hall (Kolegiacki 17 Squere; Sala Błękitna) by: representatives of the Poznań City Hall - deputy marshal Mariusz Wi¶niewski; director of the City Hall Investor Centre Marcin Przyłębski as well as deputy president of Franklin Templeton Investments Krzysztof Bronisz and PAIiIZ and HAYS experts.
In Lublin, "the Morning coffee with BSS" press conference will be held on 23 July at 11:00 in the Lublin City Hall (Władysława Łokietka 1, room NO24) with the presence of PhD Mariusz Sagan - director of Strategy and Investor Service in Lublin City Hall. Media accreditation is available until 20 July 10:00 by marta.chalupka@lublin.eu. (PAIiIZ)
Health start-up accelerator submissions closing on 19 July!
Vertical The Health Accelerator from Finland is looking for startups transforming the health and wellness industry. Are you the next success story we can invest in?
The Accelerator provides startups with a 4-month accelerator programme, helping to validate business, make product appealing, find trial customers and distribution partners for growth.
After the programme, participants are invited to use the Vertical co-working space for next 2 months, and continue to get direct access to strategic corporate partners, mentors and investors in health & wellness.
By the end of the programme, the Accelerator will invest up to 150 000€ in the most promising startups.
The programme starts in autumn 2015 and applications are accepted until 19 July.
Find out more, and apply at www.vertical.vc. (Słupsk SEZ)
ANALYSES AND REPORTS
Poland is one of the most sustainable economies in Europe
NBP economists forecast that in next two years, Polish GDP growth will reach from 3.4 to 3.6%. Director of the Economic Institute of National Bank of Poland, professor Andrzej Sławinski states that Poland's economy stepped onto the path of long run sustainable growth.
The "Inflation Report" from July, prepared by the Monetary Policy Council emphasizes that last year in Poland, only one indicator - out of 11 ones European Commission uses to assess imbalances in EU countries - recorded the rate beyond safety limit. This makes Poland one of the most stable economies in Europe, in a macroeconomic sense. For the first time since 2004, Polish figures show positive balance on current account, with foreign trade surplus as a key factor of this result. Moreover, for the first time, the unemployment rate fell below the threshold limit. Since years, Poland experiences now the highest recorded levels of employment and stable growth in productivity, reducing unit labour costs. (NBP)
FROM THE REGIONS
Triple promotion of Podlaskie
For the third time, during EXPO 2015 Podlaskie province promotes its business offer. First presentation took place between 11-17 May during the Week of Eastern Poland, the second was held under of Polish Tourism Week. Now, its time for Podlaskie Province Week in the Polish Pavilion at EXPO 2015 under the slogan "#Podlaskie.Fuelled by nature", which lasts until 19 July.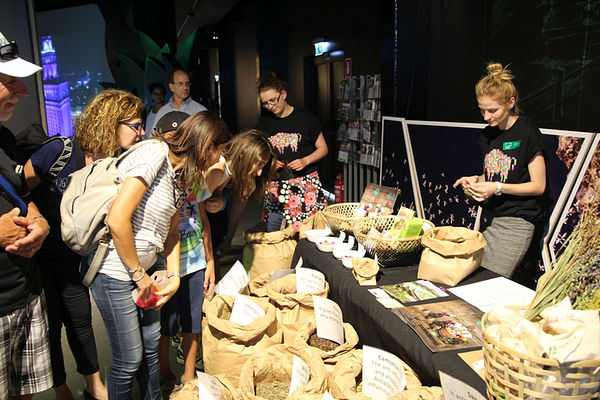 The presentation of Podlaskie at EXPO (source: Marshal Office of Podlaskie Province)
Podlasie promotes itself as region with a modern approach to agriculture and organic food production. Beside earlier presented tourist and investment attractions, visitors also have the opportunity to learn more about the culture and tradition of the region. Every one is welcome to see parts of the show entitled "Senses" performed by actors from A3 Theatre, as well as to take part in ceremony of tea brewing and herbs' mixing. There will be even an opportunity to create one's own compositions of herbal mixtures.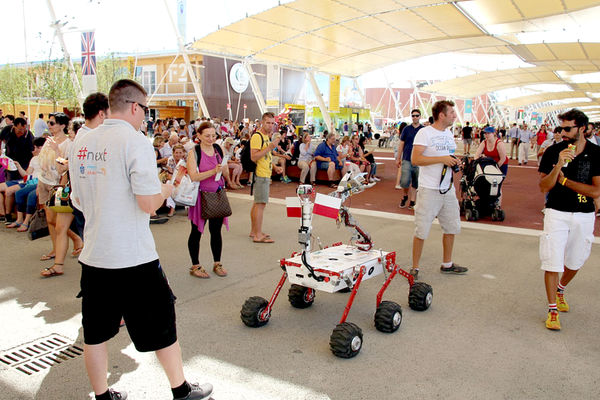 The Marsian Rover (source: Marshal Office of Podlaskie Province)
World Exhibition EXPO 2015 in Milan lasts until 31 October. (PAIiIZ / UM Podlaskie Province)
DID YOU KNOW...?
The British magazine writes about Polish design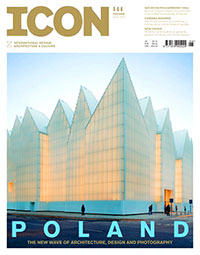 A new generation of Polish designers is making a name for itself internationally, leading the highly acclaimed British magazine "the Icon" to dedicate its June edition to Polish design.
"The Icon" magazine looks at how Polish design talent is making the country's design scene "interesting and important" on a global level. Despite the increasing homogeneity of global design, Polish designers have managed, in the words of internationally acclaimed illustrator Olka Osadzińska, to create a "new aesthetic." "Poland is the country of "new" understood in a very specific way, the "Icon" writes.
The June 2015 edition of Icon contains an article on Szczecin's new Philharmonic Hall, widely celebrated as one of the best new projects in Europe, an interview with Gdansk-born design duo Chmara.Rosinke, as well as other examples of Polish artistic malleability, including veteran artist Wojciech Fangor's original designs for the Warsaw Metro. It also includes a segment on the golden age of the Polish film poster and describes new projects undertaken by the likes of Malwina Konopacka and Magdalena Estera Lapinska - the two illustrators who have ventured into the world of porcelain design. (www.polska.pl/en)
---

Editorial office:
Polish Information and Foreign Investment Agency, 00-585 Warsaw, Bagatela Street 12
Information and Communication Department, tel: +48 22 334 99 49, fax: +48 22 334 99 99,
e-mail:
redakcja@paiz.gov.pl