NEWS
36 hours in Japan - the results of the latest business mission
On 27 March, PAIiIZ, Japanese Embassy and JETRO investment agency hosted the seminar focusing on the results of the business mission of 50 Polish companies that accompanied president Bronisław Komorowski in his official visit to Japan this February. The mission lasted just 2 days. According to companies, the mission was well prepared and resulted in new business relations.
Under the two-day visit of Polish delegation to Japan B2B talks and Poland - Japan Business Forum were arranged. Polish representatives of such sectors as: food, aviation, mining, logistic and food processing took part in the event. Also the Memorandum of Agreement between PAIiIZ and JETRO was signed. "For this year PAIiIZ and JETRO have planned trade fairs for Polish suppliers and business study visit of Japanese companies to Poland", said PAIiIZ Foreign Investment Department Deputy director Marek Szostak.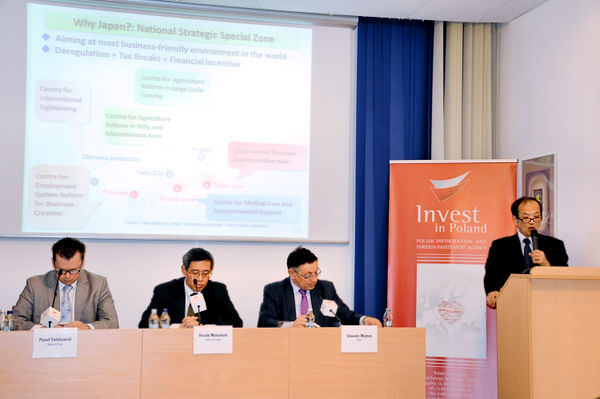 Jun Arima: "After the visit of president Komorowski to Japan, the gate to our country is widely open for Polish companies"
During the second part of the meeting, Polish companies shared their experience regarding participation in the mission. For instance, Poland-based company OSI Poland Foodworks won 4 new business partners during just one session of B2B in Japan.
Why it is worth to invest in Japan? First of all this is a big market with matured R&D sector, full of well trained workforce and a friendly business environment.
Read more: www.paiz.gov.pl/20150327/36_hours_in_japan_the_results_of_the_latest_business_mission (PAIiIZ)
Towards new business destinations: Ghana and Mongolia
New business destinations and how to provide business activity in markets with completely different business culture was the main highlight of the conference held in PAIiIZ on 26 March.
The discussion was focused on two countries: Ghana and Mongolia. Ghana is an African country rich in natural resources. Agriculture generates one-third of the national GDP. Half of the workforce of the country is employed in this sector. Also service sector with the 40% of share in GDP has a strong position. In 2011, Ghana was the second fastest economy in the world with GDP growth rate at the level of 13,5%.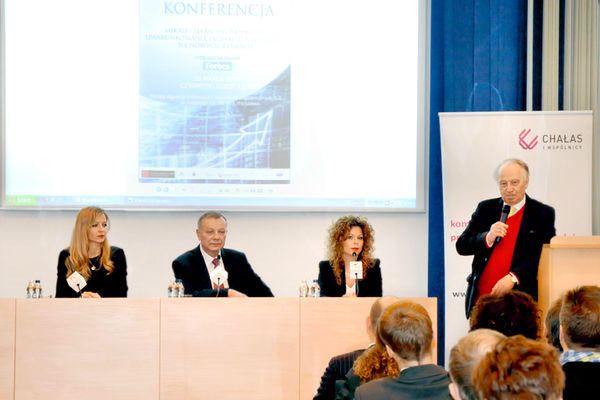 Panelists of Ghana - Mongolia conference
Panelist provided guests with information about the other fastest developing country - Mongolia. The GDP of this Asian state went up by 12,9% y/y. Mongolia is expected to become a gate to China for Polish companies. Stable economic environment and attractive investment incentives are the biggest advantages of the country's offer for foreign partners. Among the sectors with the biggest potential for Polish - Mongolian cooperation there are: services, lighting, banking, telecommunication, food-processing and tourism. The list of the biggest foreign investors on Mongolia consists of: China, Canada, Japan and Korea.
During the meeting, also the support instruments for export offered by Bank Gospodarstwa Krajowego state's bank were presented.
The conference was arranged by PAIiIZ and Polish-Mongolian Chamber of Commerce and Industry. (PAIiIZ)
Official Opening of Global Business Services in Tychy
In the presence of PAIiIZ deputy president Anna Polak-Kocińska and Opel Group vice president Ulrich Schumacher, the newly established Global Business Services Centre was opened in Tychy on 1 April 2015. The new centre will offer support to over 20 local Opel/Vauxhall facilities in Europe providing services from serving as the first point of contact for employees in all HR related matters to data maintenance, expense reporting and training. Presently, 90 consultants out of a total of 120 have already been hired. The project was supported by PAIiIZ.
"This investment confirms the trend observed at PAIiIZ: The major number of projects supported currently by the Agency comes from modern business service sector and automotive industry", said deputy president Anna Polak-Kocińska. "We are delighted that we have managed to bundle an important part of our service activities for Europe here in Poland. This investment is further proof of the important role that Poland plays in the international Opel/Vauxhall network", said Ulrich Schumacher, Opel Group Vice President HR & Labor Director.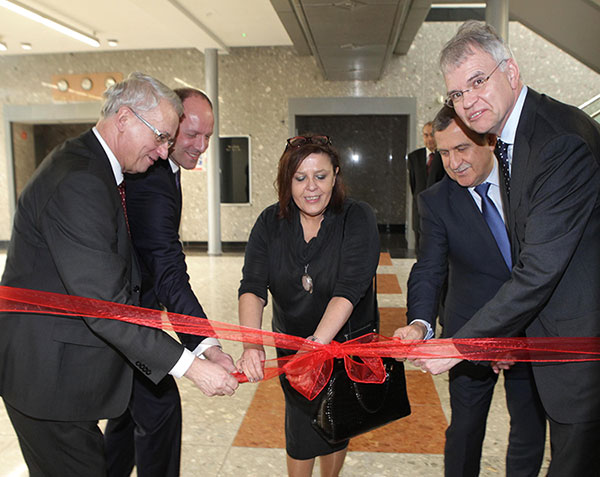 Jerzy Majchrzak, Director Innovation and Industry Department in Ministry of Economy, Stefan Hoffmann, Assistant Director GBS Europe, Anna Polak-Kocińska, Vice President of Polish Information and Foreign Investment Agency, Andrzej Dziuba, Mayor of Tychy and Ulrich Schumacher, Opel Group Vice President HR & Labor Director (from left to right) at the official opening of the Global Business Services Center in Tychy. (photo: GM)
The newly opened General Motors Global Business Services Centre is located in GM's plant facilities Tychy. GM Manufacturing Poland currently employs of 3,900 people in three branches: vehicle manufacturing in Gliwice, engine manufacturing in Tychy and the newly opened Tychy GBS Center. In the second half of this year, the Gliwice plant will begin production of the new generation Opel Astra. Furthermore, a new engine family will be produced in the Tychy plant. (PAIiIZ)
Polish trams in Leipzig
Poland-based Solaris will deliver 41 trams to Leipzig in Germany.
Solaris's trams won the tender not only thanks to competitive price but also to innovations implemented in vehicles. The low-floor trams will be adjusted to unusual gauge in Leipzig. Moreover, each vehicle will be designed to carry 200 passengers including disabled travelers, as the space inside will be adapted to their needs.
Solaris is one of the biggest European producers of various kinds of vehicles: trams, buses and trolleybuses. Since 1996, when the company started the production in Bolechowo, 11,000 vehicles left Solaris's plant. All of them are operating in 28 countries. (Solaris)
The first permit in Kutno this year
Belgian company Vandemoortele Polska will invest in Kutno within Łódź SEZ.
Vandemoortele Polska belongs to Vandemoortele Group - the European producer and exporter of frozen bakery products. The company plans to build a production plant of frozen bread in Kutno and spends PLN125m for that purpose. Also 60 new jobs will be created.
During 18 years of operating of Łódź SEZ, 275 business permits was issued. The total value of all investments reached PLN 12bn. 32,000 new jobs were created there. (ŁSEZ)
AJ Produkty grows in SSEZ
Operating in Słupsk Economic Zone, AJ Producty with Swedish capital plans to expands its warehouses in Rędzików and create new jobs.
The company is a supplier of interior equipment for companies. Expansion of warehouses will help the investor to modernize the delivery process. The company is also considering the development of call centre and e-commerce department. (SSEZ)
Mueller Fabryka Świec in PSEZ
The Management Board of Pomerania SEZ issued a business permit to Mueller Fabryka Świec to develop the business in Łysomice.

The company will lease a warehouse to increase the production capacity and to establish a storage offer for external partners. Mueller Fabryka Świec is a candle producer.
In the first quarterly, Pomerania SEZ issued 5 business permits with a total value of PLN 62m (PSEZ)
Warmia and Mazury with new investments
In Szczytno, under Warmia and Mazury SEZ Auto-Tech Robert Nieskórski received a business permit.
The company will build a production facility with office building and buy production equipment. The total investment has been estimated at PLN 1,5m. 12 new jobs will be also created there. Auto-Tech is a producer and designer of trailers. (WMSEZ)
MACROECONOMIC POLAND
Exchange rates (as of 02.04.2015):
| | | |
| --- | --- | --- |
| | Buy | Sell |
| USD | 3.7439 | 3.8195 |
| EUR | 4.0261 | 4.1075 |
Source: www.nbp.pl
EVENTS
CEEC EXPO 2015 in Ningbo - join the international fair
Under the GoChina programme PAIiIZ invites Polish companies to participate in business mission in Ningbo in China. The key point of the mission is CEEC EXPO. The events will be held between 7-12 June.
Central and Eastern European Countries' Products Expo (CEEC EXPO) 2015 is the most important fairs of export goods from CEE countries. The fair is arranged on the occasion of the 14Th edition of the China International Consumer Goods Fair. The access to the fair is available for companies operating in the following sectors: agri-food, jewelry, cosmetics, modern design market products (glass, crystal, etc.), consumer goods, works of art, gifts, health care products, household appliances.
There is a limited number of places. Companies interesting in participating in the fair, should fill the online form until 9 April on: www.gochina.gov.pl/Ningbo_2015
The mission to Ningbo is co-organized together by PAIiIZ and Trade and Investment Promotion Section of Polish Embassy in Shanghai. (PAIiIZ)
The First Industrial Investment Forum
Entrepreneurship Days
Under PAIiIZ patronage, between 21-22 April, Poznań will held Poznań Entrepreneurship Days (DPP). The meeting is organized under the European SME Week.

This is the fifth Poznań Entrepreneurship Days (DPP). The event is dedicated to Polish micro and big companies. The main aim of DPP is to create a good climate for entrepreneurship and economic cooperation at the local, national and international levels.
Poznań Entrepreneurship Days coincide with: Startup Poznań, Franchise Forum and Poznań Agglomeration Economic Forum.
More information is available on: www.poznan.pl/dniprzedsiebiorczosci (Urząd Miasta Poznań)
Global expansion - a chance for business development
On 23 April 4th Forum Przedsiębiorców (4th Forum of Entrepreneurs) will be arranged by Grant Thornton at the Sheraton Hotel in Warsaw. The event will be held under the PAIiIZ patronage.

Polish business is growing rapidly. The average size of companies in the country as well as the size of Polish market is among the most important barriers of business development in Poland.
However, going out of domestic market creates new business opportunities. How to achieves success in environment full of challenges will be discussed during the event.
More information: www.forumprzedsiebiorcowgt.pl (Grant Thornton).
Automotive CEE Day
PAIiIZ took the patronage over the second edition of purchasing meeting - Automotive CEE Day. The event will be held on 28 and 29 April in Kraków.

Business talks between automotive companies in CEE countries which are interested in establishing cooperation in the area of production, both in national and international scale are the main highlight of the meeting.
The event is organised by AutomotiveSuppliers.pl.
More information is available on: www.automotiveceeday.eu (Automotive Suppliers)
ANALYSES AND REPORTS
FDI impacts on social progress
Deloitte UK, in conjunction with the Social Progress Imperative (SPI), has reported that rising social progress in a country attracts FDI, which in turn can be used to drive further progress. According to the "Foreign Direct Investment and Inclusive Growth: The impacts on social progress" report, social progress can explain some of the trends in FDI and FDI can in turn explain some of the improvements in social progress experienced by nations as they advance.
The report found that FDI can encourage a country's future social progress through specific support - such as investments in healthcare and education - and indirectly through employment and higher incomes.
In addition, infrastructure, education, strong institutions, and personal and political security - social progress factors - will help attract overseas investment.
This report demonstrates how the Social Progress Index can act as a guide for business and other organisations to make smarter strategic investments and shows governments that policies focused on driving social progress can attract FDI, which in turn advances both economic and social development.
As nations move up the development ladder, wellbeing factors including access to basic knowledge, information and communications, health and wellness, and ecosystem sustainability become critical catalysts for further economic, industrial and social development. (Deloitte)
FROM THE REGIONS
Contest for the Polish product of the future
Polish Agency for Enterprise Development invites you to participate in the 18th edition of the "Polish Product of the Future" contest. The event is held under the honorary patronage of the Ministry of Economy.
The competition's objective is to promote and disseminate information on achievements of innovative techniques and technologies which have the potential to be applied on the Polish market and to encourage innovation and development in business.
Participants of the contest compete with each other in 4 categories: Product of the future in the pre-implementation phase; Technology of the future in the pre-implementation phase; Product of the future in the implementation phase; Technology of the future in the implementation phase. The winners of the "Polish Product of the Future" award will be entitled to use the logo and the slogan "Polish Product of the Future".
More information: http://www.pi.gov.pl/eng/chapter_86537.asp (PARP)
---

Editorial office:
Polish Information and Foreign Investment Agency, 00-585 Warsaw, Bagatela Street 12
Information and Communication Department, tel: +48 22 334 99 49, fax: +48 22 334 99 99,
e-mail:
redakcja@paiz.gov.pl