mazowieckie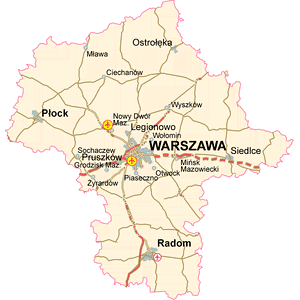 Mazowieckie voivodeship (Mazovia Region) with Warsaw - the capital of Poland - is the leader of changes and the fastest developing region of Poland. Young, well qualified staff, low unemployment and the highest rate of employment - all these testify to high economic development of the region. The average wage in Mazovia exceeds the national average wage by more than 22%. Mazovia shows high internal diversification with a nationwide potential in nearly every field: science, research, education, industry and infrastructure.
Investment opportunities
economics leader: the highest rate of participation in gross domestic product - 22.14% of the Polish GDP (year 2015) (Source: Central Statistical Office (GUS) as of August 2017);

first position in Poland in gross domestic product per capita - about 159.4% average - 74,450 PLN (Source: Central Statistical Office (GUS) as of August 2017);

large number of entrepreneurs - 792,333 - providing vast opportunities for co-operation (Source: Central Statistical Office (GUS) as of August 2017);

Mazovia is a location chosen by 23 662 active companies with foreign capital, what is nearly 44.4% on the national scale (Source: Centralny Ośrodek Informacji Gospodarczej as of June 2017);

market capacity - an easy access to the largest in Central Europe Polish market (38 mln people);

the fact that Warsaw is the capital and that it is the most developed region in Poland in terms of the economy and living standards;

convenient communication links with the rest of the country and Europe (the largest airport in the country, low-cost airports and well-developed railway network);

good infrastructure and high level of services for business;

skilled human resources;

well-prepared investment offers enabling both the execution of large investment projects that are strategic for the entire country, and smaller investment projects;

availability of the EU funds earmarked for the development of entrepreneurship;

investor-friendly local government authorities;

favourable business-support environment;

growth potential - access to the best scientific centres and academic institutions;

the highest level of innovations; outlays on R&D activities are one of the highest in the country;

highest educational potential in Poland - about 90 universities and colleges of further education, ca.20% of students in Poland (Source: Central Statistical Office (GUS) as of 2016)

very well developed system of education at every level also enabling to offer education to foreign students as well.

Sectors with huge potential / Regional Smart Specialisation