Special Economic Zone EURO-PARK MIELEC was established in 1995 as the first special economic zone in Poland. Today the zone is an important place on the economic map of Poland. Its advantages have been recognized by a number of domestic and foreign investors who set - up their new manufacturing projects within the zone. EURO-PARK MIELEC is an area of unique opportunities in quick return on investment and effective business activity without compromises on product quality, offering long term tax exemptions and other preferences. Special Economic Zone EURO-PARK MIELEC has been established to operate until December 31, 2026.
Located mostly in south - eastern Poland, investment sites of EURO-PARK MIELEC are close to emerging eastern markets and offer low-cost conditions in manufacturing operations. The zone is under management & administration by Industrial Development Agency - an active and reliable government - related partner in transformation of Polish economy.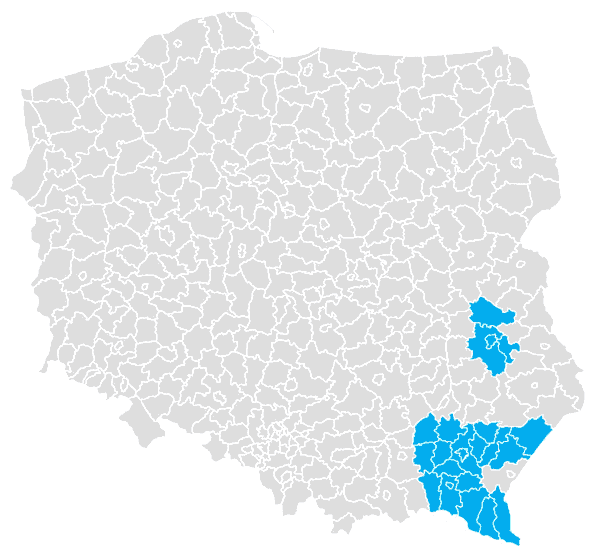 Special Economic Zone offers three investment options: greenfield (land for development), brownfield (production space) and "build-to-suit" (construction of "turn-key" facilities).
Available investment sites: 416,19 ha
Available production space: 15 410 m2
Detailed offer: mapa.europark.arp.pl
To see the pictures of EURO-PARK MIELEC please click here...
In the second half of 2017 the business licenses to operate in the SEZ EURO - PARK MIELEC were issued to the following companies:
ELEKTROZEL
"TEMCA POLSKA"
Zakłady Farmaceutyczne "COLFARM"
WALDREX
Curtiss - Wright Surface Technologies
Kronoflooring Mielec
"Geyer & Hosaja"
Pratt & Whitney Rzeszów
"Sierosławscy" Jan Sierosławski
Northern Aerospace
MAKDOR
DAAL
"WOLCO"
NSTEEL
Zielona Budka (Mielec)
Ledrin
BorgWarner Poland
GLF Polska Mielec
TouchPoint Polska
LEO MINOR Wojciech B±k
SW Poland
Effectiveness of the zone (of as 31.12.2017)
number of issued business licenses: 417

total investment expenditures: 10.6 bn PLN

jobs created in the zone: over 43.7 thous.
Major investors in the Special Economic Zone EURO-PARK MIELEC:
| | | |
| --- | --- | --- |
| Investor | Country of origin | Sector |
| Polskie Zakłady Lotnicze | USA | aerospace |
| MTU Aero Engines Polska | Germany | aerospace |
| BORGWARNER POLAND | USA | automotive |
| Lear Corporation Poland II | USA | automotive |
| Kirchhoff Polska | Germany | automotive |
| Firma Oponiarska Dębica | USA | automotive |
| Kronospan Mielec | Austria | wood processing |
| Goodrich Aerospace Poland | USA | aerospace |
| Husqvarna Poland | Sweden | farm & gardening equipment |
| Hamilton Sundstrand Polska | USA | aerospace |
| BSH Sprzęt Gospodarstwa Domowego | Germany | house-hold appliances |
Contact for investors:

Industrial Development Agency, Branch Office in Mielec

Partyzantów 25,
39-300 Mielec
tel: +48 17 788 72 36
e-mail:
europark@arp.pl
www.europark.arp.pl
Contact persons:

More information: Publication - Poland Special Economic Zones



(Last data update: February 2018)