warmińsko-mazurskie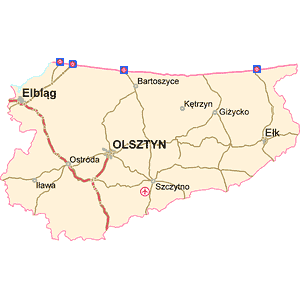 Total area of the voivodeship

24,173.17 km2

Population:
- in urban areas

1,439,478 citizens
59.33%

Population density

60 persons/km2

Voivodeship capital

Olsztyn

Other big towns in the voivodeship

Elbląg, Ełk, Ostróda, Iława, Giżycko

Special Economic Zones

Regional Investor Assistance Centre

Science and technology parks
Elblag Technology Park
Science and Technology Park in Ełk
Warmińsko-Mazurskie Voivodship is a region located in north-east Poland, with access to the Baltic Sea through the Vistula Lagoon connecting with Gdańsk Bay - Seaport in Elbląg. Traditionally agricultural voivodship, the green lungs of Poland, directed at development of ecological food production. Timber resources create potential for development of wood and furniture sector. Higher education intuitions and research and development institutes of the voivodship have highly specialized staff in the areas connected with the specific nature of the region.
Investment opportunities
Unique natural environment - perfect conditions for development of ecological industry sectors as well as tourism and agri-tourism.

People - qualified staff and the lowest production costs in Poland.

The highest level of public aid in Poland and attractive investment locations.

Gate to the EU market and Eastern markets - external border of European Union with Russian Federation.

Developing economy and priority sectors: wood and furniture industry, agri-food production, machines and devices production (including yachts and boats), tourism (including medical and business tourism).
Sectors with huge potential
Water Economy

High quality food

Timber and furniture