warmińsko-mazurskie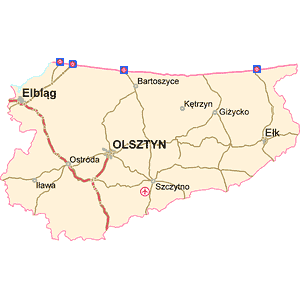 The Warmian-Masurian Voivodeship is located in the north-eastern part of the country and is adjacent to the Russian Federation, thus constituting the external border of the European Union. The region of Warmia and Mazury is connected by the national road No. 16 with the A1 motorway - the main transport axis connecting the north of Poland with the central and southern regions. The national road No. 7 also runs through the region, connecting e.g. Krakow and Warsaw with Gdańsk. Due to natural conditions (33% of the region's area is covered by forests, and 5.7% of water reservoirs), the region is extremely attractive in terms of its natural environment, which is reflected in the economic sphere. Location and the natural environment favours, among other things, the development of the agri-food, wood and tourism sectors, including medical and business tourism.


Advantages of the Voivodeship
Strategic location of Olsztyn, the capital of the Voivodeship, in relation to the Tri-City agglomeration (159 km to Gdańsk) and Warsaw (212 km).


Unique natural environment - excellent conditions for the development of ecological industries as well as tourist and agritourism activities.


The highest state aid available in Poland and attractive locations for investments.


Seaport in Elbląg and Olsztyn-Mazury Airport in Szymany.


Access to highly specialized staff in the areas related to the specificity of the region thanks to universities and research institutes operating in the Voivodeship.


BPO / SSC sector with great development potential in the largest cities of the region (Olsztyn, Elbląg, Ełk).


A great place to live, relax and do business.


High possibility sectors
water economy


high-quality food


wood and furniture