świętokrzyskie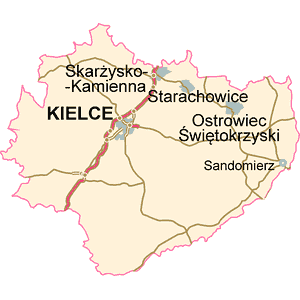 Total area of the voivodeship

11 711 km2

Population:
- in urban areas

1 252 900
44.6%

Population density

107 persons/km2

Voivodeship capital

Kielce

Other big towns in the voivodeship

Ostrowiec Świętokrzyski, Starachowice, Skarżysko Kamienna, Sandomierz, Końskie

Special Economic Zones

Industrial & Technology Parks
Kiele Technology Park
Regional Science-Technology Centre

Regional Investor Assistance Centre

Świętokrzyskie Investor Assistance Centre
The Świętokrzyskie Voivodeship is situated in the south-east part of Poland next to the biggest cities: Warsaw, Cracow, Katowice, Lublin and Łódź. Natural resources of the Świętokrzyskie region enable production of gypsum and cement and the Świętokrzyskie products are famous on the home and interantional markets. It houses the biggest construction companies in Poland. Targi Kielce (the Kielce Fairs Exhibition and Congress Centre) is a visit card of the voivodeship - it is second largest fair centre in the country which is situated on the crossroads of the most important national and international transport trails. The voivodeship is one of the cleanest areas in Poland as far as ecology is concerned.
Investment opportunities
Large pool of qualified staff for industry and other sectors of the economy,

developed system of business infrastructure and financial institutions in Kielce and larger towns,

well developed educational base,

large potential for agricultural and horticultural production,

important mineral deposits used for production of construction materials (lime, cement),

rich resources of mineral waters,

developed base of spas, sanatoriums, convalescence hospitals, recreational centres, hotels and private quarters in health resorts,

consecutive modernization of road network (route S7 and national routes 74 and 73) as well as of the base of available investment grounds,

relatively low cost of labour: the average in the voivodeship - 3,669.57PLN per month, worker's gross salary - between 1,750 and 3,000 PLN,

developing base of the ecological food producers.

Sectors with huge potential
Metal

Construction

Spa and wellness