lubelskie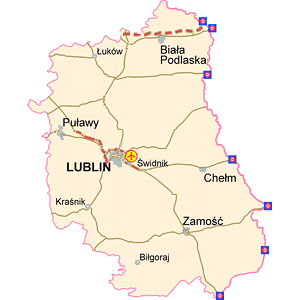 Total area of the voivodeship

25,122 km2

Population:
- in urban areas

2,086.4 thous.
46,5%

Population density

83 persons/km2

Voivodeship capital

Lublin

Other big towns in the voivodeship

Chełm, Zamość, Biała Podlaska, Puławy, Świdnik

Special Economic Zones

Industrial & Technology Parks

Lubelski Park Science and Technology
Puławy Industrial Park
Regional Industrial Park Świdnik


Regional Investor Assistance Centre

Lubelskie is located in central-eastern Poland. The region is predominantly agricultural, known e.g. for the cultivation of hops, raspberries and tobacco. A very strong academic center (16 universities with over 67,000 students) and an impressive scientific and research potential, especially in the field of natural and medical sciences. The machinery and automotive industries also have a traditions here. The voivodeship is focused on the development of innovative sectors of the economy based on the existing scientific potential. Due to the quality of the natural environment, investments in the agri-food sector related to organic food are being developed. Natural resources and research conducted at universities in the voivodeship have led to the development of the renewable energy sector. Young well educated people in cities are a potential for the development of the BPO sector.

Advantages of the voivodeship
The Lublin region is the Gate way to the East


Strong scientific and technical background


Lublin's tourist potential


The dynamically developing Lublin Airport - international and domestic air connections


Development of the communication infrastructure

the construction of the S-17 Route; completed section Lublin-Warsaw,

the construction of the S-19 Via Carpathia route, which is part of the pan-European north-south corridor; Lublin-Kraśnik section: May 2022, Białystok-Rzeszów section: in 2025

Małaszewicze reloading port, has international significance - the main rail route between China and Europe runs through the port in Małaszewicze: it enables the reloading of goods between standard and broad-gauge rails, located 5 km from the border with Belarus, the duty-free zone facilitates international trade and cargo handling.

Friendly institutional environment


Land and areas prepared for investments


One of the lowest costs of renting office space in Poland


Competitive labour costs and high qualifications of staff


A package of available investment incentives


Stability of employment - low rotation of employees for individual positions


Qualified and competent staff - every year the number of foreign students and graduates of Polish universities increases, including from the fields of study most sought after by companies investing in technologically advanced industries.


An emerging innovation leader in the region - high dynamics of expenditure on research and development and active implementation of innovative research projects.


Developed vocational education and a system of vocational counselling


Growing involvement of companies in cooperation (including as part of clusters)


Relatively high employment in R&D compared to the national average, especially in the areas of smart specialization


Good conditions for the development of agriculture, food, machinery and wood industries, offshoring services and tourism


The neighbourhood of markets of Belarus and Ukraine. Border crossings with Belarus: Kukuryki, Terespol, Sławatycze. Border crossings with Ukraine: Dorohusk, Zosin, Hrebenne, Dołhobyczów.

Smart specializations of the Lubelskie Voivodeship