Olsztyn Science and Technology Park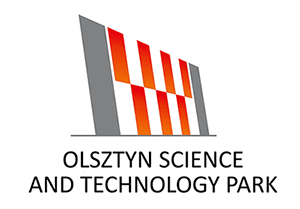 The Olsztyn Science and Technology Park - new business nature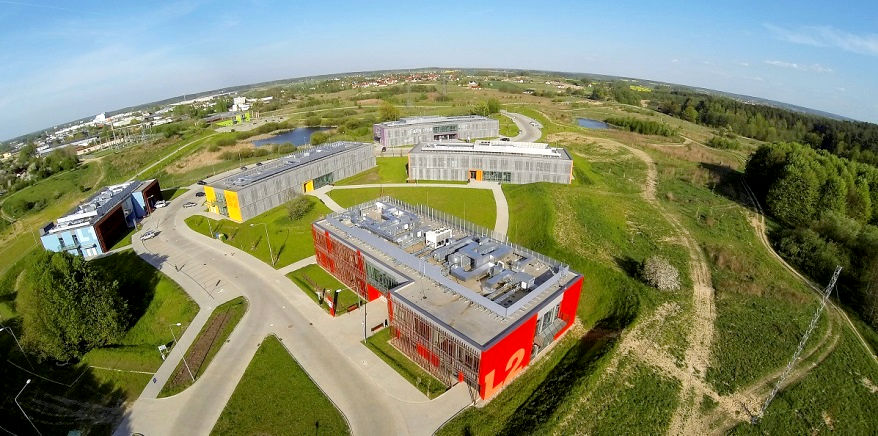 TYPE OF PARK
Olsztyn Science and Technology Park (OSTP) is a place to support innovation and development of enterprises, both those with an established position and newly created.

MANAGING ENTITY
Municipality Olsztyn
Poland 10-1041 Olsztyn
Pl. Jana Pawła II 1

LOCATION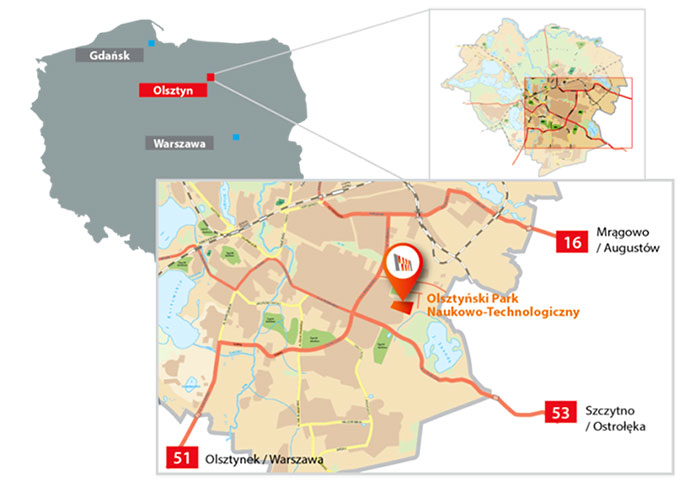 SECTOR PROFILE
The Olsztyn Scientific and Technology Park (OSTP) is a place for companies and academic institutions, which stimulates and manages the flow of knowledge and technology between universities, research and development institutions, enterprises and market, supports the creation and development of innovative enterprises using incubation processes. We are focused on ICT, Geoinformatics and Bioeconomy.


PARK'S OFFER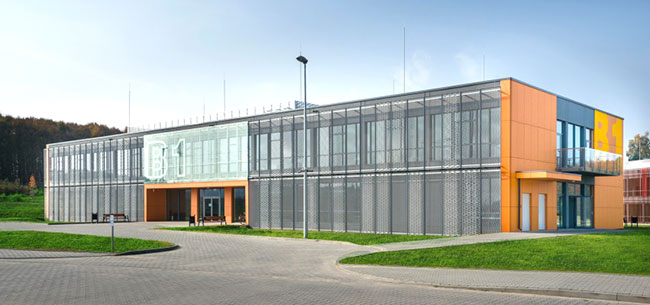 Business Incubator
This part of The Olsztyn Science and Technology Park is dedicated to new companies and people wanting to start their own business (students, graduates, R&D employees) based on innovations and new technologies.
modern friendly environment for start-ups,
fully furnished and comfortable office space,
door to door cooperation,
company promotion,
advisory services in terms of economic law, IPR,, business settlement ,
support in setting cooperation with R&D sector,
dedicated trainings and seminars,
activities stimulating young entrepreneurs,
education programmes in robotics for the youngest,
science shows, exhibitions, workshops for children,
meetings with business.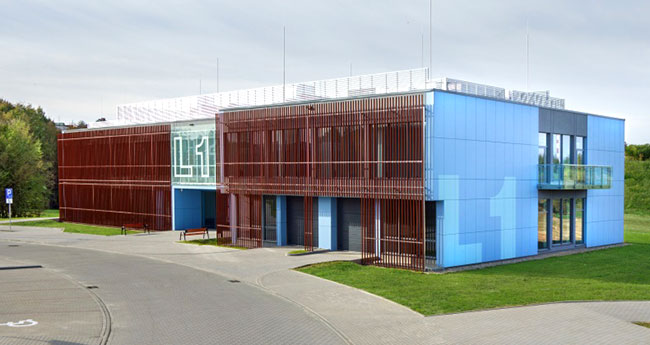 Technology Transfer Centre
This part of Park was designed for business requiring research space. It consists of two buildings where you can find fully equipped laboratories (molecular, chemical and technology) or unequipped laboratory space for own adaptation to individual needs. The Olsztyn Science and Technology Park was selected as new headquarters of Institute of Animal Reproduction and Food Researches of Polish Academy of Science, one of the key participants in the food sector development in Poland.
modern laboratories,
R&D equipment rental,
support in cooperation with R&D sector,
R&D projects,
access to international technology databases,
support in commercialization and technology transfer,
laboratory for the youngest.
Within Centre for Technology Transfer there are two research units managed by scientists from University of Warmia and Mazury in Olsztyn.
Centre for Radio Wave Propagation in Ionosphere It is used to monitor the state of the ionosphere and space weather. Application: energy, satellite navigation, national security, monitoring biological threats.
Centre for Geomatics and Satellite Technologies. Ultra-modern Multi - GNSS reference station (GPS, GLONASS, Galileo, BDS).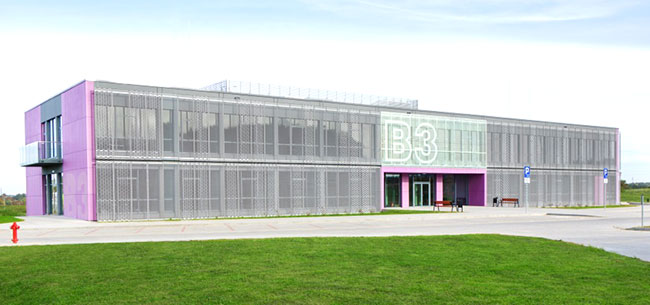 Innovation Centre
2 buildings of the complex are dedicated to companies that have decided to develop their activities, using Park infrastructure and support services, through innovations (R&D, international cooperation).
modern and friendly environment for business development,
company promotion,
common fairs, exhibitions,
national and international B2B meetings,
economic missions,
support in cooperation with R&D sector,
R&D projects,
access to international business and technology offer databases,
dedicated trainings and seminars,
expert advisory services,
IPR support.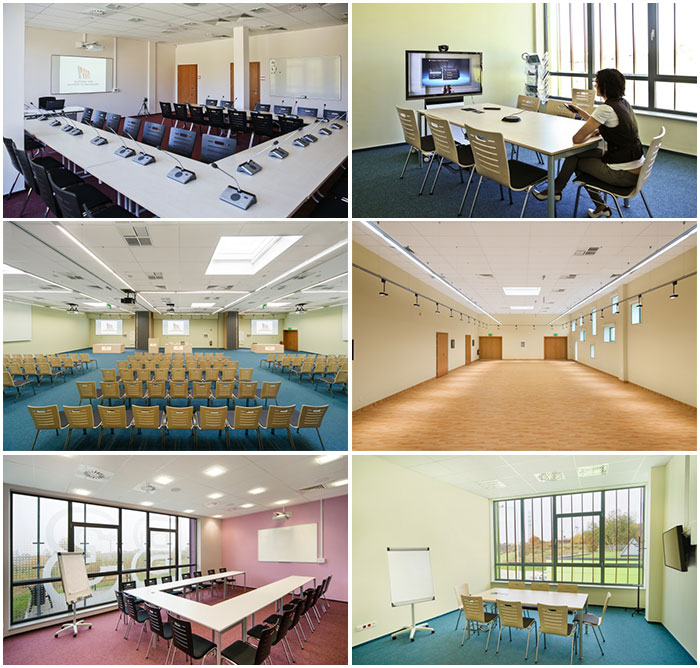 Conference Centre
22 conference rooms,
Exhibition space,
AV equipment,
mobile discussion system,
video-conference equipment,
restaurant

The Olsztyn Science and Technology Park means:
almost 14 000 m²
140 high-standard offices
20 modern laboratory units
22 fully-equipped, air-conditioned conference halls
Terminal for charging electric vehicles
Virtual office
Restaurant

COMPANIES OPERATING IN THE OSTP
Currently, 65 companies, being at a different stage of development and technological advancement, have their registered offices within the OSTP. These are primarily companies operating in the following industries: geo-IT, IT, biotechnology.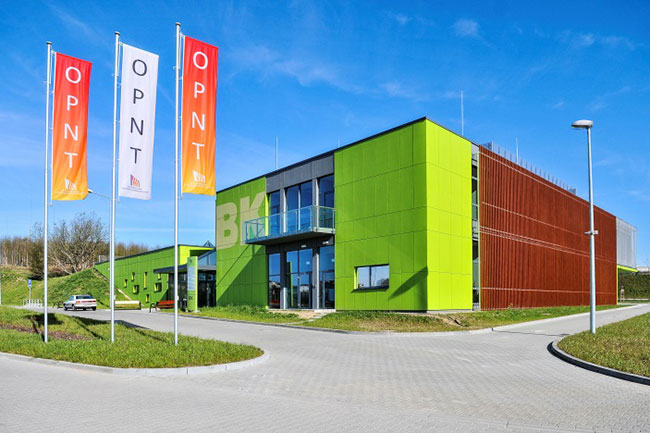 CONTACT DETAILS:
Olsztyn Science and Technology Park
2 Władysława Trylińskiego Street
10-683 Olsztyn
(Office and Conference Building - BK)

Phone: +48 89 612 05 00
Fax: +48 89 612 05 12
E-mail: sekretariat@opnt.olsztyn.pl
www.opnt.olsztyn.pl
(Last update: December 2019)