³ódzkie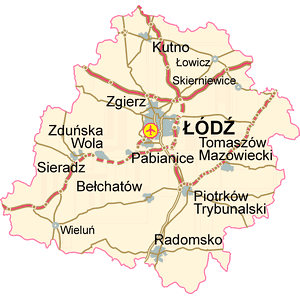 Located in the centre of Poland, the Lódzkie Region boasts a long tradition of clothing and textile production. Now, alongside these two mainstays, the most important industries in the region are energy, food processing and beverages, household appliances, construction materials as well as the production of medical equipment, pharmaceuticals and packaging. Nearly 70 percent of the domestic production of ceramic tiles and terracotta is carried out in the region.
Currently the region is expanding rapidly into other branches, including finance, R&D, outsourcing services (BPO/SSC business process outsourcing, shared service centre) and biotechnology. Indeed, that Europe's largest industrial cluster producing household appliances was developed in the region.

Region's prime assets:
the region's location is convenient for transport: placed right at the junction of two European corridors mainly motorways A1 & A2-, North-South, and East-West, which facilitates access to both EU markets and those of Russia, Belarus and Ukraine owing to the new railway connection Lodz - Chengdu in China.

with numerous institutions of higher and professional education turning out highly trained prospective employees, the region offers qualified and committed workforce;

the region's major city, Lodz, boasts well-developed industrial infrastructure.

with its rich deposits of lignite, the region is Poland's second (after Silesia) largest energy producer, and boasts a surplus of affordable energy.

universities and research centres in Lodz are among Poland's major players in terms of research and development.

geothermal resources provide the great opportunity to produce renewable energy and develop spas (the Thermal Spa UNIEJÓW is a kind of good practice of inter regional cooperation with Austrian partners).

the regional government's proactive economic policy aims to develop administration which is friendly for small and medium businesses, and encourages to create attractive employment conditions.

lucrative investment offers for investors in 45 subzones of the Lodz Special Economic Zone, which has already attracted more than 250 companies, including Dell, Procter & Gamble, Fujitsu Services, Gillette, B/S/H/, Whirpool, Panattoni.

effective and resourceful business partners. Apart from big businesses, there are many small and medium size companies that specialise in industrial processing, and various crafts and services. Hence each investor is spoilt for choice when it comes to the region's innovative suppliers, buyers and business partners.

In April 2013, the Regional Innovation Strategy for the Lodzkie Region LORIS 2030 has identified leading branches that have the greatest potential for further long-term economic development of the region.
These are:
modern textiles and fashion (including design);

advanced building materials;

medicine, pharmacy, cosmetics;

energy, including renewable energy sources;

innovative agriculture and food processing;

information technology and telecommunications.

Sectors with huge potential
Textile and clothing industry

Modern building materials

Medicine, pharmacy and cosmetics

Biotechnology

Power industry and renewable energy sources

Agriculture and food processing

Information and communications technology (ICT) sector

Mechatronics