Name: Toruń Technology Park
Park type: technology park
Managing Entity: Toruń Regional Development Agency
Location: Włocławska 167 St., 87-100 Toruń, Kuyavian-Pomeranian
Sector Profile
Park type: technology park

Development stage: developed

SSE status (if it has one): yes

OFFER OF TORUN'S TECHNOLOGY PARK
Toruń Technology Park is a value proposition tailored to business needs:
modern infrastructure: investment areas, offices, halls, training and conference rooms;

specialized, commercial and free services - consulting, analytical, pro-innovative;

preferential access to the offer of exceptional Partners, e.g. EXEA DATA CENTER, Nicolaus Copernicus University, Chamber of Commerce and Industry in Torun, Bydgoszcz Industrial Cluster;

a diverse community of entrepreneurs in the SME sector.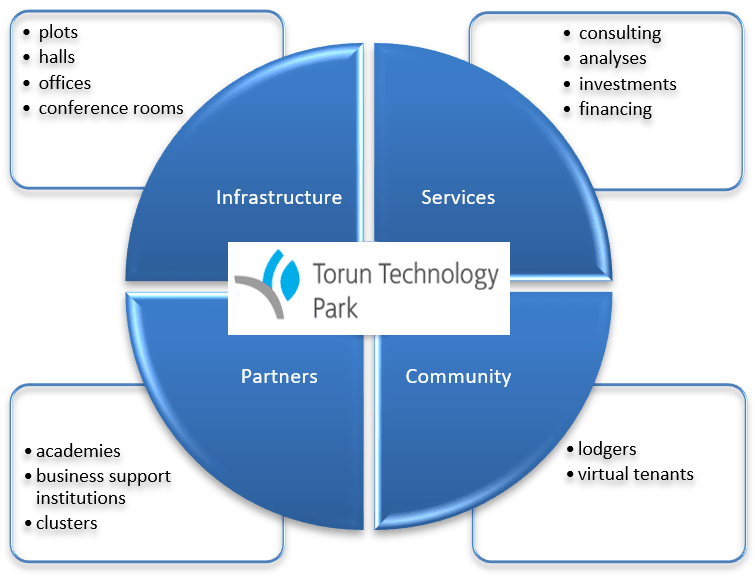 Offer of Toruń Technology Park

INFRSTRUCTURE OFFER OF THE TORUN TECHNOLOGY PARK
Investment areas:
Currently, Toruń Technology Park offers investment plots located at Andersa St. in Torun.
29 out of 33 plots are available to investors. The next tender, in which further plots will be put up for sale, will be announced in the first half of 2020. As part of the utilities project at Andersa St., utilities and access roads were constructed to the border of each plot. The whole area is covered by the local spatial development plan (60% of the plot's area for development, permissible building height up to 25m).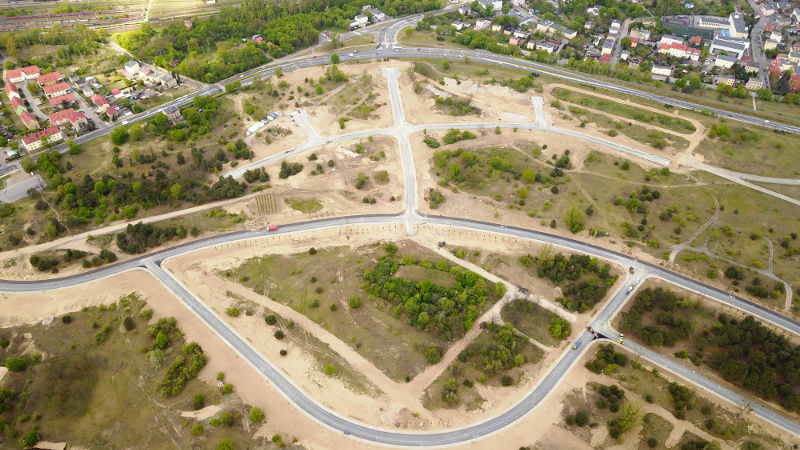 Investment areas at Andersa St./ Toruń Technology Park (own materials)

Investor support:
the right to property tax exemption for new investments in the City of Torun (De Minimis Aid Program);

the right to property tax exemption for creation new jobs in the City of Torun (De Minimis Aid Program);

public aid in the form of income tax exemption (CIT, PIT);

a dedicated financial instrument "Real estate loan - land at gen. W. Anders St." offered by Kuyavian-Pomeranian Loan Fund.
Detailed information about investment plots at Andersa St. can be found at https://torunandersa.pl.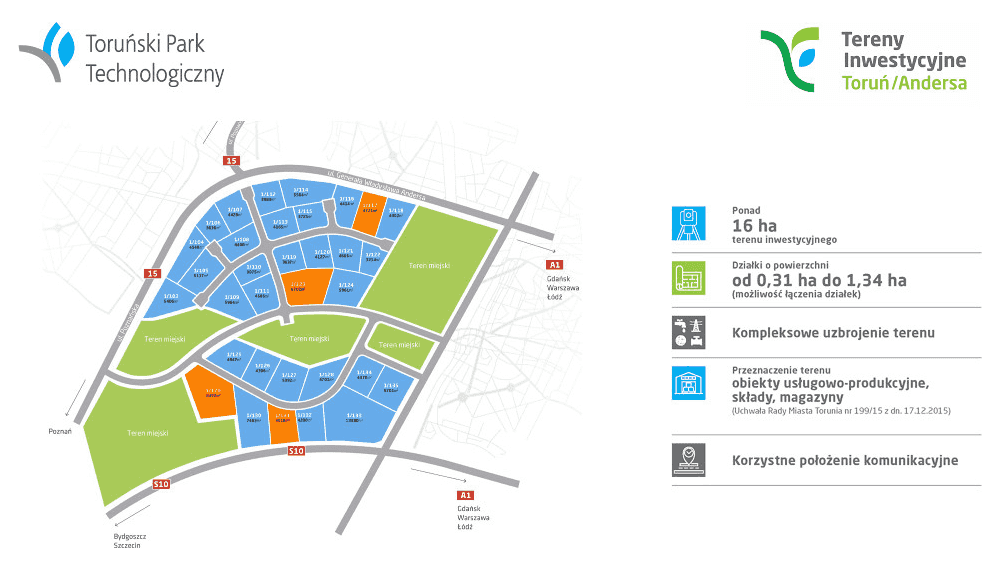 Investment areas Toruń/Andersa (own materials)

Offices and halls:
The Torun Technology Park also offers the possibility of renting offices and production and storage halls located at Włocławska 167 Street in Toruń.

Training and conference rooms:
Rooms for business meetings, training sessions and conferences are at the disposal of the Tenants of the Torun Technology Park and external customers.
In the Torun Technology Park there is a possible to organize:
an intimate business meeting (2-10 people);

trainings and seminars (up to 40 people);

conference events (up to 120 people).
The air-conditioned rooms are equipped with the necessary multimedia equipment, and meeting participants have free internet access.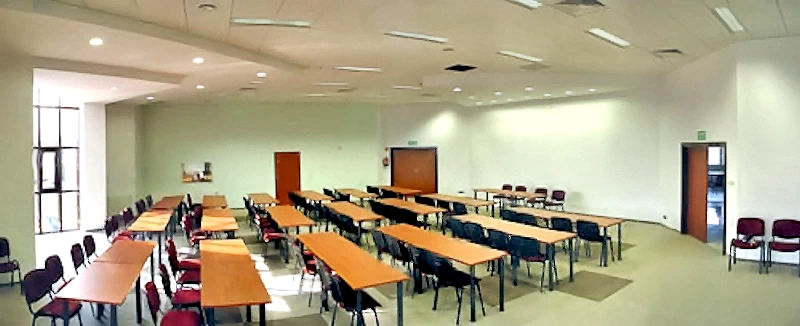 Toruń Technology Park, conference hall (own materials)

SERVICE OFFER OF THE TORUN TECHNOLOGY PARK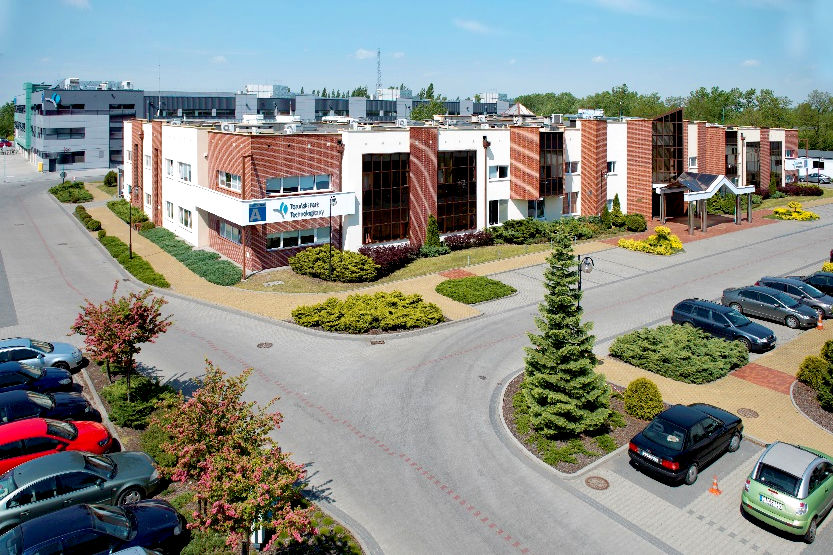 Toruń Technology Park (own materials)

Commercial offer:
Investment process management service
An experienced management team, among others the process of preparing investment land and construction of the Torun Technology Park infrastructure, invites entrepreneurs and institutions interested in comprehensive support in the implementation of the investment process to cooperation, which includes:



developing the concept of the planned investment with technical and economic analysis;

selection of the designer and coordination of works to obtain a valid building permit;

representing the Investor in matters related to obtaining documents, certificates, permits and decisions;

conducting negotiations and selecting a Contractor for construction works;

preparation and participation in negotiations regarding the content of the works contract;

direct supervision over construction works;

investor's supervision over all industries;

ongoing cost optimization, settlement, reporting and negotiation of contract changes;

preparation and final acceptance;

final settlement of the task and obtaining a decision on permission to use the facility;

warranty period service;

The service is always tailored to the needs of our client, that's why its scope and valuation takes place after individual consultation.



Consulting services in the area of application preparation and project settlement
Fast path (POIR), Go to Brand (POIR), Large and Small Investment Loan (RPO WK-P), SME Instrument (H2020) - within these and other activities for entrepreneurs available through national and European operational and framework programs we help our clients both at the application and settlement stages of projects that have already received funding.

Non-commercial offer (free):
Consulting and export services of the Enterprise Europe Network office
600 offices around the world in over 50 countries are just two numbers characterizing the Enterprise Europe Network, whose office is located in the Torun Technology Park. Consultants invite you to take advantage of free (financed from the European funds) services that give you the opportunity to look at your company or idea from a slightly different perspective so far.

The range of services:



business model analysis (Business Model Canvas, Lean Canvas, Value Preposition Canvas);

innovation management analysis (Innovation Health Check, IMP3roveDigital Innovation Quotient);

pro-export analyses (PROEXPO).

OFFER OF PARTNERS OF THE TORUN TECHNOLOGY PARK
Exea Data Centre
Located in the Torun Technology Park, built from scratch to provide data centre services. As the first and only in Poland it has Tier III certification granted by the independent Uptime Institute after a series of rigorous tests. Modern infrastructure meets the highest standards, ensuring full redundancy of all systems and guaranteeing the availability of all services at the highest possible level.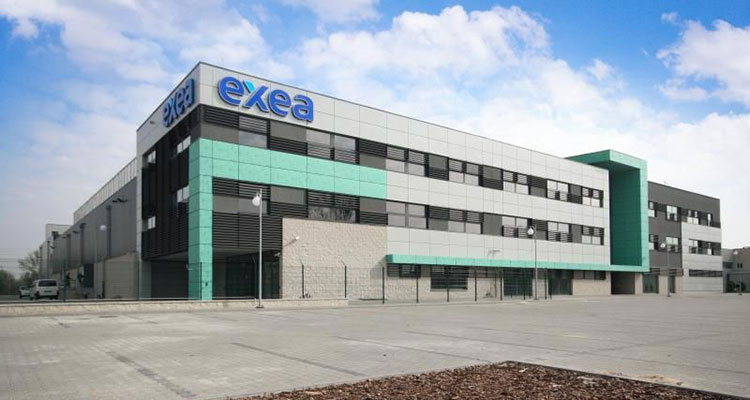 Exea Data Center / Toruń Technology Park (own materials)

Exea Smart Space
It offers office space rental in the form of a traditional office and co-working, as well as having modern seminar rooms.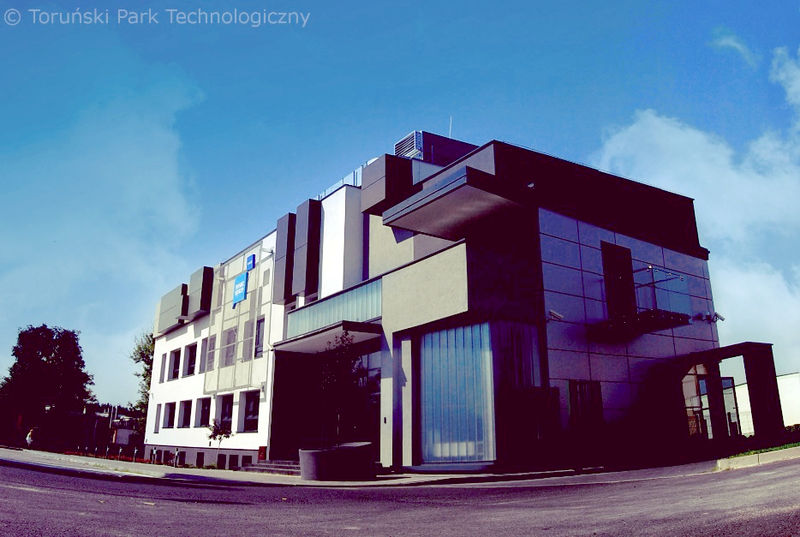 Exea Smart Space / Toruń Technology Park (own materials)

Other Partners:
Academic Business Incubator of the Nicolaus Copernicus University in Torun;
Kuyavian-Pomeranian Loan Fund;
Chamber of Industry and Commerce in Torun;
Bydgoszcz Industrial Cluster;
Bydgoszcz Regional Development Agency.

Selected projects and initiatives of TRDA implemented in the Torun Technology Park:
Regional Training Fund;
Export Fund;
Computer training;
Investment areas - Torun / Andersa;
SharOn (COSME);
InForm (Interreg BSR);
SIE (Interreg Europe);
SCALESCRAPERS (H2020).

LOCATORS OF THE TORUN TECHNOLOGY PARK
Tenants of the Torun Technology Park are a community of employees who decided to rent an office or other usable area (production hall, warehouse) and a group of those who use from the offers of the so-called "virtual offices". The companies present in the park are a very diverse group that cannot be qualified to one industry or specialty. Due to the fact that representatives of industries such as: ICT, education, advertising, food meet in TTP, the park is a place with great potential for generating non-obvious business connections. In 2019, over 100 entrepreneurs associated with the Torun Technology Park employed more than 1,000 employees.
The current list of our companies can be found on the website - TECHNOPARK / LOCATORS.

Contact details:
Toruń Technology Park
Włocławska 167 St.
87-100 Toruń
phone: +48 56 699 54 81
mobile: +48 690 029 048
e-mail: sekretariat@technopark.org.pl
web: www.technopark.org.pl

(Last update: December 2019)