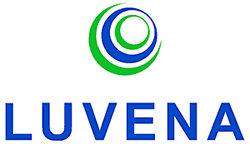 Industrial Park LUVENA Sp.z.o.o is an initiative of Luvena S.A. established on the grounds of an agreement on creation and partners' cooperation within the scope of Industrial Park whose signatories are:
Municipality of Luboń, pl. Edmunda Bojanowskiego 2, 62-030 Luboń;


Luvena S.A., ul. Romana Maya 1, 62-030 Luboń;


Fundacja Uniwersytetu im. Adama Mickiewicza (Adam Mickiewicz University Foundation), ul. Rubież 46, Poznań;


Instytut Logistyki i Magazynowania (The Insytitute of Logistics and Warehousing), ul. Estkowskiego 6, Poznań;


Adam Mickiewicz University, ul. Wieniawskiego 1, 61-712 Poznań;


Poznań University of Technology, pl. Marii Skłodowskiej-Curie 5, 60-965 Poznań.
On the degraded grounds formerly used for production of chemicals, there is built a modern Industrial Park offering perfect conditions for development of the future clients.
Location of the Park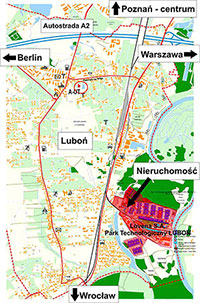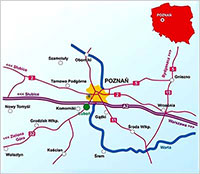 The Park is located in close vicinity of A2 motorway (approx. 2 km from the hub Poznań-Dębiec) constituting pan-European transportation channel. This area has got its own sidings connected with the railways covered by the Trans-European Network of Cargo Transportation Poznań-Leszno-Wrocław
Distance from the very centre of Poznań is approx. 8 km North. Poznań Ławica Airport is only 15 km away.
People working on the territory of the Park can commute from the centre of Poznań choosing between 3 bus lines or a commuter train. The distance to the Park from the bus stop is approx. 300 meters and from the railway station is approx. 1000 meters.
Offer
The trade offer is addressed, first of all, to small and average size trade and manufacturing enterprises from the area of Wielkopolskie province and located in its closest vicinity.
Under full development the park shall have modern machines and production halls of the total area of 75,000 sqm, and office facilities in three A class buildings of the total area of 15,000 sqm.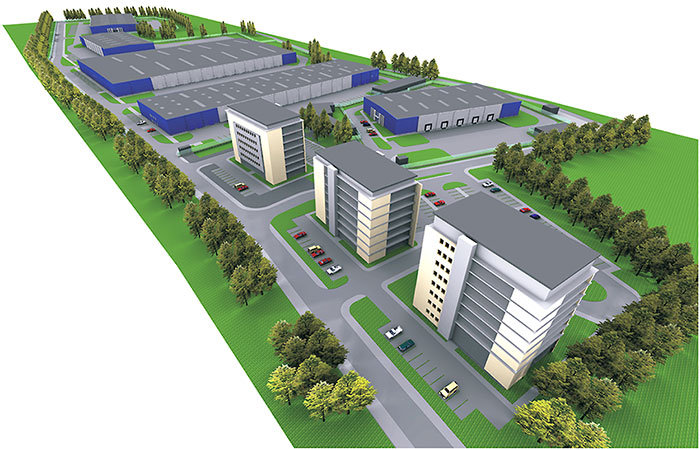 The areas shall characterise with large flexibility allowing for separation of single modules, whose minimal storage area shall be approx. 1000 sqm and office area 60 sqm.
Construction of the areas adjusted to individual needs of a client shall be executed within 12 months from concluding appropriate agreement.
At present the Industrial Park is offering for lease or comprehensive logistics service (storage, packing, unloading, weighing, rail transport, etc.) over 34,000 sqm of the storage and production areas.
The first of the large investments of the Park was a modern storage hall of the area of 8,400 sqm put into operation on 15 December 2007. Pillars grid- 10,2m x 24m; clearance- 10m; indoor temperature- 16°C; floor load capacity: 8 tons; office and social facilities made to individual order of a client based on agreed design and finishing standard; hydraulic dock levellers with shutter doors and dock locks for TIR- 1 pc/700sqm; shutter doors on level 0- H:3,5m W:3,5m manually operated /electrical operation as an option/- 1 pc/1,500 sqm; siding – yes (distance approx. 100 m), CCTV- yes, security- yes, 24h.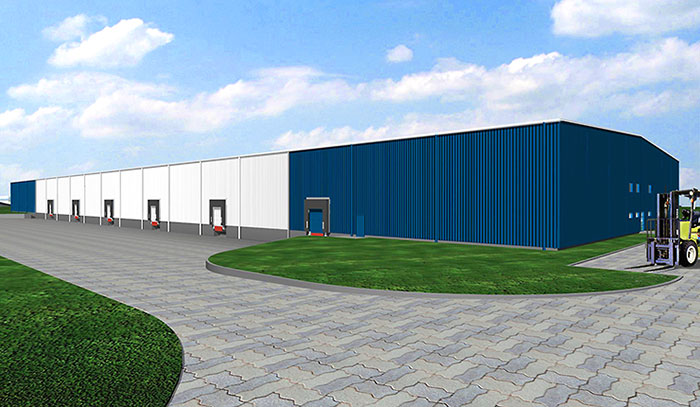 This year Industrial Park LUVENA has finished in Lubon the construction of the second hall, which offers tenants a modern warehouse and office space, which will provide specialized consulting services.
LUVENA Industrial Park received a grant to implement this project in the amount: 7 010 008.80 zł. The project is part of the Wielkopolska Regional Operational Programme, Measure 1.4. "Support for projects related to the Regional Innovation Strategy." The subject of project is the construction of infrastructure Industrial Park LUVENA in the industrial restructuring of land belonging to LUVENA SA (Formerly Chemical Plant Luboń SA). Through the project, Industrial Park Luvena has got the second modern hall with service, storage and office area that allows to provide businesses with innovation in logistics processes and comprehensive consulting support activities associated with actual users of the park.
The new hall provides 4670 m2 of warehouse space, 1694 m2 of office space and 503 m2 services space.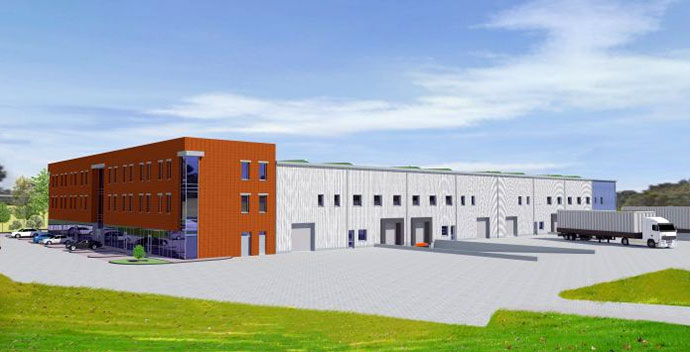 SERVICES
Beside the support from the scientific sector, thanks to the subsidy obtained, LUVENA Industraial Park will be able to provide many consulting and designing services to the participants of the undertaking. It shall cover:
Project of technological development of a warehouse


Logistic audit of selected 3 areas


Project of optimization of use of transport resources


Consulting services in logistics- four one-day consultations with a specialist in a selected field


An e-learning course in a selected field of logistics


Legal Services - a comprehensive company service. To conduct cases in the field of civil, criminal, commercial and labor law. Current legal advice.


Accounting services - pickup and delivery of documents, analysis and accounting documents, interim settlement with the U.S., providing information and consultations on tax, filling in forms to the banks and the CSO.


Personnel Services - establishment of a personal portfolio worker settlements with U.S. and Social Security under the job, keeping records of wages, holiday cards, and others, guarding terms of research and training of workers health and safety, verification and delivery to the Social sick leave, filing and handling of refunds and other claims for occupational.


Financial Consulting – in particular, acquisition of EU funds (structural funds framework programs) for the development, cooperation with science and stuff training.


PR, Promotion and Advertising Services - the development of communication, preparing press releases, articles and information materials, organizing press conferences, informal meetings, seminars, initiating press interviews, monitoring (that is selection) and comprehensive analyzing information in media, planning and executing of advertising campaign in nationwide and online newspapers, planning and implementing non-standard and special campaign


Environmental Consulting – updating deeds of environmental protection, assessment of their compliance with environmental regulations, monitoring the records of waste generated, cyclic preparing information about the use of the environment and the amount of charges payable, assist in the implementation and management system certification according to ISO 14001, representation of companies before administrative bodies, including the control WIOŚ the issues related to environmental protection.
Thanks to close cooperation with the economic partner- Luvena S.A. the Park shall offer a number of supplementary services within the scope of:
Transportation and forwarding (transport at sidings, unloading and uploading, weighing of the goods etc.)



Supply of utilities (electric energy, drinkable water, industrial water, liquid waste, etc.)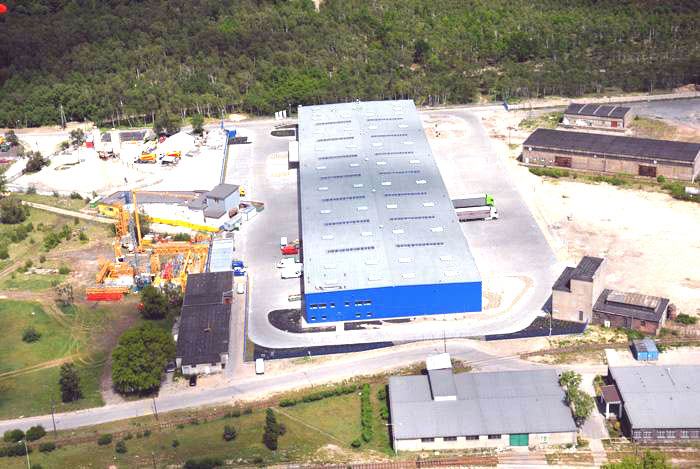 Our clients
Thanks to the reputation of a flexible and modern economic partner, Industrial Park may proudly say that it is providing services to more than 100 clients, including:
Beton Bonus (building materials), Biurex (office furniture), Blumar (laundries, dyeworks), Cityrent Sp. z o.o. (construction machines), Dalkia Polska S.A. (heat engineering), Eco-Serwis Sp. z o.o. (recycling), Eltel Networks Telecom Sp. z o.o. (telecommunication), Eurowelding (metals processing), Frambud Sp. z o.o. (building articles), HKS Project Sp. z o.o. (designing and construction of conveyors), , Indykpol S.A. (pultry plant), Poznańska Fabryka Urządzeń Sp. z o.o. (ventilations), Instal Poznań Projekt Sp. z o.o. (consulting), ITE Sp. z o.o. (telecommunication), Kruk S.A. (debt collection), Orion Construction S.A. (consulting), Polska Telefonia Cyfrowa Sp. z o.o. (telecommunication), Premont Sp. z o.o. (industrial installations), Seifert Polska Sp. z o.o. (logistics), Strabag Sp. z o.o. (road works), Warbud (construction enterprise).
Development plans
Thanks to the success of the first stage of development of the Industrial Park, there have been started construction of the second and projects of third warehouse complex. Thanks to the experience gained, the offer of lease of the storage area or providing logistic services is addressed to the customers with average area needs. It is planned a construction of a warehouse of the area of 18,000 sqm intended for 6 potential lessees. Additionally, there are plans to lead siding to the bigger hall and to construct loading ramp of the length of approx. 140 meters.
There was much interest in the planned investments and it is highly probable that the contracts for lease of all storage and production areas will be concluded before actual commencement of the construction.
In the near future there is also planned construction of the first in Poland specialist chemical warehouse in line with the European Union Council Directive – Seveso II. The warehouse will be built for a single lessee, and its usable area shall be approx. 8,000 sqm.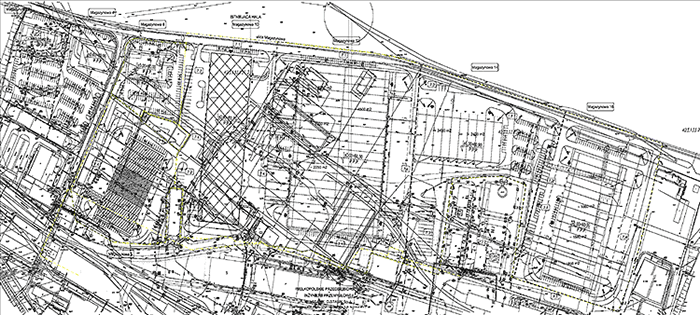 It is estimated that construction of the all storage and production halls, considering the present development rate, should be completed after approx. 7-10 years. According to the concept of development of the grounds worked out by the Institute of Logistics and Warehousing, the Industrial Park in Luboń shall have approx. 75,000 sqm of industrial areas after full development of the site.
The subsequent stage of development of the Industrial Park shall also be the construction of office facilities. It is estimated that there shall be constructed three modern A class buildings of the total area of approx. 15,000 sqm.
Negotiations with the future lessees indicate that the area of the Industrial Park is most probably going to specialise in logistic service of chemical industry.
Contact:
Luvena S.A.
Romana Maya St. 1,
62-030 Luboń
WWW: www.luvena.pl