Lublin Science and Technology Park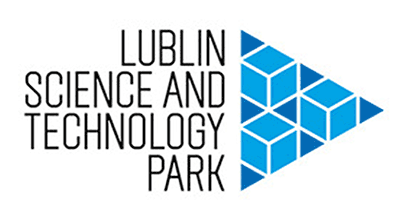 PL | EN
The Lublin Science and Technology Park was established in 2005 as a joint initiative of the local government of the Lubelskie Voivodship and the University of Life Sciences in Lublin. Already in 2009, the first building was put into use, which soon became a place of cooperation between scientific institutes, universities and production plants working on modern technologies and market products.
The Park's mission is to support the development of the Lubelskie Voivodeship by creating a platform for cooperation between Lublin's institutes of higher education , representatives of business and the start-up environment.

Location

The Park is located in the south-eastern part of Lublin, in the Felin district. The University of Life Sciences and the Catholic University of Lublin, as well as the State Museum at Majdanek, have their buildings in close proximity. The LPNT building is very well connected via national roads S-17 and S-12, along the "Via Carpatia" route, which integrates the transport systems of many countries. In addition, its advantage is the proximity of Lublin Airport and its location on the border of the Special Economic Zone Euro Park Mielec - Lublin.
Access to the Park is possible by public transport, including a system of modern trolleybus lines.


Offer
The task of the LPNT is to facilitate the flow of knowledge between business and science. Our goal is to support initiatives to stimulate innovation. Our team helps novice entrepreneurs in starting and running their own business and in the transfer of technology. Our task is to support the development of innovation and enterprise technology, through among other things, specialized pro-development consulting services aimed at increasing the competitiveness and economic efficiency of companies, both at the operational and strategic level. LPNT's staff has extensive experience in the coordination and ongoing service of projects, recruitment of participants and promotion, management, monitoring and reporting. We also have experienced specialists in the field of public procurement, HR and finance, lawyers familiar with the specifics of project implementation and qualified administrative and IT staff.
We provide real estate and technical infrastructure, which provide entrepreneurs with favorable conditions for conducting their business.
Building: A multifunctional facility equipped with the necessary infrastructure with a total functional area of 12,500 m2.
Conference and training rooms: 4 training rooms with an area of 60 m2 each, which can be arranged in different ways.
Conference hall designed for 420 people.
Offices: rental of high standard office space.

Benefits for tenants include: good location, close proximity to the Special Economic Zone (SEZ "Mielec"), neighboring companies and research units engaged in innovative activities, located in the Voivodship ranked 6th in terms of the number of registered startups, with affordable costs for both living and running a business, the proximity of many institutes of higher education with the potential of over 60,000 students, availability of parking areas.

Preferred activity profile of companies and institutions: R&D sector, IT industry, biotechnology, research and scientific units.
START-UP: LPNT creates an atmosphere and gives tools for the rapid development of innovative ideas. We offer a lot of free training, we provide offices and conference rooms, we organize many events for start-up owners. The Technology Incubator helps novice entrepreneurs in launching and running their own business. This assistance includes, among other things: rental of office space on preferential terms with appropriate infrastructure, consulting services in the field of law, accounting, marketing, business plan development, mentoring and access to specially equipped rooms (conference room, rooms for business meetings) and an environment of other companies involved in innovative activities.


Contact

Lublin Science and Technology Park S.A.
st. Dobrzańskiego 3, 20-262 Lublin
phone: (81) 534 61 00 / 506 977 960
e-mail: biuro@lpnt.pl
https://lpnt.pl/


Return »