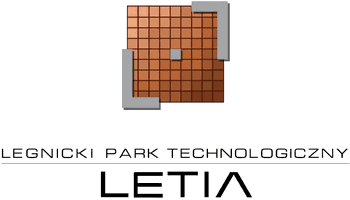 Legnica Technology Park LETIA S.A. is a joint project of KGHM Polska Miedź S.A. Lower Silesia Marshall's Office and Wrocław University of Technology. The mission of Letia S.A. is to create a competitive and innovative economy in the region by providing favourable conditions for the development of enterprise.
The Park offers grounds for investment (29.50 ha) including infrastructure and access to specialist media, as well as office space for lease. Most of the area is non-built-up. LETIA S.A. offers to the entrepreneurs many attractive services, which will help companies to concentrate on their core business activities.
Why us?
Perfect location

Ground for investment

Good communications infrastructure

Skilled staff

Favourable fees and charges

Concessions and reliefs: e.g. exemption from tax for legal persons and property tax concessions

LOCATION
Legnica has a very favourable location in terms of communication, as it is placed in the centre of the Lower Silesian region.
Distance to selected cities:
Wrocław - 70 km

Poznań - 160 km

Szczecin - 295 km

Warszawa - 385 km

Kraków - 320 km

Berlin - 290 km

Praga - 210 km

Wiedeń - 475 km

Lwów - 650 km

Nearby border crossings (by A4 motorway)
Jakuszyce (the Chech Republic) - 80 km

Zgorzelec (Germany) - 90 km

Medyka (Ukraine) - 590 km
Road infrastructure
A4 motorway and the international Road E40 (West-East): Berlin - Olszyna - Legnica - Wrocław - Katowice - Kraków - Medyka - Lwów. International roads (North-South): from Świnoujście to the border crossing with the Czech Republic, also to Vienna and the South of Europe.
Railroad transport
Network of railroads of international importance. Main railroads connecting Legnica with Dresden, Frankfurt and Berlin.
Air transport
International airport in Wrocław - 70 km from Legnica; domestic and international flights also via airports in Warsaw, Frankfurt and Copenhagen.
Airports in Legnica and Lubin - charter flights; customs clearance available in Lubin.
River transport
River transport - port in Wrocław (70 km) and Głogów (65 km)
Legnica is the third biggest city of Lower Silesia, with over 100 000 inhabitants, located near important road and rail hubs. It is an important administrative, cultural and economic centre.
The land we offer is located on the outskirts of Legnica next to the Legnica Smelter. The plots of land owned by the Legnica Technology Park are situated in the immediate vicinity of provincial road no 364 leading from Legnica to the Karkonosze Mountains and close to the A4 motorway. The land is conveniently located in the heart of Lower Silesia, which allows for easy access - using the motorway - to the German border (90 km) and the Czech border (80 km) as well as to the international airport in Wrocław (70 km).
Investment land offer
The plots we offer for sale or lease have access to technical and road infrastructure:
Excellent location-10 km from A 4 highway (Wrocław-Zgorzelec), close proximity to Legnica Special Economic Zone (possible cooperation).

Access to specialist media through a close proximity to Huta Legnica (Legnica Smelter):

Flat, partially developed and safe area;

High and low voltage transmission line available. The distance from substation is 100 m from the plot. High voltage availability: 3.0 MW and by the end of 2009 8.5 MW;

Access to waste water treatment and industrial waste disposal facility (unsecured);

Fire-fighting and chemical safety facilities available;

Road and rail access;

Gas pipes available;

Offer 1
A plot of land of 4.6 hectares.

This plot consists of 4 smaller greenfield plots:

2.1179 ha - 2/4

1.5042 ha - 2/5

1.0224 ha - 2/6
Offer 2
Plot no. 2

Type: greenfield

Area: 3.9480 hectares
Offer 3
Plot no. 6/9; Area: 12.7891 hectares
Infrastructure:

Flat, partially developed and safe area;

High and low voltage transmission line available.

The distance from substation is 100 m from the plot.

High voltage availability: 3.0 MW and by the end of 2009 8.5 MW;

Access to waste water treatment and industrial waste disposal facility (unsecured);

Fire-fighting and chemical safety facilities available;

Road and rail access;

Gas pipes available;

Internet
Offer 4
Type: brownfield

Area: plot of less than 1 ha

(Plot no. 45 - 0.7878 ha)

Our services
Apart from attractive land prices we offer assistance in the investment process such as:
Assistance in the investment process (depending on the investor's needs); we can talk to on their behalf to institutions, submit applications for permits and negotiate terms with utilities providers.

Assistance in finding designing companies, architects etc;

Conducting an investment project on investor's behalf or finding a substitute investor;

Business services such as: reports, analysis, feasibility studies of investment projects;

Business process outsourcing-accounting, legal and consulting services;

Assistance in obtaining funds (public and private), preparing EU funded project applications and project management services;

Cooperation between companies in Technology Park

Favourable prices and proximity of other innovative companies;

Company marketing and their products promotion;

Assistance in staff recruitment;

Organising of trade fairs and trade missions;

Assistance in finding research and business partners;

Temporary and permanent office space;

Parking space;

Conference and exhibition facilities in Letia Business Center;

Hotel and catering services;

Branches and Investors
Upon analysis of the city's economy some main industries become visible. Among such branches the following can be included: metallurgy, textile industry, machine industry and clothing industry.
Huta Miedzi Legnica is the most important plant in the city. Current annual production by Legnica Smelter is around 100 thousand tonnes of high-quality electrolytic copper, in the form of cathodes and billets.

Businesses operating in the Legnica Technology Park
The largest employer in the Legnica Technology Park is Avista Media, which operates a call centre for investors.
Other tenants in the park include: Hutnicze Przedsiębiorstwo Remontowe (HPR) (services in the mechanical, steel structures, electrical systems, installation and crane repair sectors), KGHM METRACO (manufacture of metals and metal compounds and utilisation of industrial waste from copper production), ELSUR (construction of industrial systems, gas networks, installation of machines and technological lines), Lenze Rotiv (a leading manufacturer of industrial automation equipment and electric drives), Legserwis (construction of machines and equipment), Piecbud (construction, repair and upgrading of industrial furnaces, industrial construction, reinforced concrete works), PIEROTH (a wine distributor), REMAK SA (manufacture, installation and repair of water and steam boilers, pressure and non-pressure vessels and steam pipelines), TRANSLEG (transport services).
Education
High qualifications of the inhabitants of Lower Silesia are one of the main factors accelerating the development of the region. At present there are over 166 000 students attending 26 colleges in the region.
The city Legnica boasts high rate (10%) of people with higher education. Specialists of Lower and Middle level also come from Legnica's upper secondary schools, such as:
Universities of Applied Sciences (degree awarding)

Engineering management

Industrial process control

Logistics

Labour safety engineering

FACULTY OF MANAGEMENT AND PRODUCTION ENGINEERING (II DEGREE STUDIES)

Renewable sources power engineering

IT technologies in production engineering

Administration

Automation, robotics, robotics and mechatronics

Metallurgy

Plastic processing of non-ferrous metals - non-ferrous metals extraction processes engineering

Economics

Polish Open University which offers a joint UK-Polish managerial degree and postgraduate qualifications.

Managers' School (degree awarding)

Foreign Language Teacher Training College (degree awarding)

A Campus of Wrocław Technical University (degree awarding)

Higher Theological Seminary of Legnica Diocese (degree awarding)

Assembly of Electric-Mechanical Schools

Practical Education Centre
Over 12000 students attend the aforementioned schools. Faculties for students, among other, are as follows: public administration, environmental protection, advertising, marketing, banking, construction, mining, geology, mechanics and machinery construction, electrical engineering, informatics, additionally College of Foreign Languages educates the teachers of English, German and French.
Why Legnica?
Lower costs of employment, land for investment as well as rent of office space than in most big cities such as Wrocław, Poznań, Gdańsk or Cracow. Possibilities to cooperate with KGHM Polska Miedź Capital Group (copper mining and smelting conglomerate). Legnica is a city with a large number of well qualified staff. There are more than 12 thousand students in Legnica Colleges of Higher Education. Around 10% of Legnica population have degrees.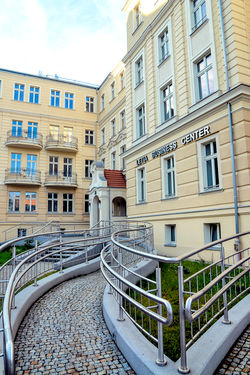 LETIA Business Center
Office infrastructure
Currently, the Legnica Technology Park offers office space at preferential rates in an office building located directly next to land for investment projects. The Legnica Technology Park offers office space rental, hot desk rental and access to a conference room for professional business meetings or presentations.

Office, Conference & Exhibition Centre
LETIA BUSINESS CENTER (LBC)
The Complex was established within the frames of the project "Liquidation of disparity in the development of region and enterprises competition increase by Office - Service Centre of the Legnica Technological Park with road infrastructure and conditions of Legnica land, supporting transfer of innovation and achievements of enterprises B+R sector" financed within the frames of Act 1.4 of Regional Operative Program of Dolnośląskie Voievodeship.
The creation of competitive and innovative economy of region by creating valuable conditions for enterprises development is the mission of the Legnicki Technological Park.
The main aims of the Legnicki Technological Park:
Investors recruitment,

The development of enterprise and assurance of development support,

The creation of new jobs.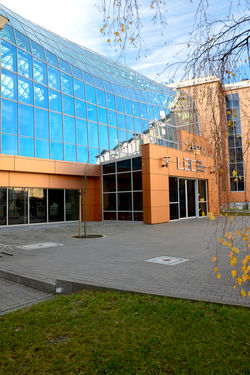 LETIA Business Center
LETIA BUSINESS CENTER in the only one an A class office building with floor area of 8000 m2 with perfectly developed infrastructure and modern technological solutions.
We offer office areas with full service, guarantying working comfort and achieving better results. Letia Business Center promotes firms acting within its area. The unusual atmosphere and unique architecture of LBC and favourable contracts acquiring and new business projects realizing.
The multimedia halls guarantee users professional conditions of business appointments and conducting company's courses. The computer laboratories equipped with specialist equipment allow us to function within the frames of computed technology. The entrepreneurs may also use rapid prototyping room and three dimensional print.
The internal atrium Letia Business Center is covered with unusual glass cupola with floor area of almost 440 m2 which an ideal place for perfect concerts, science conferences, exhibitions, banquettes recitals and the most important events for the city and region. We can accommodate 300 persons in one. The continuous aiming at fulfilment of expectations of Clients let us achieve huge experience within the scope of an organization of huge business appointments and promotional events.
The Complex Letia Business Center was established in the basis of revitalized buildings of previous municipal hospital, situated in the city centre of Legnica, in the vicinity of XIX- century development. The visual features and functional architectural solutions of building was estimated by the jury of X edition of competition for the best building 2012 in the Lower Silesia, awarding Letia Business Center the title of Building of the Year 2012. The most important advantage among others are prestige location in the area of the most important public institutions of the city, modern, fully equipped multimedia conference halls, restaurant with catering background and guest rooms.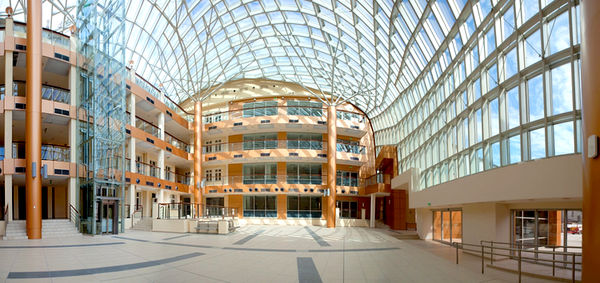 LETIA Business Center
Enterprise support
The entrepreneurs with full of ideas may use a Virtual Office in the Letia Business Center, which supports active owners of the firms. You can use an office areas and business appointments halls for not big service charge. The renters of LBC can register the firm achieving the most prestigious address of the property in the Legnica and use of legal, administrative and promotional support of the centre.
Rapid prototyping
There is conducted a laboratory RAPID PROTOTYPING in the Letia Business Center, where the spacious, printed three-dimensional objects prototypes are created.
The technology rapid prototyping in Letia Business Center in Legnica is a huge time and money saving in the process of machines, devices, building, and everyday items designing. Each project, can be quickly and cheaply checked and tested before implementing.
There can be printed almost everything in the laboratory rapid prototyping Legnicki Technological Park - from gadgets, through the architectural buildings to implants used in medicine.
Conference Object
The conference centre LBC consists of four elegant halls. The high standard of their trimmings and equipment and space with almost 170 m2 assure all visitors comfortable participation in each organized event here. The strengths of the LBC centre are also appreciated by the renters - among other resiliently developing of firms KGHM METRACO and Interferie S.A.
The personnel from firms of Legnicka Special Economic Area, Capital Group KGHM and local entrepreneurs of SME sector are trained in the conference centre..
Business with class
The Letia Business Center is a special place in Legnica, where innovative solutions for business are created. The modern infrastructure and experienced personnel guarantee achieving successes by the firms and enterprises using of LBC offers. The business contacts established here translate into development and better financial results of the firm. Thanks to partial financing from union funds Legnicki Park Technologiczny LETIA S.A. assures a place for conducting business with class of local entrepreneurs as well as firms beyond the region, which plan to accommodate in LBC.
Restaurant
The complex also has an excellent situated - between conference part and office part - restaurant. All employees of the firm accommodated in the complex, conference guests and citizens of the city will have a possibility to us it.
OFFICE BUILDING
There is the possibility of renting an office area in the direct vicinity of LPT investment terrains.

Contact:
Legnica Technology Park Letia S.A.
Rycerska 24
59-220 Legnica
Poland
Tel: +48 76 723 54 40
Fax: +48 76 747 54 44
sekretariat@kghm.letia.pl
www.letia.pl