Kraków Special Economic Zone - KSEZ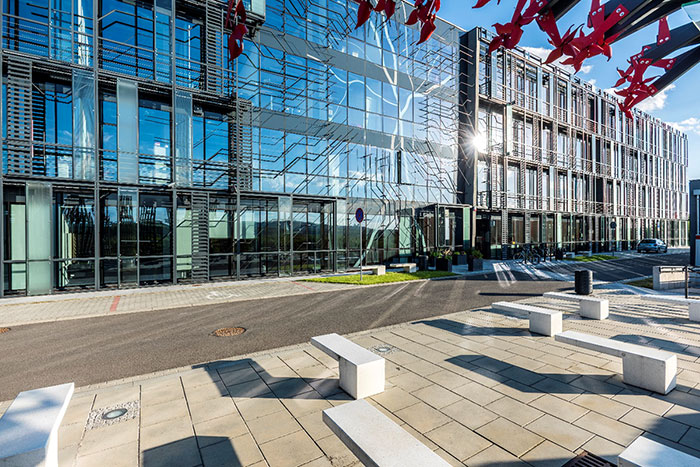 Entrepreneurial Małopolska means ...
Hard-working people who moreover are perfectly educated thanks to a broad range of schools offering education at all levels. A strong academic, and research and development centre.
Małopolska is entrepreneurial, as it cares for the development of businesses, offering fantastic infrastructure for investments: developed land in Kraków Special Economic Zone and Economic Activity Zones, road infrastructure, and business environment and investor services open to commercial and professional needs.
These are the reasons why our region has been awarded the title of the European Entrepreneurial Region (EER).
For your success come to the Kraków Technology Park (KTP)
This is where the needs of businesses are understood. That's why, with our partners, we set up and integrated investor service hub under the name of Business in Małopolska Centre. Here, every entrepreneur receives a full package of information needed to carry out the investments, encompassing also information about the land and office space available in the regional market. Moreover, we set up two technology incubators, a seed fund, clusters, and Małopolska's most modern park dedicated to ICT companies. We run training and consultancy, and help to set up international relations. The range of our services includes also a proprietary acceleration programme called KTPScaleUp for young businesses that have developed B2B solutions in innovation for industry and smart city sectors. We are very close to big business in this project, as we work in partnership with 10 major enterprises interested in the acquisition of innovative solutions and investment in start-ups.
What we offer is exceptional, as we are a technology park enjoying the status of a Special Economic Zone
We carefully follow the needs of business and tune the range of services that we have prepared to satisfy them. We adjust our offer to the stage of development of our partner. With us you can certainly find:
public aid package: income tax (CIT or PIT) tax relief thanks to investing in the Kraków Special Economic Zone,
land for development,
office space,
technology incubator,
temporary space (softlanding),
seed fund,
hub for exchanging technology know-how,
a dynamic innovation hub for the ICT sector,
a platform for cooperation of the academia, business, and administration,
training in acquisition of funds for business operation,
training in running business in the special economic zone,
post-investment care extending among others to investor support in building and maintaining business relations with territorial authorities and business environment institutions, establishing cooperation links with local businesses and suppliers, support in the development of reinvestment plans and identification of potential subcontractors, clients and competitors, and a help hub offering support in current problems,
joint projects.
Investor care: Business in Małopolska Centre
Together with our partners we set up Business in Małopolska Centre: a "one-stop shop" especially for our investors.
Together with you, we build a positive climate for development and investment in our region, promote the economic potential of Małopolska, and streamline the care for investors who come to Małopolska.
More information:
http://www.kpt.krakow.pl/nasze-projekty/#business-in-malopolska http://www.businessinmalopolska.com/
The largest investments in Małopolska are located in our zone
We invite businesses representing all sectors to invest in the Kraków special economic zone. So far, businesses from the IT, chemistry, BPO/SSC, and automotive sectors have developed here most spectacularly.
Kraków Special Economic Zone in numbers
The Kraków Special Economic Zone covers the area of 949 ha, and is located in Małopolska, Świętokrzyskie and Podkarpackie regions (voivodships) where public aid from the title of investing in special zones is highest in Poland. The Kraków SEZ consists of 36 subzones located on the premises of 35 communes.
So far, 236 permits for operation in the special economic zone have been issued, which so far opened 26 000 new jobs, and incurred total investment outlay of PLN 6 000 000 000.
For detailed information visit our website: http://www.sse.krakow.pl/specjalna-strefa-ekonomiczna/


The company managing the zone:
Kraków Technology Park
ul. Podole 60,
30-394 Kraków, Poland
tel. +48 12 640 19 40
fax +48 12 640 19 45
e-mail: biuro@sse.krakow.pl
www.sse.krakow.pl
Contacts for investors:
Krystyna Sadowska - Director of Promotion and SEZ Development
tel.: +48 12 640 19 46, +48 604 621 006
e-mail: ksadowska@sse.krakow.pl
Jacek Bielawski – Projects Coordinator
tel.: +48 12 640 19 49, +48 696 456 680
e-mail: jbielawski@sse.krakow.pl
Justyna Czyszek - Specjalista ds. prawnych
tel.: +48 126 401 945,
e-mail: jczyszek@sse.krakow.pl
More information: Publication - Poland Special Economic Zones


(Last data update: November 2017)