Special Economic Zone Euro-Park Mielec

As part of the "Polish Investment Zone" Industrial Development Agency as the manager of the Special Economic Zone EURO-PARK MIELEC*, in the area assigned to it, issues a decision on support (it entitles to benefit from the income tax exemption).
The area includes the following poviats and cities with poviat rights located in the area of:
podkarpackie voivodship: Bieszczady, Brzozowski, Dębicki, Jarosławski, Jasielski, Kolbuszowa, Krosno, Leski, Leżajsk, Lubaczów, Łańcut, Krosno, Rzeszów, Mielec, Przeworsk, Ropczyce-Sędziszów, Rzeszów, Sanocki and Strzyżów

lubelskie voivodship: lubartowski, lubelski, m. Lublin, świdnicki.
In this area, the highest level of public aid in the EU (50%) and the period of validity of the decision on support (15 years) apply.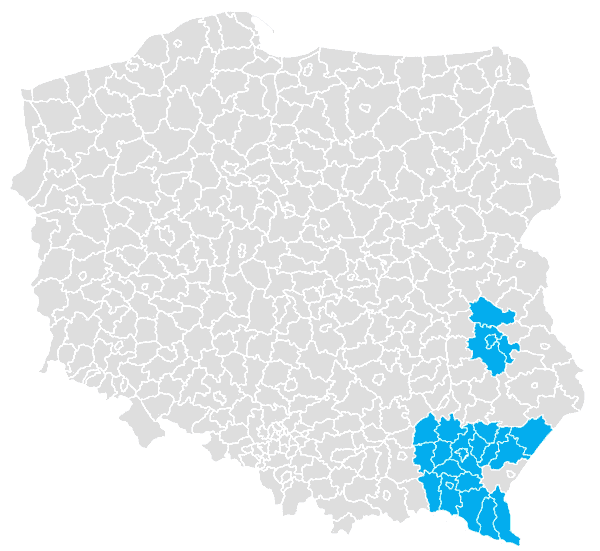 * SSE EURO-PARK MIELEC is the first Polish special economic zone created in 1995, managed by Industrial Development Agency and the current functions related to the operation of the zone are carried out by the Branch Office in Mielec.
Mielec SEZ is one of the leading zones in Poland in terms of creating conditions for new investments, for domestic and foreign investors, companies from the SME sector and international corporations. The zones in Poland will operate until December 31, 2026.

To see the pictures of EURO-PARK MIELEC please click here…

Specialization
In the region of south-eastern Poland, the largest investments are carried out by companies from the aviation industry. Here are produced task and training aircraft, helicopters, as well as components for global aviation giants. Entrepreneurs from this sector co-create the Aviation Valley, one of the largest industrial and technological clusters in Poland.
In addition to aviation, companies from such sectors as motorization, metal processing and plastics processing are dynamically developing here.

Public aid
The manager of the area offers income tax exemption, which is calculated based on eligible investment costs. The eligible costs of a new investment are: the cost of land acquisition, acquisition of fixed assets, extension or modernization of fixed assets, acquisition of intangible assets, or 2-year labour costs of newly hired employees.

Investment offer
The manager offers greenfield areas with full infrastructure and communication access, brownfield - free production facilities and "build-to-suit" (BTS) - turnkey projects. Current offers are available at: mapa.europark.arp.pl.

Statistics (from the beginning of the Manager's activity)
PLN 13.2 billion of investment expenditure incurred by entrepreneurs

45.8 thousand created and maintained jobs by entrepreneurs

Entrepreneurs implementing the largest investments in our area:
| | | |
| --- | --- | --- |
| Investor | Country of origin | Sector |
| Polskie Zakłady Lotnicze | USA | aviation |
| MTU Aero Engines Polska | Germany | aviation |
| BORGWARNER POLAND | USA | automotive |
| BURY | Poland | electronics |
| KIRCHHOFF Polska | Germany | automotive |
| Fabryka Cukierków "Pszczółka" | Poland | food processing |
| Kronospan Mielec | Austria | wood processing |
| Polskie Zakłady Zbożowe Lubella GMW | Poland | food processing |
| SPLAST | Poland | plastics |
| FIBRAIN | Poland | IT |
| ML SYSTEM | Poland | photovoltaics |

Detailed information for entrepreneurs applying for a decision on support for the implementation of a new investment is provided by:
Industrial Development Agency Branch Office in Mielec
ul. Partyzantów 25
39-300 Mielec
tel.: +48 17 788 72 36
e-mail: europark@arp.pl
www.europark.arp.pl

Contact persons:
Dominika Błaszczak, Senior Specialist
tel: +48 17 788 72 36 ext. 220
e-mail: dominika.blaszczak@arp.pl

More information: Publication - Poland Special Economic Zones




(Last data update: November 2019)