The Kostrzyn-Słubice Special Economic Zone is located to the west of Poland. Its geographic location is in the centre of Europe, in the direct proximity of Germany and the Czech Republic, providing numerous favorable transport connections for both people and commodities. Efficient transport is ensured by the international roads E30 (A2), E65 (A3) and E28, as well as the railway line Paris-Berlin-Warsaw-Moscow. Location of the Zone by the Oder and Warta rivers facilitates access to the seaports of Szczecin and Świnoujście, and riverports of Berlin and Hamburg. Investors also have at their disposal passenger and cargo airports in Babimost, Goleniów or in Berlin. The Zone manages real estate located in two voivodships - Lubuskie and Zachodniopomorskie, which provides a significant stimulus for the economic development of these regions. The Kostrzyn-Słubice Special Economic Zone is established until 31st of December 2026.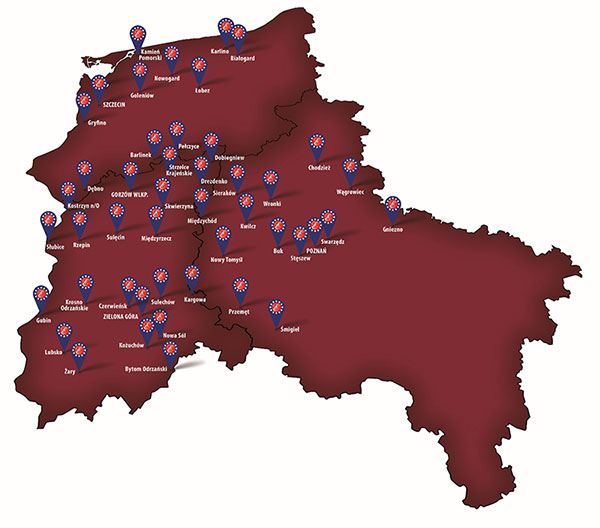 K-S SEZ - map of subzones
The Kostrzyn-Słubice Special Economic Zone actually contains more than 2201 ha. It has 57 subzones: Słubice, Kostrzyn nad Odrą, Gorzów Wlkp., Zielona Góra, Nowa Sól, Gubin, Bytom Odrzański, Czerwieńsk, Poznań, Chodzież, Swarzędz, Barlinek, Międzyrzecz, Lubsko, Sulęcin, Rzepin, Goleniów, Karlino, Gryfino, Nowy Tomyśl, Buk, Przemęt, Skwierzyna, Stęszew, Krobia, Wronki, Dobiegniew, Kożuchów, Białogard, Kargowa, Łobez, Nowogard, Pełczyce, Szczecin, Dębno, Kamień Pomorski, Śmigiel, Krosno Odrzańskie, Drezdenko, Wągrowiec, Żary, Sulechów, Gniezno, Kwilcz, Krzeszyce, Kłodawa, Golczewo, Sieraków, Piła, Gryfice, Międzychód, Myślibórz, Płoty, Zwierzyń, Santok, Żagań, Lipno.
To see maps of the individual subzones please click here...
To watch panoramas of sub-zones in 3D please click here...

Statistics:
Kostrzyn - Slubice Special Economic Zone issued 330 permits for the business activity on the area of K-S SEZ.
Total investment expenditures spent by the all companies that act on the K-S SEZ - 7.9 billion PLN
Total employment on the area of the Zone almost 32745.

Major investors in the Kostrzyn - Slubice Special Economic Zone:

| | | |
| --- | --- | --- |
| Inwestor | Kraj pochodzenia | Sektor |
| ICT Poland Sp. z o.o. | Italy | Paper |
| Faurecia Gorzów Sp. z o.o. | Spain | Automotive |
| TPV Displays Sp. z o.o. | Taiwan | Electronics |
| Arctic Paper Kostrzyn S.A. | Sweden | Paper |
| Barlinek Inwestycje S.A. | Poland | Wood |
| Volkswagen Poznań S.A. | Germany | Automotive |
| Europol Meble S.A. | Poland | Furniture |
| AB Foods Polska Sp. z o.o. | UK | Food |
| Teleskop Sp. z o.o. | Belgium | Metal |
| Nord Napędy Zakłady Produkcyjne Sp. z o.o. | Germany | Metal |
| Gedia Poland Sp. z o.o. | Germany | Automotive |
| Amica Wronki S.A. | Poland | Household |
| Phoenix Contact Wielkopolska Sp. z o.o. | Germany | Electric |
| Alumetal Poland Sp. z o.o. | Poland | Metal |
| Lantmannen Unibake Poland | Denmark | Food |
| IDEAL Automotive Zielona Gora Sp. z o.o. | Germany | Automotive |
| R. Twinining and Company Sp. z o.o. | Great Britain | Food |

Managing company of the zone
Kostrzyńsko-Słubicka Special Economic Zone Ltd.
Orła Białego 22 St.
66-470 Kostrzyn n. Odrą
Tel.: +48 95 721 98 00
Fax: +48 95 752 41 67
E-mail: info@kssse.pl
www.kssse.pl

8. People to contact with the investors:

Followed this link there are all people to contact with the investors:
www.kssse.com/en/contact/information.html#tab-investors_assistance_center
(Last update: 29th March 2018)