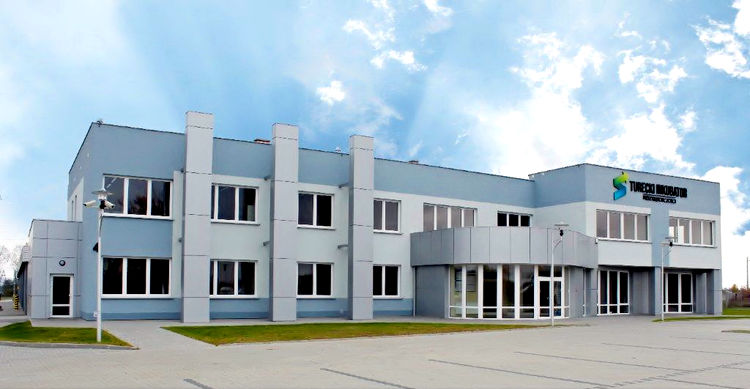 The Turek Entrepreneurship Incubator (TEI) is a service centre supporting the development of local economic operators and other actors of the economic and social environment.
The project "The building of Turek Entrepreneurship Incubator in order to deliver comprehensive services for entrepreneurs" was carried out within the framework of the Wielkopolska Regional Operational Programme for 2007 - 2013.
The facility, which includes office building with an area of 1 091,38 m2 and warehouse with an area of 3 096,12 m2, was put to use on November 16, 2012.
It is located on the outskirts of the town of Turek, on the territory of the Turek Investment Zone, at a distance of 2,1 km from the national road no. 72 and 15 km from the highway A2.
THE OFFER OF THE TUREK ENTREPRENEURSHIP INCUBATOR
THE LEASE OF OFFICE PREMISES
At the disposal of our tenants we give 20 offices. They are located in a modern and monitored building at Jedwabnicza 4 in Turek. Around the incubator there is a spacious parking with 99 parking spaces. Offices size varies from 11 to 48 m2 and their equipment includes:

a set of furniture,

a set of computer.
In addition, the package includes free access to the Internet and social facilities (kitchenette, cloakroom).
THE LEASE OF WAREHOUSE OR MANUFACTURING BOXES
The warehouse and manufacturing space is divided into 39 boxes for the purpose of production and storage area. The size of the rooms varies form 44 m2 to 58 m2 and their height is about 3,5 m. Every third external premises has a gate. At the back of the building there is a parking lot for trucks with 10 parking spaces.
The production premises are illuminated with natural light from skylights. Every local has its own heater placed on the ceiling and mechanical ventilation system.
TRAININGS, CONSULTING
We initialize consulting services in collaboration with our strategic partners. Our task is also to cooperate with coaches and training firms in order to provide knowledge and develop the skills of new entrepreneurs which are required to run a business.
TRAINING AND CONFERENCE ROOMS
Turek Entrepreneurship Incubator offers two modern meeting rooms for business purposes. Rooms have access to wireless Internet, they are air conditioned and fully equipped with multimedia and sound systems (amplifier, mixer, 2 wireless microphones, 2 tie clip microphones ).
THE TECHNICAL EQUIPMENT

We possess the technical equipment accessible to our tenants. The equipment includes:
forklift: power: petrol-gas, capacity: 2 500 kg, lifting height: 3 m;

air compressor: throughput: up to 1 000 l/min, min. pressure: 10 bar, engine power: 7,5 kW;

mobile welding fume extraction: capacity: 2 500 m3/h, underpressure: 2 000 Pa, arm diameter: 160 mm, arm length: 3 m;

pallet truck: capacity: 2 000kg.
LABORATORY EVALUATION OF BUILDING ENERGY CONSUMPTION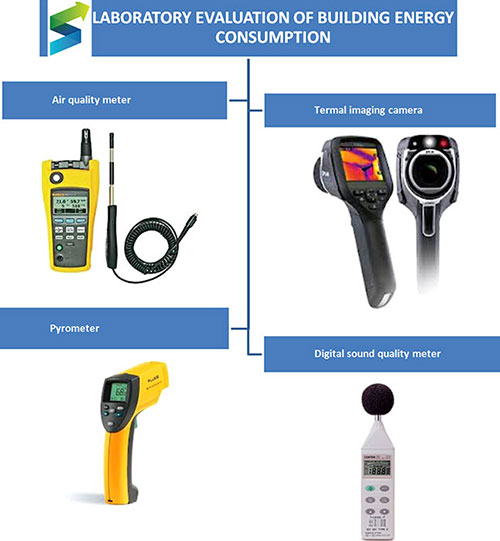 Turek Entrepreneurship Incubator runs a Laboratory Evaluation of Building Energy Consumption. The main aim of the Lab is to conduct assessment of heat loss in buildings and hard-to-reach places.
We provide services using modern measuring laboratory equipment:
thermal imaging camera - to test the heat loss in buildings;

air quality meter - to monitor the flow and speed of air in the premises;

digital sound quality meter;

pyrometer - non-contact thermometer, which allows to carry out measurements in hard-to-reach places.
LABORATORY OF SPATIAL MEASUREMENTS AND NON-DESTRUCTIVE TESTING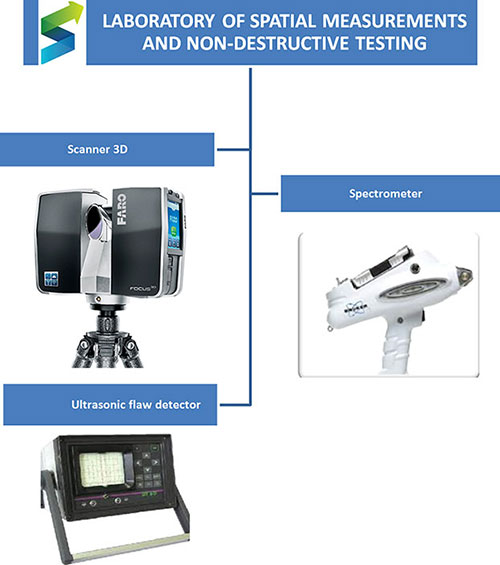 The main goal of the Lab is to conduct spatial measurements using 3D technology and the tests which do not require samplings.
The equipment includes:
scanner Faro Focus 3D - to conduct spatial measurements and photo-realistic visualization;

the spectrometer - to analyze the chemical composition;

ultrasonic flaw detector - to detect structural defects by the ultrasound method.
LARGE-FORMAT PRINTING SERVICES FOR ENTERPRISES, THE SPECIALIZED COMPUTER PROGRAMS
We possess a large format printer and a folding machine useful for large-format documents such as technical designs or maps.
Our offer includes access to the specialized software:
to create graphic designs;

to create spatial design;

accounting software for small business;

environmental programs;

programs for text composition.
VIRTUAL OFFICE / OFFICE ON HOURS
For the companies looking for flexible solutions we create Virtual Office and Office on Hours. It is an excellent idea for freelancers and those entrepreneurs who are always on the move. Virtual Office includes operating at incubator's address, promotion on our website and access to many services on preferential terms.
To meet with customers without having to rent the Office on a permanent basis, entrepreneurs may use the Office on Hours.


| | |
| --- | --- |
| | TOGETHER IN BUSINESS DIRECTION |
RECRUITMENT
The recruitment process consists of two stages:
The submission of properly completed application form together with required documents.


Interview with a candidate.
After completing the verification process, each company is given a special status:
the incubated company - functioning on the market no longer than 12 months;

the strategic company-company whose location in the incubator is beneficial for the organizational and strategic purposes;

the commercial company - the company interested in locating their business in TEI,

Virtual Office - a company operating in the incubator, with the exception of renting an office or a manufacturing space.
In Turek Entrepreneurship Incubator operate in total 25 companies including 9 newly-arisen and 3 as Virtual Office.
Contact:
Turek Entrepreneurship Incubator
Jedwabnicza 4, 62-700 Turek
tel. (63) 222 38 81
e-mail: sekretariat@inkubator.turek.pl
www.inkubator.turek.pl