Vistula Park 2

Name of Park: VISTULA PARK II
Type of Park: INVESTMENT AREA
Managing entity: SWIECIE COMMUNEE
CONTACT:
Wojska Polskiego 124
86-100 Świecie
Tel.: (+48 52) 333 23 30/ 052 333 23 31
Fax: (+48 52) 333 23 11
E-mail: gospodarka.rozwoj@swiecie.eu
www.swiecie.eu
STAGE OF DEVELOPMENT: DEVELOPED

SSE STATUS: PARK DOESN'T BELONG TO SSE

LOCATION: SULNOWO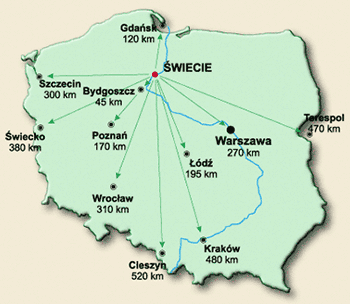 OFFER:
The site is located near to the national highways number 1.The site is located 14 km from A1 motorway junction Nowe Marzy
There are well qualified workers in Swiecie Commune
The site is located near to universities
The site is owned by Swiecie Commune
INFRASTRUCTURE
water supply lines
telecommunication lines
gas supply lines
sewage disposal system
power supply lines
Electricity: available capacity: 1200 kW

Voltage: 380V.
LAND COST:
Monthly rent is 890 PLN/ ha (net price).

There is an opportunity to purchase the land after the expert's calculation.

Total area 19,62 ha.

Reserved area 8,04 ha.

Available area 11,58 ha.
In 2008 for this investment Swiecie Communee got a price "GROUND ON A MEDAL".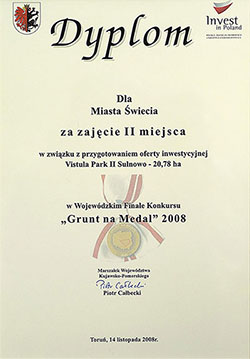 Świecie City Hall
Wojska Polskiego 124 Str.
86-100 Świecie
Tel.: (+48 0 52) 333 23 31/ 052 333 30 50
Fax: (+48 0 52) 333 23 11
E-mail: promocja@swiecie.eu
http://www.swiecie.eu