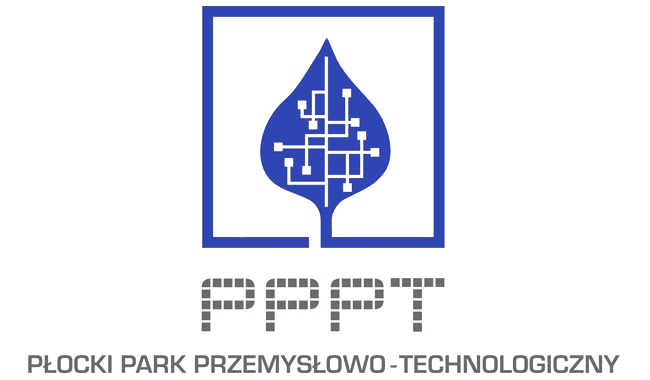 Name: Płock Industrial and Technological Park
Park type: Industrial and Technological Park
Operating entity: Płock Industrial and Technological Joint-Stock Company
Contact details:
Łukasiewicza 39 Str.
09-400 Płock
tel.: (+ 48 24) 364 03 50
fax: (+ 48 24) 364 03 52
sekretariat@pppt.pl
www.pppt.pl
Location
Płock Industrial and Technological Park is located in Płock – a city in the North-Western part of the Mazovian Province. The investment areas and our seat with an administrative complex are located in the Northern boundaries of the town in a direct neighborhood of the refining and petrochemical facility and the seat of PKN ORLEN S.A. Central location of the Park in relation to the capitals of the Central and Eastern Europe countries and the largest cities of Poland is an asset. It is near to every place from Płock. The most important municipal agglomerations and economic centers of Central Poland such as Warsaw, Łódź or Toruń, are about a 100 km away from the city.
Important communication routes run near Płock and the road infrastructure has been consistently developed. A-1 Północ – Południe (international road no. 1 Gdańsk – Ostrava) and A-2 Wschód - Zachód (international road no. 2 Moscow – Berlin) motorways intersect near Płock. The city lies also close to S-10 Warsaw – Szczecin clearway. It takes only 2 hours to get to Warsaw Chopin International Airport, which is the largest in Poland, and the regional airport in Modlin is only 45 minutes away. A huge international railway junction is located in Kutno, which is just an hour drive from Płock. The city has also a local airport, which can be used by small planes and helicopters.
Sector profile
Sector profile of the Płock Industrial and Technological Park is defined by the existing local industrial, production and R&D potential in businesses connected with chemicals and related branches, environmental protection, recycling, logistics, modern business services and research and development activities.
The chemical industry is undoubtedly a characteristic feature of economic landscape of Płock. It is a city, where the biggest leader of fuel and energy, petrochemical and refining industry in Central and Eastern Europe, PKN ORLEN, has its head office. The main plant in Płock is the largest industrial complex of this kind in Poland. The concern manages 6 refineries and the biggest network of modern service stations in the region. It has been the most valuable brand in Poland for many years.
The direct neighborhood of the Płock Industrial and Technological Park is a particular abundance of the European leaders of refining, petrochemical, chemical as well as production and services companies. Business partnership of ORLEN Group may perfectly stimulate the economic development of companies which represent many industries and services. Prospects of cooperation with sector leaders offers current and future investors a unique synergy much better than anywhere else in Poland.
Park offer

Płock Industrial and Technological Park (PPP-T) is an investment area established to create attractive conditions for the development of companies as a joint undertaking of the city of Płock and PKN ORLEN S.A. The local government and the management of PKN ORLEN have decide to establish the Park in order to stimulate the development of knowledge and science, create innovation, implement R&D projects, offer business benefits and create new, attractive workplaces in Płock.
PPP-T offers its customers about 60 hectares of well-communicated investment areas, equipped with necessary technical infrastructure, and modern office space. The largest chemical and analytical laboratory in Poland and 6th largest industrial laboratory in Poland has been operating in the Park since 2015. The surface space of laboratories is approximately 3 thousand square meters and more than 230 people work there.
As a business support institution, PPP-T provides their partners and investors with a whole range of business support, training, information, consulting, pro-innovation and financial services. Thanks to collaboration with universities, research institutes, entrepreneurs, public administration, business support institutions and international organizations, the Park creates a strong cooperation network and supports and initiates R&D activities.
Investment incentives
Companies willing to invest in Płock can count on attractive self-government support programs, which include inter alia exemption from property tax. Investments may also be granted a status of a special economic zone (SSE), which enables entrepreneurs to apply for an exemption from income tax. Public aid in the form of exemption from income tax in special economic zones is one of the main investment incentives in Poland for domestic and foreign investors.
Mazovian Chemical Cluster
Płock Industrial and Technological Park is also a co-founder, coordinator and leader of the Mazovian Chemical Cluster which was established in 2014. The idea of the founders of this initiative was the desire to create an institution that will support the development of the chemical sector so strong in the region. The main purpose of the cluster is to improve competitiveness and increase innovative potential of companies from the chemical sector by exchanging knowledge and experience with R&D institutions and cooperating with companies linked to this sector. A unique space of the cluster results in establishment of long-lasting relations, initiation of joint projects as well as stimulates pro-innovative activity, supports experience sharing and competence raising. 10 industry groups operate under the cluster, among which the cosmetic group has become prominent. As one of the most innovative and developmental on the Polish market, it strives to create its own strategy of development. At present, more than 100 entities are members of the cluster. They represent entrepreneurs, research and development facilities, universities, administration, non-governmental organizations and business support institutions.
The Mazovian Chemical Cluster is active on interna- tional stage and participates inter alia in the works of Project Council of the European Chemical Regions Network (Rada Projektowa Europejskiej Sieci Reginów Chemicznych, ECRN) and the high standard of its activity is confi rmed by the Silver Label of Cluster Management Excellence awarded by the European Secretariat of Cluster Analysis (ESCA).
More at: www.klasterchemiczny.com
Companies operating in the Płock Indsutrial and Technological Park
A group of economic entities operating in the Płock Industrial and Technological Park consists of investors located in the investment zones in their production facilities as well as tenants of the Corporate Services Center, Administrative Center and Central Laboratory - buildings owned by the Park. Investors of PPP-T are: PCC Exol, Flexpol, Nova-Gips, Grupa OPEUS, PaChemTech, Neo-Tec, IZO-BET, Elektrobudowa, Masterflex Polska, PUPH Politechnik.
Contact:
Płock Indsutrial and Technological Park S.A.
Łukasiewicza 39 Str.
09-400 Płock
tel.: (+ 48 24) 364 03 50
fax: (+ 48 24) 364 03 52
sekretariat@pppt.pl
www.pppt.pl