Technology Park MMC Brainville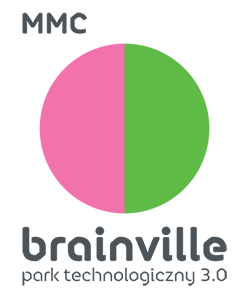 PL | EN
MMC Brainville
is a prestigious and modern building with office and laboratory functions, dedicated to business activities of companies active in the multimedia or IT area. It is also an excellent spot for companies from other sectors that would simply like to develop in an atmosphere of openness to new solutions and that would enjoy to fully take advantage of the technological possibilities offered by the Park.
MMC Brainville has specialist IT base, which allows to provide services mainly connected with multimedia and film.
Technology Park 3.0 MMC Brainville is located on a picturesque lot of 2 ha, situated in the immediate vicinity of the entrance route from Krakow to Nowy Sacz. The architectural form of the building combines the openness, accessibility, and easy spacial orientation with the modern features within the office building: the flexibility of interior design, optimal conditions for office work and energy-efficient technologies (environmental-friendly building).
Sector profile: ICT (among others mobile technologies, internet and new media, gaming technology, animation and 3D graphics, applications and software, telecommunication, e-learning).


Offer
On the modern infrastructure of the Technology Park is functioning rental area , which was designed in such a way, to offer Tenants as wide range of options as possible. There are different types of office spaces, from 'open space' to 'close space' with the possibility of modular, internal arrangement. Intelligent Building System helps to keep optimal, comfortable parameters in each room. In the direct neighbourhood of the building is located a recreational space, which allows to relax on the fresh air. Thanks to that we can manage the presentation in 'open air' formula, or organize business meetings as a casual, social gathering.
MMC Brainville is a Technology Park, which was realized as a Project named: Technology Park - Multimedia City, realized by Multimedia City Sp. z o. o. The project was financed from Innovative Economy Operational Programme Measure 5.3.

Contact
Miasteczko Multimedialne sp. z o.o.
Zielona 27 Street
33-300 Nowy Sącz
Phone:+48 18 44 99 463
e-mail: biurobrainville.pl
biuro@brainville.pl
MMC Brainville
Myśliwska 2 Str.,
33-300 Nowy Sącz