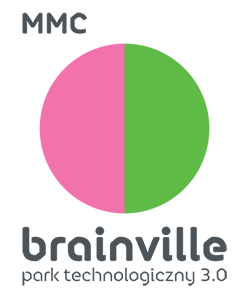 Name: Technology Park MMC Brainville
Park Type: Technological
Management of the infrastructure: Multimedia City Sp. z o. o.
Contact details:
Multimedia City Sp. z o. o.
Zielona 27 Street
33-300 Nowy Sącz
Phone: +48 18 35 13 550
e-mail: biurobrainville.pl
www.brainville.pl

Park type: technological

Development stage: developed

SSE zone: does not possess
Location:
MMC Brainville
Myśliwska 2 Str.,
33-300 Nowy Sącz
Sector profile: ICT (among others mobile technologies, internet and new media, gaming technology, animation and 3D graphics, applications and software, telecommunication, e-learning)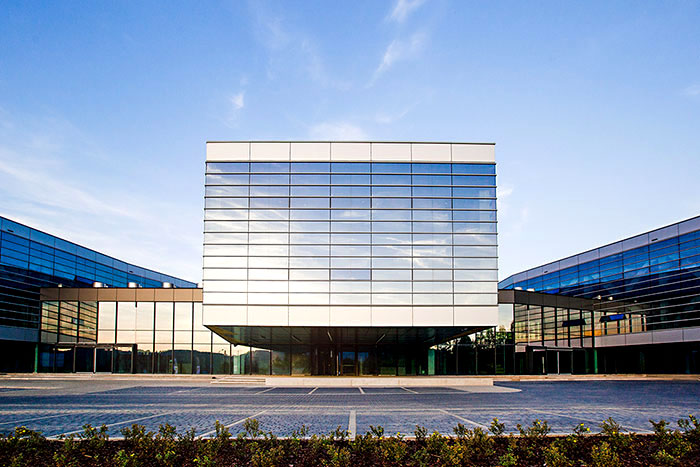 Photo no. 1 Technology Park MMC Brainville
Park's offer:
MMC Brainville is a prestigious and modern building with office and laboratory functions, dedicated to business activities of companies active in the multimedia or IT area. It is also an excellent spot for companies from other sectors that would simply like to develop in an atmosphere of openness to new solutions and that would enjoy to fully take advantage of the technological possibilities offered by the Park.
MMC Brainville has specialist IT base, which allows to provide services mainly connected with multimedia and film.
Technology Park 3.0 MMC Brainville is located on a picturesque lot of 2 ha, situated in the immediate vicinity of the entrance route from Krakow to Nowy Sacz. The architectural form of the building combines the openness, accessibility, and easy spacial orientation with the modern features within the office building: the flexibility of interior design, optimal conditions for office work and energy-efficient technologies (environmental-friendly building).
Our unique offer comprises:
Specialistic infrestructure
• Motion Capture Studio
The equipment of the Motion Capture studio gives you the ability to apply motion capture techniques used by the leading producers of films and computer games. What is more, an additional equipment of the studio is the first in Poland system which captures facial expression - Vicon Cara.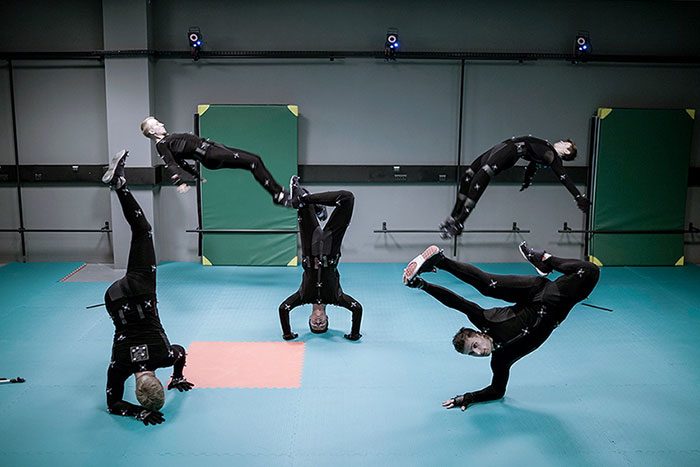 Photo no. 2 Motion Capture Studio
Laboratories offer access to very effectiveness workstations and wide offer of professional software, mainly from the area of film and 3D graphics.
The equipment of the studio allows for a comprehensive work, related to the materialization of 3D objects, scanning of real objects or, by a combination of both functions, copying existing elements.
The studio is designed to provide the full studio service package, speakerphone image, preparation of material to the issue on the radio and recordings for advertising and multimedia purposes. We can also perform the out-of- studio recordings: concerts or rehearsal rooms recordings..
Equipment of the TV studio allows to record materials in FullHD and 4K quality. We have fully equipped studio with greenbox with basic dimension 185 square metres.
Thanks to its top-tier equipment, the Correction Color Studio allows to introduce very precise colour amendments into every movie or photographic picture. In combination with TV studio, it makes perfect support for high-budget productions.
The biggest computing power in Poland allows to generate the final image sequence of the contemporary three-dimensional animation and visual effects. Renderfarm supports the main rendering motors and software for 3D graphic and postproduction.
Modern office space
Conferential-training base (with cinema)
Additional base that creates positive relations with clients
Business incubator
Research and Implementation Centre
Technology observatory
The Centre of Innovative Consultancy and Economy.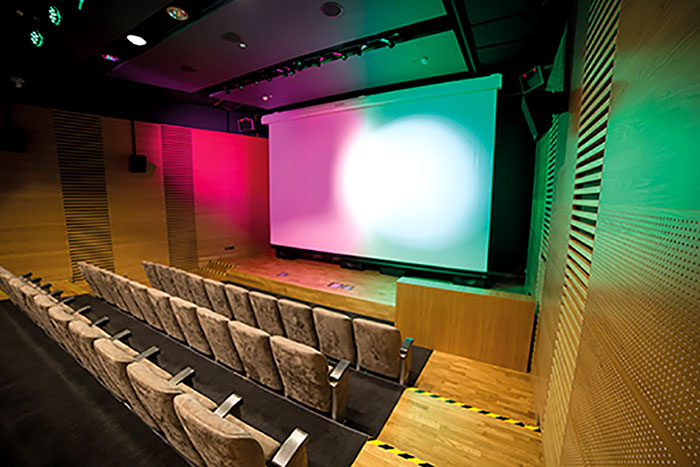 Photo no. 3 Auditorium
On the modern infrastructure of the Technology Park is functioning rental area , which was designed in such a way, to offer Tenants as wide range of options as possible.
There are different types of office spaces, from 'open space' to 'close space' with the possibility of modular, internal arrangement. Intelligent Building System helps to keep optimal, comfortable parameters in each room.
In the direct neighbourhood of the building is located a recreational space, which allows to relax on the fresh air. Thanks to that we can manage the presentation in 'open air' formula, or organize business meetings as a casual, social gathering.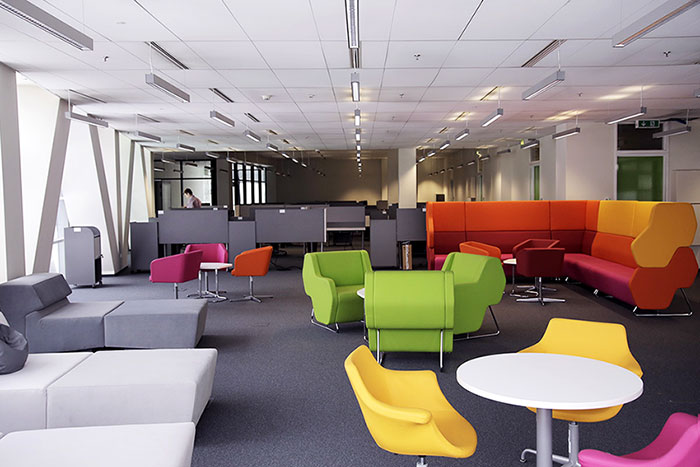 Photo no. 4 Business Incubator

Training Centre
Equipment of the laboratories and Technology Park 3.0 MMC Brainville allow to execute professional trainings in comfortable conditions, using high-class infrastructure.
We are authorised training centre of the Autodesk company. We own the Authorized Academic Partner Autodesk status.
We offer trainings from different areas:
Informational - communicational technologies

Office applications

2D and 3D graphic

Two - diminsional and spatial design

Industry - based trainings (on infrastructure of Park's laboratories)
MMC Brainville offers you a wide range of IT services. They are adjusted to demand of scale, specificity of market as well as individuals needs of customers. The basis and main area of using the server room will be rendering for multimedia's needs (films, animations, visualizations).
On the area of MMC Brainville you can find Data Processing Centre with 200 square metres server room. There are servers, arrays including specialistic film arays and other network equipment.
CPD has adapted and fully developed server racks, ready to attach client's devices (servers, network equipment), and additional rooms - ready to accept more devices.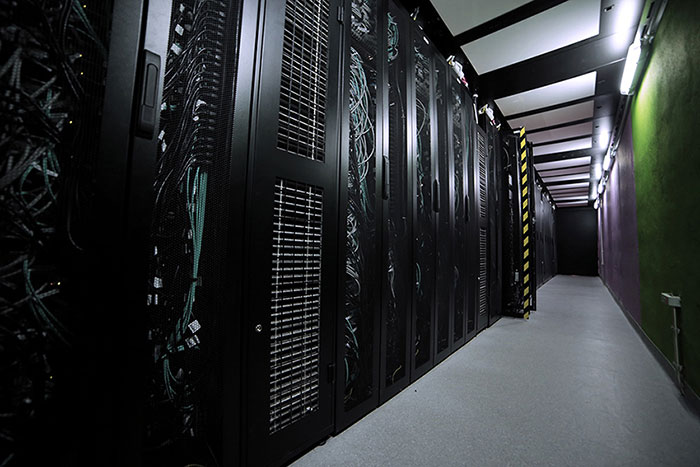 Photo no. 5 Server room
CPD offers advanced forms of services for example ration the part of operational space for concrete client ('Private Data Centre'), as well as expanded services of 'Disaster Recovery Centre' consisting of Backup Data Centre and properly equipped office space (Backup Office).
Our clients can rent computer equipment: workstations, servers, specialistic IT equipment. The offer of servers rental including virtual servers, which can be used with any operating system or hosting platform.
Park's clients will have access to fast and reliable access to the Internet.
MMC Brainville is equipped with safety systems such as:
In the field of fire and intrusion alarm, assault, detection of carbon and LPG in the garage


The building has access control and CCTV monitoring


Full integration, configuration and manipulating of each system provides BMS
MMC Brainville is a Technology Park, which was realized as a Project named: Technology Park - Multimedia City, realized by Multimedia City Sp. z o. o.
The project was financed from Innovative Economy Operational Programme Measure 5.3.
Contact details:

Multimedia City Sp. z o. o.
Zielona 27 Street
33-300 Nowy Sącz
Phone: +48 18 35 13 550
e-mail: biurobrainville.pl
www.brainville.pl

MMC Brainville
Myśliwska 2 Str.,
33-300 Nowy Sącz