Name: Kielce Technology Park
Type: Technological
Management entity: budgetary unit of Kielce Municipality.
Stage of development: Developed/Expanded
SEZ status: Plots included in Special Economic Zone "Starachowice", subzone Kielce
Location:

The Kielce Technology Park is located at Olszewskiego street in the northern, industrial part of Kielce. The KTP infrastructure has good road connections, thanks to its close proximity to the express roads towards Łódź, Krakow, Warsaw and Lublin. Such localization provides quick and easy access from almost every part of Poland, in particular to main urban agglomeration.
Sector profile: IT, design, efficient energy.
The Park offer:
The Park area is divided into two economic activity zones - the Technology Incubator (zone 1) and the Technology Centre (zone 2). Each object has a unique character (office-IT, laboratories, production - CT).
Technology Incubator (IT) is a complex and professional support for newly established companies. The Technology Incubator is designed both for the start-up companies and companies providing their services in the field of modern technologies.
Zone I - Technology Incubator (TI)
TI is intended for young business start ups that need help in early years of existence. For tenants the Incubator has prepared special support programme. It starts from quick analysis of the business idea, followed by preincubation, incubation to the market expansion.
Technology Incubator it is new, well equipped work space, access to business and development services and possibility to use modern equipped conference and training rooms.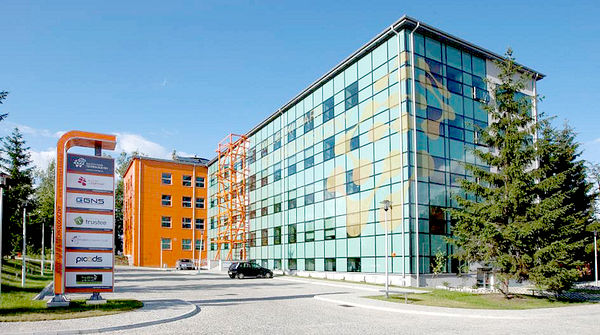 Technology Incubator
Business services:
TI gives the possibility of the broadband Internet access, fully equipped conference rooms, printing services, rent of equipment and furniture. The TI is provided with 24-hour physical guarding of the object. Our tenants are also promoted on the KTP website. TI provides reception desk, telephone and postal service, access to the shared social space and parking.
Development services:
general and specialized trainings, workshops, conferences

advising on patent and intellectual property, commercialization of knowledge, strategic planning and management of innovative product

marketing and technical audits

evaluation of project market potential

assistance in preparing business plan

assistance in obtaining external funding sources

looking for business partners

providing R&D services

contact database
Newly created companies which operate on the market no longer than 3 years are covered by the preferential hire rate system:
Up to 12 months: 30 proc. of basic price
From 12 to 24 months: 50 proc. of basic price
From 24 to 36 months: 75 proc. of basic price
From 36 to 48 months: 100 proc. of basic price
Total area of TI: 4 642,11 m2, including:
the office space: 2405 m2 - offices from 14 to 300 m2 of space possible to be combined
434 m2 of storage space
255 m2 of conference centre (conference rooms for 20, 50, and 150 people)
parking area for 72 cars and 5 vans
Conference Centre of Kielce Technology Park
Modern equipped rooms of the Conference Centre are located in Technology Incubator. The offer is directed both to tenants so as to the outside companies.
We offer three conference rooms with the following capacities: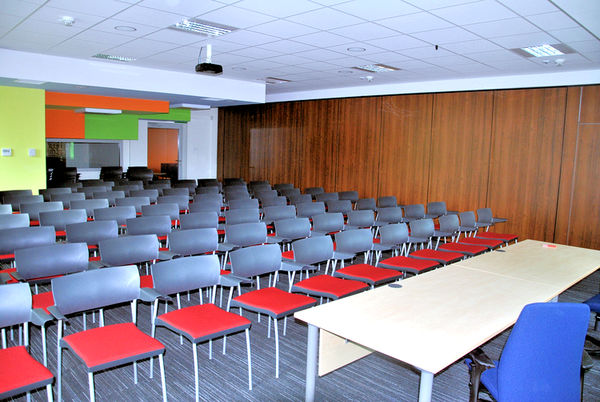 Silicon Valley conference room - 150 seats with the theatre arrangement. It is possible to divide it into two rooms for 70/80 seats.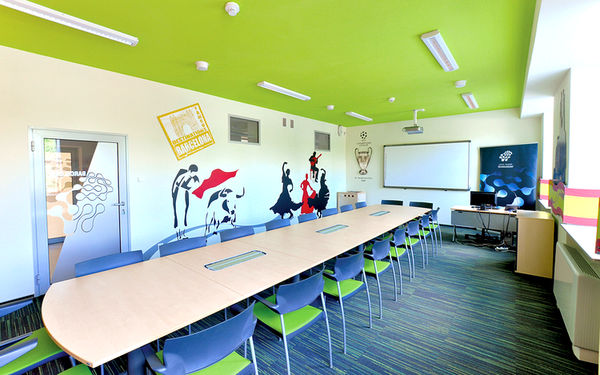 Barcelona conference room - 20 seats with the training arrangement (around the oval table)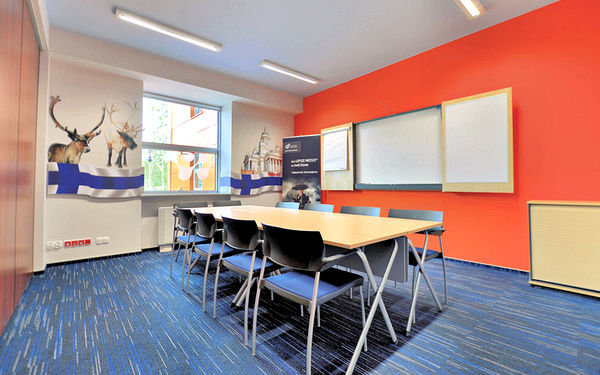 Helsinki conference room - 40 seats with the training arrangement. It is possible to divide it into two rooms of 20/20 seats.
All conference rooms are fully equipped and air conditioned. All of them have sound equipment, multimedia screens and projectors, as well as simultaneous translation booths.
The server room
The server room of Kielce Technology Park is a facility with an area of 100 m2 meeting modern standards of the provision of optimal conditions of work for electronic devices. The server room is equipped with, amongst others: Precision Air Conditioning, made of hot and cold corridor system; power supply back up; physical security against unauthorized access; fast, symmetrical internet connections with its own pool of IP addresses, advertised through a BGP protocol; access control and round the clock monitoring both the server room interior and the premises; gaseous fire extinguishing system; "a private cloud" with more than 100 computational cores installed in blade servers supported by advanced virtualization software; Storage Area Network (SAN).

Zone II - Technology Centre (TC)
Technology Centre is a place designed for domestic and foreign companies that would like to make their capital investments within the area of the Swietokrzyskie voivodeship, and that base their development on innovative solutions within production technologies and services.
Technology Centre (12 800 m2) consists of:
Production hall - production area with social - office facilities.
Office - laboratory-production building - office area, laboratory-production area, social-office facilities
Completely developed investment land sites.
Additionally the area of Technology Centre includes:
Storage area: 975m2, parking places for 328 cars and 20 trucks
Recruitment process to the Technology Centre is developed by tendering quotation. The criterias takes into consideration during the recruitment process are: the number of employees and the amount of investment.
TC Office-Laboratory-Production Building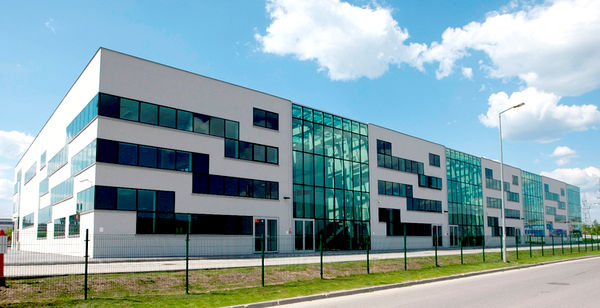 Technology Center office - laboratory - production - building
Useable area of the TC Office-Laboratory-Production Building: 4 245,62 m2

Production and laboratory area: 3 778 m2
The building has two floors and 8 modules with the possibility of them functional separately.

Production Hall of the Technological Centre:

Production Hall of the Technological Centre
Useable area of the TC Production Hall: 6 521,14 m2

Mezzanine area: 238,50 m2
Production hall consists of usable area comprising of 10 independent modules of: 570 m2 to 610 m2 area together with a mezzanine of: 2,053.02 m2 area. All production hal modules are equipped with the basic elements of technical infrastructure, utilities as well as social and office space.

The construction of three production halls with R&D facilities with social-office space is still in progress.
The buildings will be located on the plot No. 5/26 on Olszewskiego street, which is a part of Kielce Technology Park investment area .
The production halls will be one level buildings, steel construction. Each hall will be connected with the two levels social - office building designed in traditional construction.
The building is designed to be split into two parts operated by two independent investors.
Building area: 292.76 square meters
Height: 10.20 m - low building
Number of storeys: 2
Land area: 19 943 m²
Area of two production halls: 3 292.76 x 2 = 6 585.52 m²
For the planned investments 127 parking spaces were designed ,including 6 for disabled people and 11 parking spaces for trucks.
Investment areas: 20 hectars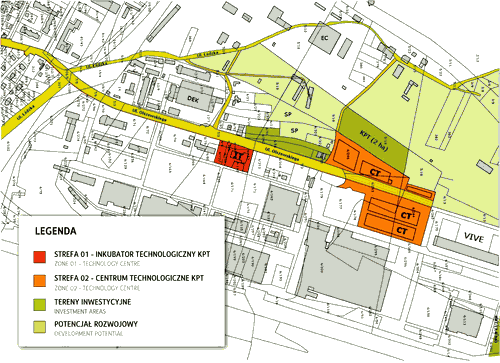 The benefits of business location in Kielce:
Entering on a new rapidly growing market
Young, talented, ambitious and well-prepared human resources
Competitive costs sustainable over the next 15-20 years
EU funding support
Easy access to the western and eastern markets
Skills availability c. 50,000 students - 14,000 graduating each year
Low labour-costs comparing with other locations
Average salary euro 800 per month, euro 4.5 per hour workforce
Cheap and high quality office, laboratory, and production infrastructure
Tax exemption
Support of the investment process
Contact:
Kielce Technology Park
Olszewskiego 6,
25-663 Kielce
e-mail: biuro@technopark.kielce.pl,
mobile: +48 41 278 72 00,
fax.: +48 41 278 72 01
www: www.technopark.kielce.pl