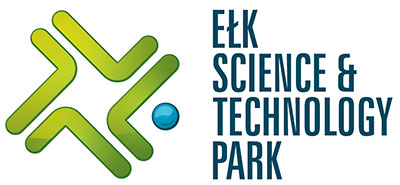 Type of park:
Equipped with state-of-the-art production, research and administration facilities,the Science and Technology Park is a place where science meets business and innovation.
The Ełk Science and Technology Park focuses on supporting entrepreneurship and the broadly understood innovative processes. It is best suited for innovative companies which continue to implement state-of-the-art technological solutions.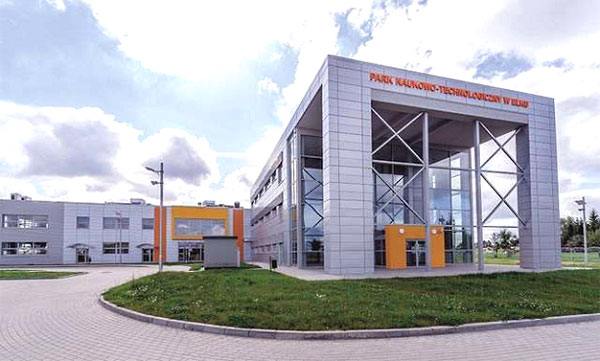 The aim of the Ełk Science and Technology Park is to expand the economic potential and competitiveness of the city of Ełk by creating optimal conditions for the transfer and commercialization of technology, the establishment and development of small innovative companies, and the development and marketing of new products; to generate new, more promising avenues of economic development in the Ełk region; to provide employment support and create conditions for the creation of new job places; and to provide new production, investment and administration facilities. The Science and Technology Park is designed primarily for companies focusing on state-of-the-art technologies.
Development stage:
The facility was officially opened on 17 October 2012 under the name Ełk Science and Technology Park.
SSE Status
Since 17 December 2013, the Ełk Science and Technology Park belongs to the Suwałki Special Economic Zone in the Ełk Sub-zone.
Location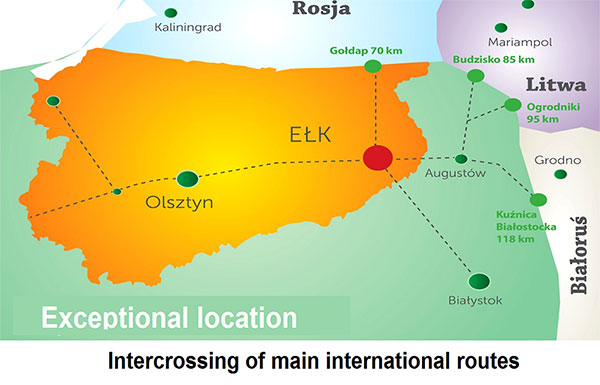 Business activity profile
The Ełk Science and Technology Park hosts businesses from the service sector and manufacture companies. Primary sectors include: electronics (manufacture of electronic and electric equipment for motor vehicles; wide range of wire harnesses and specialized electric cables); construction (manufacture of various anti-slip tapes, acoustic insulation strips, jointing bands, perimeter tapes as well as vibration muffling pads); vermiculite processing (acoustic and thermal insulation; fire protection of steel structures; concrete addition; growing medium for plants and animal feed addition).
Others: renewable heat source industry (distribution and assembly of heat pumps, recuperators, solar collectors); IT industry (designing IT systems, providing SEO services, traditional hosting and website positioning).
The Park's offer:
The Ełk Science and Technology Park provides potential investors with fully developed investment areas located in the direct vicinity of the Ełk Science and Technology Park. A comprehensive network of internal roads has been created and joined to the existing traffic system. The offer includes developed investment areas with a total area of: 20.72 ha. The areas will be made available to investors under lease or sales agreements.
The areas are developed with:
The following map shows the location of the infrastructure of the Ełk Science and Technology Park and the investment areas: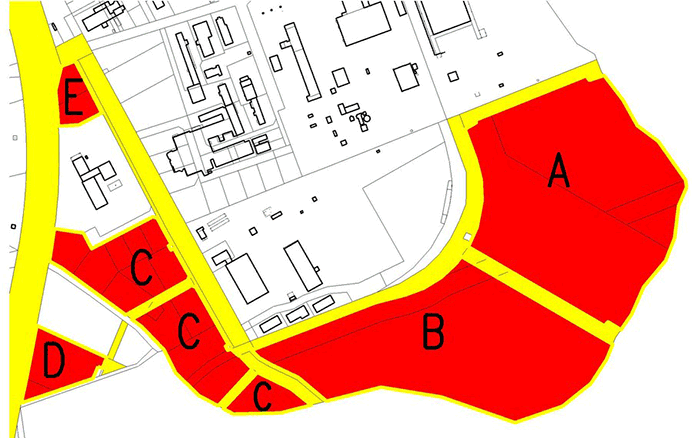 The investment areas of the Ełk Science and Technology Park are sold or leased under tender proceedings to companies planning to conduct innovative business activity on the purchased or leased areas.
| | | |
| --- | --- | --- |
| No | Plot number | Area |
| 1 | 2201/13 | 0.1497 ha |
| 2 | 2201/14 | 0.1500 ha |
| 3 | 2201/15 | 0.1500 ha |
| 4 | 2201/16 | 0.3106 ha |
| 5 | 2201/17 | 0.2994 ha |
| 6 | 2201/19 | 0.2496 ha |
| 7 | 2201/20 | 0.2122 ha |
| 8 | 2201/21 | 0.3230 ha |
| 9 | 2201/23 | 0.2997 ha |
| 10 | 2201/24 | 0.3287 ha |
| 11 | 2201/26 | 0.4040 ha |
| 12 | 2150 | 0.4782 ha |
| 13 | 2218 | 0.3429 ha |
| 14 | 2102 | 0.7895 ha |
| 15 | 2122 | 0.0893 ha |
| 16 | 2095/1 | 6.0087 ha |
| 17 | 2095/3 | 8.8640 ha |
| 18 | 2094 | 1.27 ha |
The Ełk Science and Technology Park offers office rooms with an area between 12.5 m2 and 16.6 m2. The rooms are air-conditioned and fully furnished with desks, shelves, armchairs, cabinets, VOIP telephones and desktop computers. Each room is equipped with broadband Internet, VOIP telephone line and UPS power supply.

The Ełk Science and Technology Park offers production and service halls with an area between 48 m2 and 348 m2, arranged in modules. Each module is around 50m2 and is equipped with independent water and power connections (separate counters), air-conditioning, ventilation as well as an ICT network. Each hall module has an independent entrance and shutter gate. The circulation area can accommodate vehicles (forklifts, minibuses) with height up to 280 cm.

The production and service area is equipped with complete sanitary and social facilities, i.e. locker rooms (with employee lockers), sanitary rooms (showers, toilets), cafeteria (equipped with a refrigerator, microwave, kettles and a coffee machine).
The Ełk Science and Technology Park provides its tenants, as well as external companies, with three exhibit and conference halls capable of accommodating up to 90 persons. It is a perfect place for business meetings, conferences, trainings, workshops and professional presentations. We provide spacious, air-conditioned halls equipped with multimedia devices and a dedicated speaker system, thanks to which you will be able to conduct your meetings efficiently.

Our offer also includes an interpretation system, which is extremely important during a conference with foreign-language participants, where mutual understanding between the speaker and listeners is essential.
This offer is directed at beginner entrepreneurs who cannot afford a long-term office lease, currently work at home or consider leaving their full-time job and starting a company. As part of our offer, we provide an office space with one-person work places, i.e. desks with all the necessary equipment.
This service is provided by the Ełk Science and Technology Park free of charge. Thanks to this offer, entrepreneurs can register the company under a prestigious address and take advantage of professional secretary support. A good address makes an entrepreneur appear more trustworthy, generates a positive image of the company and boosts its prestige.
The Ełk Science and Technology Park provides the following services for companies:
Coordination of investment procedures at government offices and institutions,

Preparing offers, reports, analyses and summaries concerning the job market, available real estate, rules of conducting business activity and other information useful in the investment process; drawing up a business plan,

Organizing meetings of investors with regional and municipal authorities,

Organizing business meetings, trainings, workshops and conferences,

Providing information about conducting business activity in Poland (establishing a company, tax system, local regulations),

Collecting information, counselling within the scope of potential public aids for investors (EU funds, grants), patents and intellectual property,

Economic promotion of a company – promotional materials, coordination of international cooperation within the scope of economic promotion, conducting promotional campaigns in Poland and abroad, organizing economic missions with the participation of the company.
The Ełk Science and Technology Park conducts periodic legal counselling for local entrepreneurs.
Ełk Science and Technology Park has a fully-equipped microbiological laboratory that specializes in examining food and production environment.
Ełk Science and Technology Park has a fully equipped laboratory color specializing in research related to quality control of color. The most common tests may include validation studies, discoloration and formulation of colors.

Contact details:
Ełk Science and Technology Park
5 Podmiejska Street
19-300 Ełk
POLAND
Tel. 87 732 63 01
E-mail: info@technopark.elk.pl
www.technopark.elk.pl