Elbląg Technology Park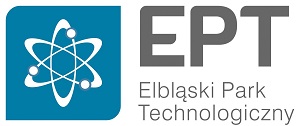 Elbląg is a city with tradition and a future, investing in modern solutions and technologies. A place with a good climate for business development and investment. The Elbląg Technology Park(ETP) operates in its area, its main task is to create favourable conditions for the undertaking of business, investment and research activities.
The Elbląg Technology Park was created to support local entrepreneurship and implement innovative solutions in cooperation with local Institutes of Higher Education. Modern infrastructure and specialized research equipment enable the implementation of any business and scientific project. EPT is a place that brings together partnership cooperation between Local Government, science and business.
Entrepreneurs who decide to cooperate with EPT receive support at every stage of development - from a startup, through technology development, initiation and participation in research and development.
The Park's activities focus on increasing the competitiveness of companies, their active promotion and providing specialized consulting services.


Location

The Elblag Technology Park is located in the Business Development and Innovation Centre, in the northern part of the city of Elblag in the Modrzewina area, which is one of the most attractive investment areas in Poland.
Elbląg is an extremely well located city in the northern part of Poland, at the junction of two provinces: Pomorskie and Warmińsko-Mazurskie. Located near the Tri-City agglomeration. The national roads S7 and S22 intersect here, connecting the north with the south of the country and forming a bridge between the east and west of Europe. Elbląg also has a water connection with the Baltic Sea through the Vistula Lagoon.


Offer

Elbląg Technology Park offers:
services to local entrepreneurs and potential investors. EPT staff provide comprehensive information on available investment areas, income and real estate tax exemptions, business financing opportunities, as well as administrative support at every stage of the investment process,
support for novice entrepreneurs - running a business incubator,
lease of office and laboratory space,
rental of specialized research equipment,
accredited laboratory tests (Laboratory of Advanced Environmental Analysis EPT),
specialist consulting services,
rental of rooms in the Conference and Training Centre.


Contact
Elbląg Technology Park
ul. Stanisława Sulimy 1
82-300 Elbląg
tel: +48 55 239 34 67
e-mail: biuro@ept.umelblag.pl
www.ept.elblag.eu


Return »