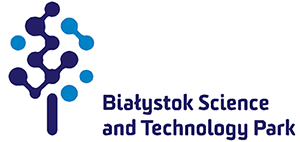 Name: Bia造stok Science and Technology Park
Type of Park: Science and Technology Park
Managing entity: Bia造stok Science and Technology Park - budgetary unit
Contact details: Bia造stok Science & Technology Park, ul. 真rawia 71, 15-540 Bia造stok, Poland
Type of Park: Science and Technology Park
Stage of development - developing
SEZ Status - in the vicinity of Suwa趾i Special Economic Zone, Bia造stok Subzone.
LOCATION OF BPN-T:
The Bia造stok Science and Technology Park is located in the southern part of the city within the boundaries of the "Dojlidy" housing estate, in the direct vicinity of the service real property and Suwa趾i Special Economic Zone - the Bialystok Subzone.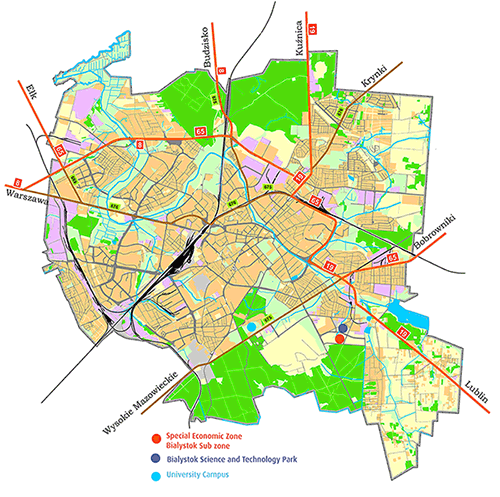 Nearby the Park and the Zone, there is also the academic campus complex - the University of Bialystok Campus. Such synergic concentration will result in the emergence of the knowledge and industry district in this area of the city, generating the research sphere as well as the sector of production and services based on innovative solutions and high technologies.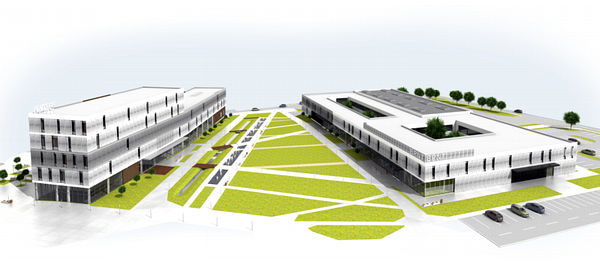 SECTORAL PROFILE
life science,
electronics,
electrotechnics,
ICT i IT.
The range of industries may be extended by other profiles within the framework of interesting innovative projects proposed by future tenants of the Park.
OFFER
Bia造stok Science and Technology Park is the first certified technology park in Eastern Poland. The certificate awarded by the Polish Business and Innovation Centers Association (SOOIPP) confirms the Park's compliance with the environmental quality standards of operations set for fully developed innovation centres.
We cultivate innovations. Naturally.

The mission of the BPN-T
BPN-T vigorously supports the development of innovative ventures and provides assistance with recruiting investors e.g. by organizing a number of projects such as "Starting Platform - Hub of Talents". Thanks to the access to knowledge, global connections as well as modern infrastructure, park is constantly developing its offer. In cooperation with its business partners BPN-T trains and advises beginning entrepreneurs.
The Park's offer include:
lease spaces for technology startups, mature companies and scientific-research institutions (office and laboratory space),

incubating technology startups,

sales of investments areas,

provision of the modern ICT infrastructure,

lease of conference and training rooms,

advice, information and trainings for entrepreneurs,

promotion of companies operating in the territory of the Park,

the possibility to operate in the e-Park (to be a virtual occupant of the Park),

other business-related services.
Pro-innovative services:
Market evaluation of the product / service; developing of business models.

Preparation for the scrutiny due diligence.

Methods of recruiting external investors; pitching to investors

Market analysis in terms of discovering and evaluating market conditions; developing a product conception.
BPN-T FACILITIES
The buildings of the Technology Incubator and BPN-T Administration and of the Technology Center are located on a plot with an area of 3.41 ha. The gross floor area of the built facilities is around 13 000 m2.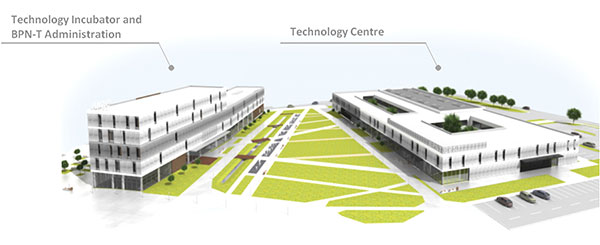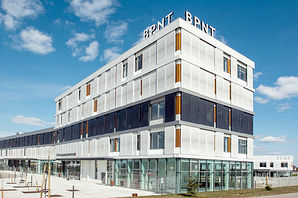 BPN-T Technology Incubator - photo: A. Korolczuk
Technology Incubator:
Main, all-purpose facility of the Park with total usable area of 5 750 m2.
Incubator is a kind of protective umbrella for entrepreneurs who has just started their economic activity as well as for those whose companies exist on the market no longer than 3 years.
Its offer includes not only the rental of office space at favourable prices, access to modern infrastructure and marketing support for start-ups, but also consultancy and training courses.
Incubator (5 floors) is separated into following segments:
representative and administrative part of the Park,

conference and training rooms,

office and service space for lease.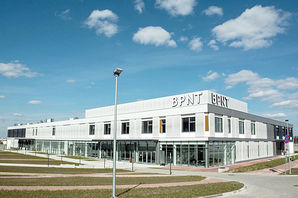 BPN-T Technology Centre - photo: A. Korolczuk
Technology Centre
It is an operational space for the largest and the most technologically advanced companies. This is the place where business merges with science. By granting access to the infrastructure of the Technology Centre, BPN-T supports commercialisation of scientific research results and initiates the transfer of technology.
In the building with a total useful floor area of 7 200 m2 (2 floors), the following parts are separated:
BPN-T LABORATORIES
Prepared within the project specialist area of Bia造stok Science and Technology Park anticipates commissioning of the following laboratories:
PET/MRI Bio-Scanner - Molecular Imaging Laboratory
It features a class II isotopic laboratory, with the state of the art diagnostic equipment - the PET/MR scanner (mMR 3.0 Tesla Biograph) that combines Positron Emission Tomography with Magnetic Resonance. The laboratory allows carrying out unique research in numerous fields of medicine, IT, and physics. for example looking for early Alzheimer's disease markers, diagnosis and monitoring of head and neck tumours, early diagnosis and therapy evaluation when it comes to cognitive disorders and productive symptoms in psychiatry, as well as creating dynamic 3D models of organs.
Computer Graphics And Interactive Art Laboratory
A platform for collaboration of universities and specialists from such fields as IT, computer graphics, advertising or marketing on innovative, interactive 2D and 3D computer graphics. Training and workshops on interactive computer graphics organised for the staff of regional SMEs serve the purpose of raising their competences in creating digital products.
The laboratory features, inter alia:
green box,

3D camera,

interactive whiteboard with 3D glasses,

programming package with extensions for creating 3D visualisations, scene rendering, photographs retouching, 2D/3D animations, and visual effects,

high-efficiency computer hardware for 3D processing,

film studio halogen lighting set.
There are training courses carried out in the laboratory in the field of i.a.:
professional 3D visualisation in program Blender 3D
Adobe Creative Suite 6
3D Prototyping Space
The Room offers several 3D printing technologies. The Objet Connex 500 printer allows creating high-detail and high-quality surfaces. The Fortus 250mc printer allows crating models out of ABS - a highly resistant thermoplastic material. Prototyping Room's capabilities are complemented with a portable 3D laser scanner. The equipment finds application in such fields as medicine, advertising, automotive, electronics and architecture.
Laboratory of Electromagnetic Compatibility Research
Its purpose is to carry out research and development tasks consisting of testing resistance of prototypes, as well as electric and electronic equipment, to various types of interference, the impact of these prototypes and equipment on the environment, and to provide trainings on the requirements for the producers of the equipment in regards to electromagnetic compatibility. Laboratory has been equipped with specially made, world-class apparatus and Semi Anechoic Chamber - the biggest one in the North-East Poland. It allows to test quite large electric and electronic devices such as: cars and even small planes.
Apart from R&D it is also possible to provide training courses in the matter of requirements for producers, from the point of view of electromagnetic compatibility (CE) of their goods. Entrepreneurs may also obtain certificates allowing their goods to be released for free circulation in the EU.
Biomedical Laboratory
Among other things, it runs projects in the fields of diagnostics of metabolic diseases and studies on food and supplements. There are being conducted studies on diabetes type II and innovative treatments for this disease.
Physicochemical Laboratory
It specialises, among other things, in designing composite structures and components for automotive and wind energy purposes.
Innovative Metallurgical Laboratory
The laboratory allows comprehensive prototyping of components for machines and equipment used for precision mechanics and mechatronics, as well as for medical technology (implantology). It features i.a. a MIM (metal injection mould technology) sinter production line.
Manufactory Room
Manufatory Room is the place where entities located in BPN-T any and participants of projects such as 'Graduate in Transfer Chamber' or 'Science Battle' can work on prototypes of their products using modern equipment. It includes, among others, infrared camera, grinder for processing glass or lathe.
Cisco Academy at BPN-T
Local Cisco Academy at Bia造stok Science and Technology Park was created for people interested in networking technologies, willing to start or continue their education in this field and develop a business career in the IT industry. The Cisco Networking Academy is aimed at students and high school students (technicians, high schools and specialized secondary schools). Participation in the Academy enables to get theoretical knowledge and practical skills from the basics of IT (IT Essentials), in the design, development and maintenance of computer networks.
Courses in our offer:
CCNA R&S

CCNP Route

CCNP Switch

CCNP TSHOT

CCNA Security
INVESTMENT AREAS
Bia造stok Science and Technology Park has at its disposal fully developed investment lands of a total area of 21.1 ha. BPN-T investment areas will be sold by tender procedure to entrepreneurs who declare to carry out innovative activity by undertaking investments on purchased areas. The key aspect is the level of innovativeness of the project presented by a potential investor, as only the enterprises that will obtain at least 50% of the total of points awarded in the process of evaluation of their innovativeness will be admitted to participate in the tender procedure.
Investment areas, mentioned above, are located within Suwa趾i Special Economic Zone. The entrepreneur who has purchased investment land may apply for permission to operate within Bia造stok Subzone (Suwa趾i Special Economic Zone). However it is not obligatory.
Investment areas of Bialystok Science and Technology Park (BPN-T)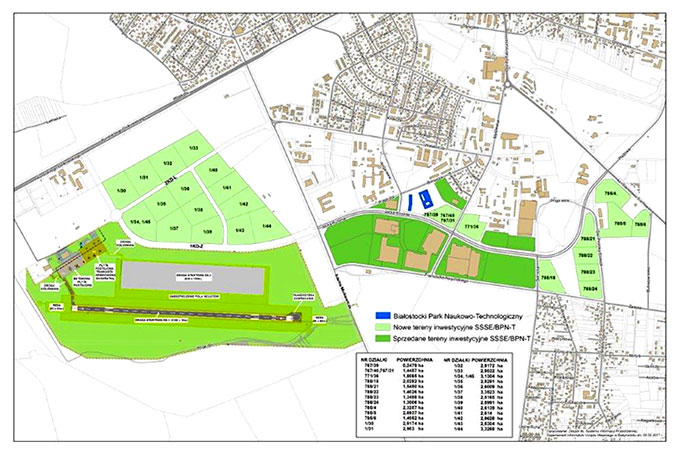 GALLERY
Technology Incubator and BPN-T Administration
Technology Center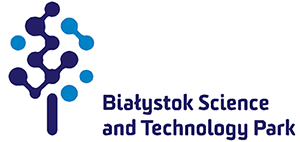 WE INVITE YOU TO GET FAMILIAR WITH THE OFFER OF THE
BIALYSTOK SCIENCE AND TECHNOLOGY PARK
For detailed information about the Project, please visit the website www.bpnt.bialystok.pl