On June 9th of this year, a Polish-Belgian conference on hydrogen technologies entitled "GO GREEN - Hydrogen solutions from Poland and Belgium" was held in Brussels. The conference was an opportunity to present the potential of Polish technological thought to the world, establish contact with potential partners and investors.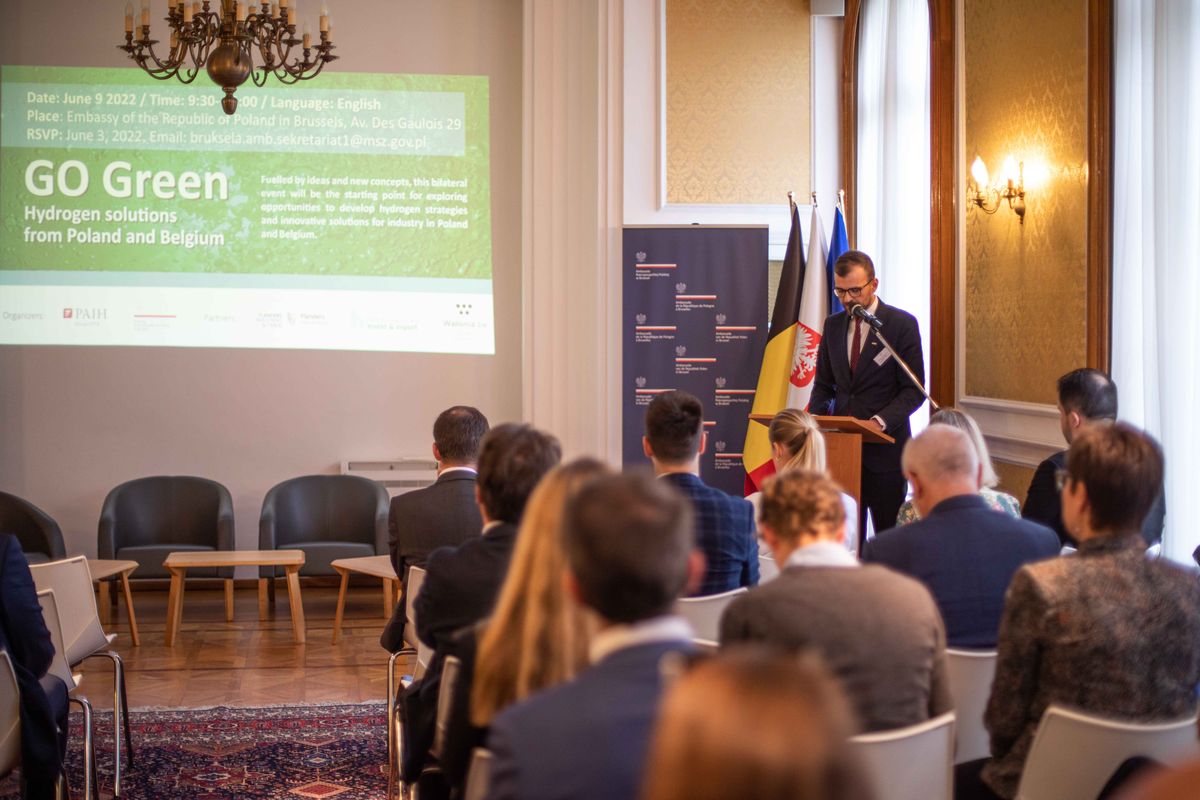 The organizers of the event were the PAIH Foreign Trade Office(ZBH) in Amsterdam and the Embassy of the Republic of Poland in Brussels with the partnership participation of Belgian trade and investment support agencies: Flanders Investment & Trade, Wallonia Export-Investment Agency and the Brussels Business Support Agency (hub.brussels).

The Polish Investment and Trade Agency was represented by Piotr Dytko, Member of the Management Board, and industry expert Grzegorz Ga³czyński, as well as employees of the ZBH in Amsterdam.

The participants of the conference were,among others, representatives of the Ministry of Energy in Belgium - An Stroobandt, Deputy Head of Cabinet Minister Van Der Straeten, who gave a presentation on the federal hydrogen strategy and Szymon Byliński - Director of the Department of Electromobility and Hydrogen Economy, Ministry of Climate and Environment, who presented the Polish hydrogen strategy.

Member of the PAIH Management Board Piotr Dytko spoke at the opening of the conference and emphasized the role that hydrogen plays in the modern world:
Hydrogen is increasingly penetrating into the consciousness of societies as an energy carrier of the near future. It is, like electromobility, a gradually developing megatrend that will revolutionize not only the living environment of people by significantly reducing the amount of harmful emissions, but above all will change the face of numerous branches of the economy through the use of hydrogen in various fields of production, transport and energy.
The ambitious goals of the European Green Deal programme are currently being met by the "Polish Hydrogen Strategy". Its main objectives are the implementation of hydrogen technologies in the power and heating sectors, the use of hydrogen as an alternative fuel in transport and support for the decarbonisation of industry. Poland sees a huge potential in the development of the hydrogen economy. Since 2020, we have witnessed significant efforts, both on the part of government administration and business, to create a solid base for the development of this new branch of development.

The joint event demonstrates a similar approach to hydrogen by Poland and Belgium. The Belgian strategy, like the Polish one, focuses in particular on the use of hydrogen (primarily) for the decarbonisation of industry and transport.

Photo gallery: