Stryker, one of the world's leading medical technology companies, has announced it is opening a business center in Warsaw to grow and develop its finance and procurement hubs. The center will be fully operational by the third quarter of 2022. The company worked in partnership with The Polish Investment and Trade Agency (PAIH) in planning for the new location. Stryker will fill approximately 300 roles in 2022.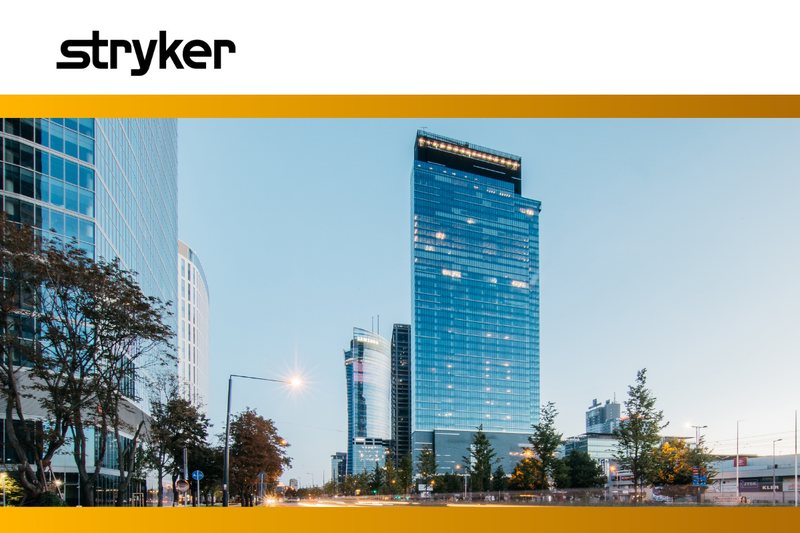 Headquartered in Kalamazoo, Michigan, USA, Stryker offers innovative products and services in Orthopaedics, Medical and Surgical, and Neurotechnology and Spine that help improve patient and hospital outcomes.

In Q3 2021, Stryker announced the intention to establish a new Business Services Center in Warsaw, Poland and are now in the midst of this exciting project.

Processes in scope include but are not limited to:
Accounts payable.
Travel and expense processes.
Accounting activities that produce financial statements for various entities commercial entities and manufacturing locations in Europe.
Master data support for different commercial processes.
Internal controls which is responsible for the verification that processes are executed as designed in adherence with all financial controls and standards.
Project management and processes excellence teams which uses different methodologies to improve efficiency and effectiveness of the processes above.
We are looking for professionals with finance / procurement backgrounds or university graduates who have interest in these areas. It is an exciting experience to build the new organization in Poland and our employees will have a chance to participate in transition processes and setting up processes and teams. Candidates need to be open to challenges, passionate about what they do and be ready to learn. Stryker is really focused on talent development, and it is great place both for individuals who are starting their career and the ones who are looking for further growth opportunities - Inga Wronska, Sr Director Stryker's Poland Finance Center.
PAIH supported Stryker from the beginning of their investment process. We are glad that such a significant player in the medical industry has chosen Warsaw for their business services center. It is the first direct investment project in Poland for Stryker and it will be exciting to see this global medical device brand growing in our country. I believe that the project will deliver the highest value for the company and attract the best talent who will decide to tap into the vast development opportunities which Stryker offers - says Agnieszka Szweda, an expert in PAIH's Investment Center.
Stryker was founded in 1941 and today employs more than 43,000 employees worldwide. The company has received numerous accolades over the past two decades for its workplace culture, and was named for the fifth consecutive year as one of Great Place to Work's World's Best Workplaces. More information about careers at Stryker is available at https://careers.stryker.com/.

Poland attracts foreign investors

PAIH's experts indicate that the interest of the medical sector in the Polish market is still growing. Business service centers are the most popular area in PAIH's portfolio of investment projects. Agency is currently supporting 36 projects in this sector. - The pandemic has not slow down these investments, but even increased the dynamics of their growth, especially from the second half of 2020 - says Agnieszka Szweda.

About the Polish Investment and Trade Agency

The Polish Investment and Trade Agency (PAIH) is an advisory institution operating in cooperation with the Polish Development Fund Group (PFR) under the leadership of the Ministry of Development and Technology. PAIH is the first point of contact for exporters and investors. It operates both in Poland and through its network of offices around the world. It strengthens the recognition of Polish brands on international markets, promotes domestic products and services as well as technological solutions made in Poland. The agency helps entrepreneurs choose their optimal expansion path abroad. It also supports the inflow of direct foreign investments to Poland and the implementation of Polish investments in the country. PAIH cooperates with the public sector and regional partners, offering, among other things: training, audit and promotion of investment properties, cooperation in the organisation of business missions and communication support in the implementation of joint projects.