The Polish Investment and Trade Agency (PAIH) and the American Chamber of Commerce in Poland (AmCham) have signed a cooperation agreement. Its purpose is to promote and create favorable conditions for the development of exports and investments on the Polish and American markets.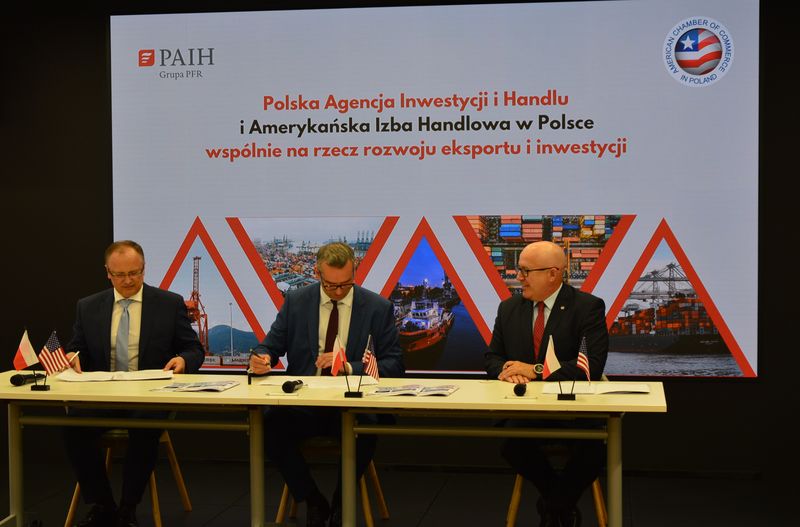 Cooperation between PAIH and AmCham will be based primarily on undertaking joint initiatives that are to contribute, among other things , to the development of exports of Polish products and services on the American market, promotion of investments by Polish enterprises in the United States and increasing investments of American companies in Poland. Moreover, an important point of joint activities will be mutual support in eliminating barriers to the development of Polish and American investments and creating favorable conditions for their development.
Almost 1,500 American companies operating in Poland have created assets worth over USD 55 billion and created nearly 300,000 jobs. Last year, although marked by the crisis, also saw an increase in the activity of American capital. Almost half of all the 'greenfield' investments in 2020 in Poland were investments made by American companies. The US is also an increasingly important trading partner for Poland - the export of Polish goods and services to the United States is growing at a double-digit rate and its value exceeds USD 12 billion annually. Supporting these positive trends requires cooperation in creating and maintaining a positive and fair investment climate in Poland, as well as supporting Polish companies on the American market. Two years ago, AmCham launched a project devoted to these activities under the name of American Investor Desk. The agreement with PAIH is another step aimed at strengthening Polish-American economic relations and building mutual trust - said Tony Housh, President of AmCham.
According to PAIH data, the United States is currently the second most important foreign investor in Poland. The value of capital invested by American companies in our country is over USD 26 billion.
The United States remains one of the most important economic partners for Poland. I am convinced that cooperation with the American Chamber of Commerce in Poland will be fruitful and will contribute to the deepening of relations between our countries, which will translate into an increase in American investments in Poland and the promotion of Polish companies on the American market. We are observing an increased interest in Poland by American companies. We are particularly pleased that the potential projects we are discussing are investments in modern technologies and research and development centres. All this means that American companies create high-quality jobs in Poland, which is what we want - said Krzysztof Drynda, PAIH's Chairman.
About the Polish Investment and Trade Agency (PAIH)

The Polish Investment and Trade Agency (PAIH) is an advisory institution supervised by the Ministry of Labour and Technology Development. The agency is also one of the entities belonging to the Polish Development Fund Group (PFR) and the first point of contact for exporters and investors. It operates both in Poland and through its offices around the world. PAIH cooperates with the public sector and regional partners, offering, among other thing: training, audit and promotion of investment properties, cooperation in the organization of business missions and communication support in the implementation of joint projects.

The American Chamber of Commerce in Poland (AmCham)

AmCham is an organization of American entrepreneurs in our country, representing at the same time one of the largest groups of foreign investors who have invested over PLN 236 billion in Poland and created over 300,000 jobs. For 30 years, we have been working for the development of mutual economic relations between Poland and the USA, and our mission is to improve the investment climate in Poland and build positive relations with governmental and non-governmental organizations, providing conditions for discussion and exchange of views supporting business.