The Polish Trade and Investment Agency beats its own record for a second year in a row. In 2022, with PAIH'S support foreign companies invested over EUR 3.7 billion in Poland. That is EUR 200 million more than a year earlier and as much as one billion more than in 2020. The number of actual projects also increased by more than 20%. Last year, 126 projects ended with a positive investment decision, which is a significant increase compared to the 96 in 2021.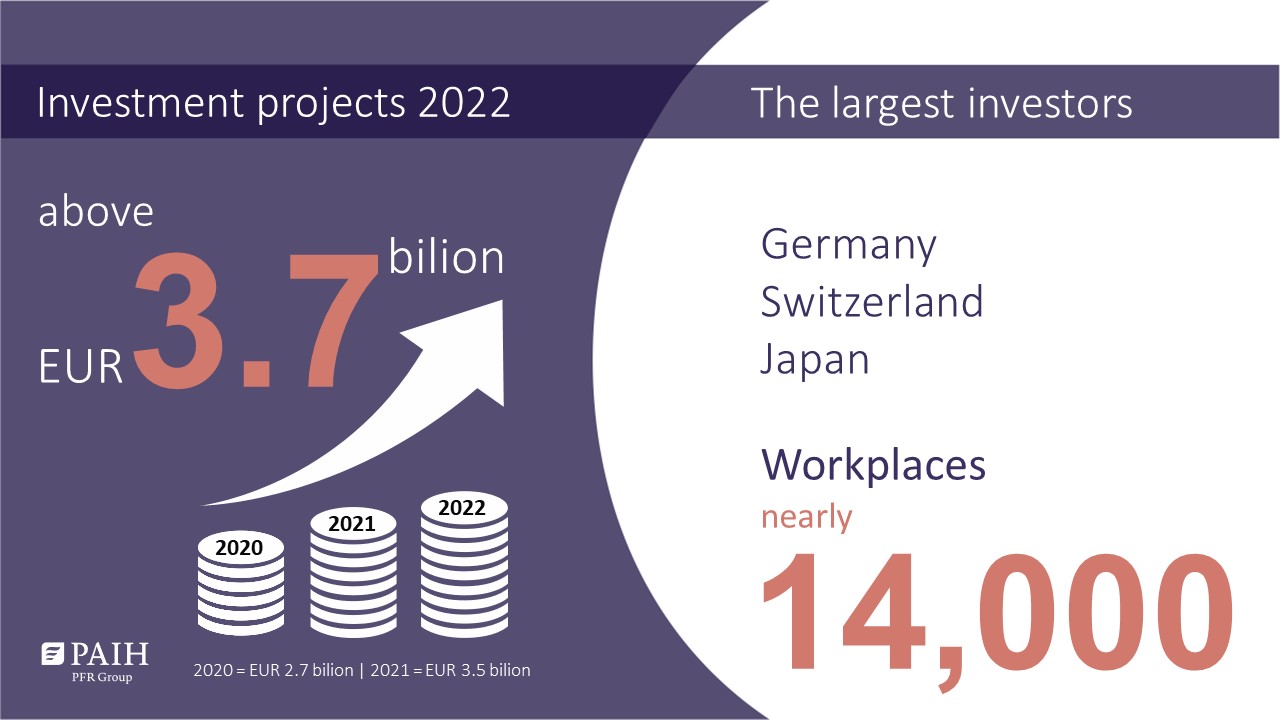 Thanks to last year's investments, new well-paid jobs will be created. This shows how investors' perception of Poland has changed. We are no longer a country offering a poorly paid labour force. We focus on qualified staff, primarily among engineers and the broadly understood R&D sector - said Grzegorz Piechowiak, Deputy Minister of Development and Technology, Government Plenipotentiary for Foreign Investments.
2022 was a successful time for PAIH and another record year in terms of FDI inflow. Once again, we are breaking our own record in the number and value of investment projects. Since 2020, each subsequent year is getting better. We have proved that uncertainty in the markets, the entry of the global economy into the post-pandemic era and war in Ukraine, are not able to stop the flow of investments to Poland. We are still an attractive country for investors. 126 investments worth over EUR 3.7 billion in 2022 are clear proof of this. I also want to emphasize that we will also make every effort to work even harder to promote Poland on the international arena in 2023 and record an even better result - emphasized Piotr Dytko, a Board member performing the function and duties of the chairman of the Polish Investment and Trade Agency.
The upward trend in the number and value of FDI is constant, but changes can be seen, for example, in the directions from which investments are coming. Comparing the year 2021 with 2022, we can observe a change in the countries from which the largest foreign investors, in terms of financial outlay, are coming. In 2021, it was South Korea, Germany and the US. Only Germany remained in the top 3, advancing to the first place by investing over EUR 1.4 billion in Poland and creating 4000 places of employment. Switzerland came second with EUR 611 million in projects and more than 300 jobs. Japan rounded off the top three, planning investments totaling over EUR 320 million and declaring the creation of over 1,000 jobs.

In total, thanks to last year's investments, according to investors' plans, nearly 14,000 new positions are going to be created. This is a slightly lower number than the previous year and is due to, the specifics of last year's investments, in which more emphasis was placed on process automation. The most technologically advanced projects create less employment, but the jobs they created are of a different quality, offering much higher salaries and ensure a transfer of technology.

In terms of the number of projects, Belarus leads with 50 investment projects, which is an undoubted success of the Poland. Business Harbour program. In 2022, more than 44,000 visa recommendations were issued under PBH. This is a huge increase from the 6,000 a year earlier. The program also includes 50 companies which relocated from Belarus, EUR 86.95 million of investment outlays declared by companies covered by the PBH program and over 2700 new jobs for specialists in Poland.

In the top 3 countries with the largest number of projects, apart from Belarus, were the United States (12) and Germany (9). As far as sectors are concerned, those enjoying the greatest interest were: e-mobility, BSS-IT, R&D and the food industry, machinery and the automotive sector. However, the largest number of projects came from the BSS-IT sector, as many as 51. In terms of project value, the e-mobility industry had the largest amount invested in it - over EUR 1.4 billion.

Looking at the interest in specific regions, we can see several leaders. The largest number of investment projects were attracted by the Mazowieckie Voivodship, where 40 of them were located, Małopolskie with 13 projects and Dolnośląskie and Śląskie jointly with 11 projects each. In terms of investment value, the undisputed winner was the Dolnośląskie Voivodeship with investments worth almost EUR 2 billion.

Even though 2022 brought many difficulties, PAIH continued to actively organize foreign investment missions, seminars and webinars. All in order to promote Poland as an attractive location to invest in.

FDI 2022:


* * *
About the Polish Investment and Trade Agency

The Polish Investment and Trade Agency (PAIH) is an advisory institution belonging to the Polish Development Fund (PFR) Group. It is the first point of contact for exporters and investors. It operates both in Poland and through its network of offices around the world. It strengthens the recognition of Polish brands on international markets, promotes domestic products and services as well as technological solutions made in Poland. The agency helps entrepreneurs in choosing their optimal path of expansion abroad. It also supports the inflow of foreign direct investments to Poland and the implementation of Polish investments in the country. PAIH cooperates with the public sector and regional partners, offering, among other things, training, audit and promotion of investment properties, cooperation in the organization of business missions and communication support in the implementation of joint projects.