Products from the Goplana brand's range were included in the Christmas offer of the leading retail chain in Singapore. Thanks to the cooperation between Colian and the local PAIH office, confectionary from Poland are available in 50 points of sale throughout the country.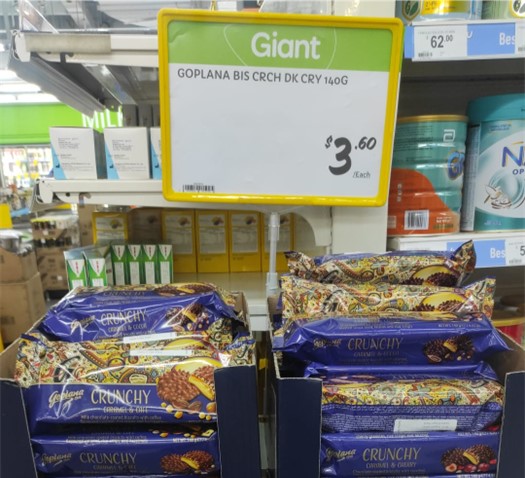 The average Singaporean consumes nearly 11 kg of confectionary products per year. Thus, the inhabitants of the Asian city-state are among the leading consumers of sweets in the region.
The confectionery market in Singapore is fragmented and quite competitive. The leading suppliers are international corporations, but you can also find local Asian brands on the shelves. Chocolate and chocolate products belong to the fastest growing category of the market, ahead of cereal and energy bars. According to forecasts, their sales in 2025 are expected to reach USD 241 million – explains Maja Justyna, Business Development Manager, PAIH 's Foreign Trade Office (ZBH) in Singapore.
She adds that hypermarkets and supermarkets are the leading distribution channel for confectionery products in Singapore. Therefore, when the Singapore ZBH was approached by the Polish manufacturer, PAIH's experts put the company in touch with the leading Chain on the market, Cold Storage.
The Cold Storage chain belongs to the DFI Retail Group – one of the largest retailers in Asia. The Group and its affiliates operate more than 10,200 outlets, including over 6,000 in Southeast Asia, and employ nearly 230,000 people. The DFI Retail Group has many well-known brands in the food, healthcare, cosmetics, home furnishings, catering and other retail industries. It is worth cooperating with them and entering one of the Asian markets in this way - notes Maja Justyna, PAIH's Expert.Poland is one of the largest producers of confectionary in the EU, after Germany, Belgium, Italy and France. Among the Polish manufacturers them is Colian and the Goplana brand, which has just entered the Cold Storage network and is included in their Christmas range.
Singapore is a market with great future sales potential. This is an opportunity for the expansion of our brands in other Asian countries and a very promising export destination with the highest per capita income among ASEAN countries, an open economy and good relations with the EU. European products are perceived there as high-quality products. After a break caused by the pandemic, we returned with an offer for this market and sent the first container of Goplana Crunchy cookies - known in Poland as "Jeżyki". However, this is just the beginning - the Singapore customer is already interested in expanding our offer with our other products. Colian's Polish confectionery products are attractive for the foreign food industry and we are very happy about it. Cooperation with PAIH turned out to be fruitful for our business. Thanks to the support of PAIHS Singapore ZBH, we were able to expand our reach to up to 50 local points of sale. We are currently exporting products to 70 countries located on all continents and further expansion, also on the Asian market, is a priority for us - emphasizes Malwina Przybylska, Senior Key Account Manager Asia & Pacific, Colian.
Colian

Colian is one of the leading players on the Polish food product market. It has a complete portfolio of high-quality products that are well known to consumers. The company's portfolio includes such brands as: Goplana, Grześki, Jeżyki, Solidarność, Śliwka Nałęczowska, Jutrzenka, Familijne, Akuku!, Elizabeth Shaw, Lily O'Brien's, Hellena, Appetita and Siesta. Colian exports to more than 70 countries located on all continents. It has 6 production plants, where in total there are over 2500 employees.

* * *
Polish Investment and Trade Agency (PAIH)

The Polish Investment and Trade Agency (PAIH) is a government advisory institution. It operates both in Poland and through its network of Foreign Trade Offices (ZBH) around the world. It is part of the Polish Development Fund (PFR) Group. PAIH strengthens the recognition of Polish brands on international markets, promotes domestic products and services as well as technological solutions under the moto "Poland. Business Forward". It does this through intensive support for cooperation between domestic entrepreneurs and foreign partners, including investors. It establishes and maintains relations with its foreign counterparts, Chambers of Commerce, Government Agencies, Trade Unions of entrepreneurs and employers. PAIH organizes trade missions and economic forums, during which B2B meetings of Polish and foreign companies are arranged. PAIH also mediates in contacts with foreign retail chains and other potential contractors. Its mission is carried out in such a way that everyone benefits from mutual contacts. Both the Polish economy and the foreign partner and consumer. Thanks to this, PAIH's experts build strong business relationships, which result in new contracts and satisfied customers.