Thailand is ASEAN's second largest economy, and due to its strategic location and supply chains, it is the gateway to the entire region. This year we celebrate the 50th anniversary of the establishment of diplomatic relations between Poland and Thailand. On this occasion, the Polish Investment and Trade Agency (PAIH) organized the Polish-Thai Business Forum in Bangkok.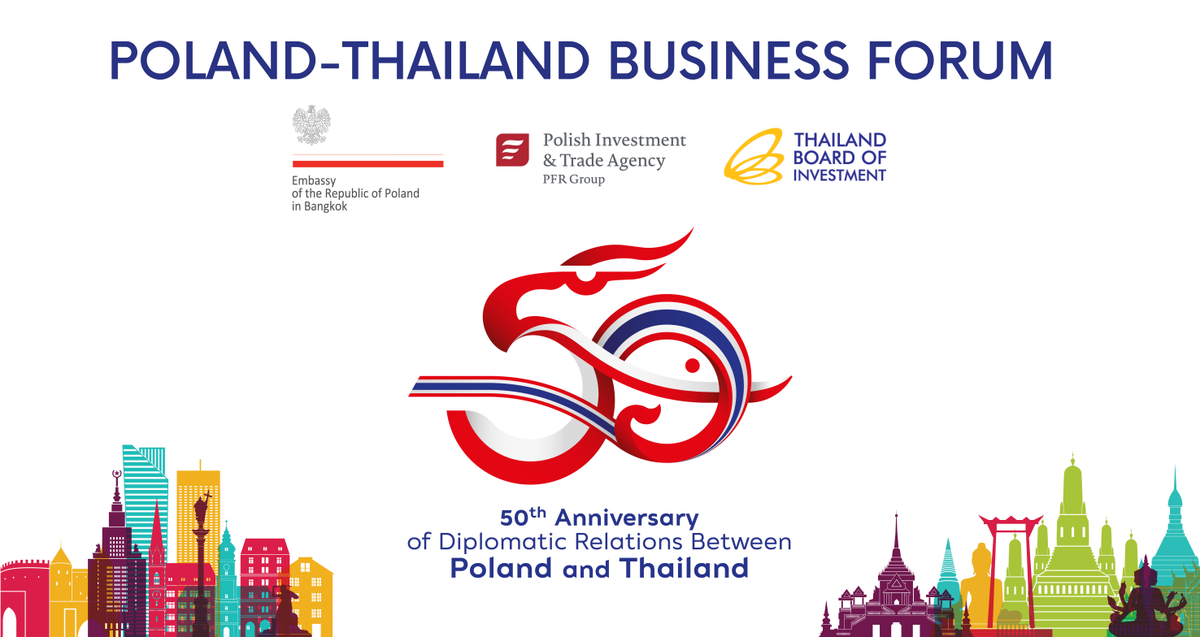 Including tourists and expats, Thailand is a market of up to 100 million consumers. With a relatively well-developed infrastructure, an economy based on free enterprise and pro-investment policies, this Asian country is an attractive direction for expansion for Polish entrepreneurs representing many industries.

New prospects for the expansion of Polish companies
Poland aims to diversify its directions of economic cooperation, and the Polish Investment and Trade Agency supports this approach. We do not want to focus solely on the European Union. So far, the share of Polish trade with ASEAN countries has been relatively small. However, in our opinion, the countries of this region, including Thailand, are one of the most promising markets. We recognize and highly value Thailand's achievements in the economic field and its activity in this area within ASEAN. In-depth cooperation in sectors such as the medical, cosmetic, food and ICT equipment could support the economic growth of both our countries - said Krzysztof Drynda, Chairman of PAIH's Management Board, during the Forum.
In September of this year, the EU and Thailand finalised the content of a Partnership and Cooperation Agreement. The end of this process is an expression of the warming of mutual relations. It may also indicate the future conclusion of a free trade agreement. Thus, facilitate exchange of goods with Poland.

Thailand is a regional medical hub and one of the leading destinations in medical tourism. The sector accounts for more than 10% of the economy, and its value is estimated at about USD 6 billion. Advanced medical equipment Is mainly imported by Thailand, and the potential recipients are about 1.5 thousand hospitals. Thailand is a significant producer of food and food products, but we see export opportunities in such segments as: health food, snacks for physically active people, dairy and pasta products, processed animal protein, apples, blueberries, semi-processed products, seeds, foodtech and agrotech - explained Norbert B±k, head PAIH's of Foreign Trade Office in Bangkok.

In 2021, Polish exports to Thailand amounted to approx. USD 345 million and increased by 42%. The commodity structure was dominated by copper, machinery and mechanical devices, as well as rubber and rubber articles. On the other hand, Poland imported - machinery and mechanical devices, electrical machinery and equipment, as well as rubber and rubber articles.

Gateway to the European Union and innovative hub

There are four companies with Thai capital present on the Polish market, three of them operate in the agri-food industry, and the fourth in the PET sector. There are not many of them, but they are some of the largest companies in Thailand. In total, they have already invested over PLN 2 billion in our country and contributed to the creation of over 4,000 jobs. Bridge Thai foreign investors choose to locate projects within ASEAN or in other regions of Asia. Companies that started operating outside the country did so mainly for the possibility of gaining access to new markets. Poland's membership of the European Union guarantees access to one of the largest markets in the world.
Compared to other Central and Eastern European countries, the Polish labor market continues to offer competitive wages for employees. Taking into account the availability of natural resources and the multitude of developed sectors of the Polish economy, it can be concluded that Poland fully meets all of the most frequently mentioned requirements of Thai companies for foreign expansion. Both Poland and Thailand focus on innovation in many areas. Therefore, we strongly believe that the potential of the Polish IT/ICT sector and a rich network of research and development centers are arguments that will convince investors from distant Thailand to choose Poland - noted Krzysztof Drynda.
On the Thai market, there are such Polish companies as the manufacturer of medical gloves Mercator Medical or Comarch, whose IT systems have been implemented in large Thai banks. Representatives of both of these companies had the opportunity to share their experience with the participants of the Forum in Bangkok.

The Polish-Thai Business Forum took place on November 29 in Bangkok. Its participants were: Ambassador of the Republic of Poland to Thailand Waldemar Dubaniowski, PAIH's Chairman Krzysztof Drynda, Deputy Secretary General of the Thailand Board of Investment Wirat Tatsaringkanskul and representatives of Polish and Thai companies.

Photo gallery:


* * *
About the Polish Investment and Trade Agency

The Polish Investment and Trade Agency (PAIH) is an advisory institution belonging to the Polish Development Fund (PFR) Group. This is the first point of contact for exporters and investors. It operates both in Poland and through a network of its offices around the world. It strengthens the recognition of Polish brands on international markets, promotes domestic products and services as well as technological solutions made in Poland. The agency helps entrepreneurs in choosing their optimal path of expansion abroad. It also supports the inflow of foreign direct investments to Poland and the implementation of Polish investments in the country. PAIH cooperates with the public sector and regional partners, offering, among other things: training, audit and promotion of investment properties, cooperation in the organization of business missions and communication support in the implementation of joint projects.