The Polish-Azerbaijani Business Forum and B2B talks are the key points of the program of the Polish mission to the capital of Azerbaijan, Baku, which was organized by the Polish Investment and Trade Agency (PAIH). During the event, the Agency concluded a cooperation agreement (MoU) with its Azerbaijani counterpart, AZPROMO. The mission took place on October 20-21.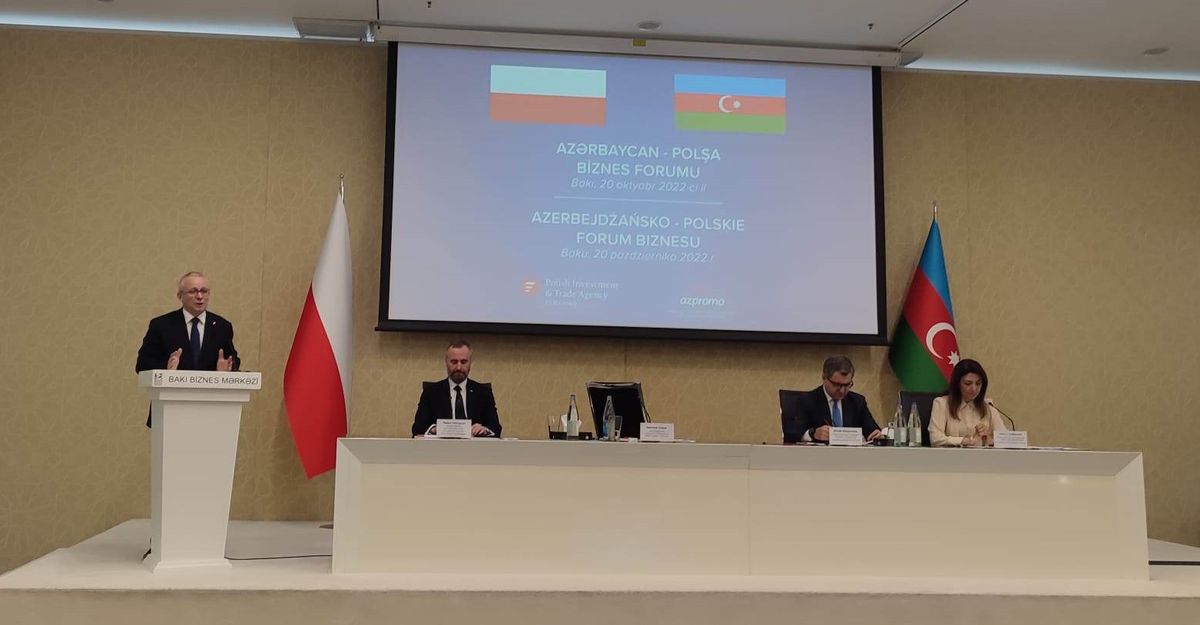 Azerbaijan lies on an important communication route connecting the Caspian region with Europe. Its economic development is closely related to the situation on the global raw materials markets. The oil sector generates more than 40% of its GDP and nearly 70% of the budgets revenue, and more than half of foreign direct investment (FDI) is located in the mining sector. In 2021, trade between Poland and Azerbaijan accounted for only 0.03% of total turnover and amounted to approx. USD 108.3 million. On the Azerbaijani market, we most often sold road vehicles, cosmetics and machinery and equipment. We bought - fertilizers, vegetables and fruit and plastics.

The aim of the Polish-Azerbaijani Business Forum was to strengthen bilateral economic cooperation by among other things organizing meetings with Azerbaijani entrepreneurs and business support institutions. The program of the event included both lectures on business opportunities and individual talks of representatives of the following sectors: high technologies in agriculture, construction and infrastructure, RES, transport and logistics, waste management, medical and pharmaceutical.
PAIH's mission is to search for new, promising markets for Polish companies. Azerbaijan is our important partner in the Caucasus region and an attractive destination for Polish business, especially in such sectors as: construction, transport, agri-food, pharmaceutical and medical, or waste management. There is still untapped potential in our trade relations, which as an Agency we are determined to awaken - said Zdzisław Sokal, Member of PAIH's Management Board.
The Forum was attended by several representatives of Polish companies from the construction and cosmetics sectors, as well as PKP Cargo, the Port of Gdansk and Bank Gospodarstwa Krajowego.

On the Forum's sidelines, PAIH and the Azerbaijan Agency for the Promotion of Exports and Investments (AZPROMO) signed an agreement (Memmorandum of Understanding), which assumes cooperation for further intensification of economic relations between Poland and Azerbaijan.

The Polish delegation also visited the BakuBuild construction fair.

Photo gallery: