The world continues to see great changes and innovation brought by digital transformation - with new computerized solutions for every imaginable obstacle appearing at a breakneck speed. We all witnessed this during the recent pandemic - when practically everyone had to work remotely and modern technology came to the rescue.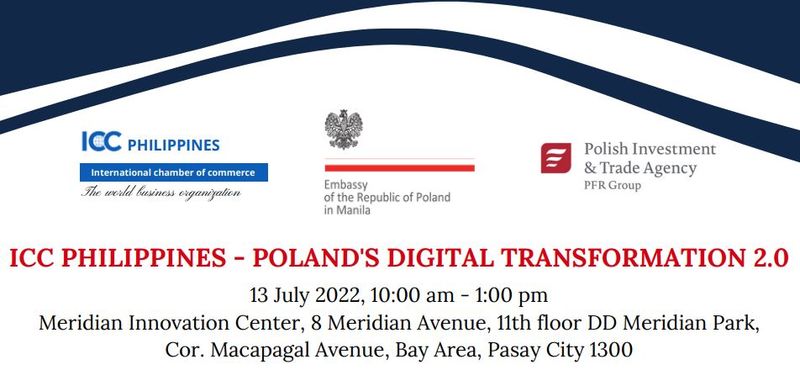 To recognize both emerging and concurrent opportunities in this field - we are organizing a forum to discuss the trends in digital transformation for both business and public administration; while highlighting business possibilities which exist in cooperation between Poland and the Philippines.

We are delighted to announce that The Republic of Poland's Deputy Minister of Foreign Affairs, Mr. Marcin Przydacz, during his official visit to the Philippines, has kindly agreed to formally open our event and participate in a panel discussion.

Opening remarks will be also presented by the Head of the Polish Mission in Manila - His Excelency Jarosław Szczepankiewicz and the Director-General of the Philippines International Chamber of Commerce - Mr. Jesus B. Varela.

Heads of companies, from both Poland and the Philippine, will also share their thoughts via Panel discussions over business case studies on Digital Transformation & IT services in the post pandemic reality.

During the event, several Polish IT companies will present their area of operation, scope of opportunities and their innovative offer. The participating companies are TendoPay, Directpl, NextBank, Lingaro and Comarch.

The event is organized by the Polish Investment and Trade Agency, International Chamber of Commerce and the Embassy of the Republic of Poland in Manila.

A condition for participation in the event is a filled in application form.


13 July 2022, 10:00 am - 1:00 pm
Meridian Innovation Center, 8 Meridian Avenue, 11th floor DDMeridianPark, Cor. Macapagal Avenue, BayArea, Pasay City 1300