The Polish Investment and Trade Agency, Bergman Engineering and the Polish Chamber of Electromobility Development have jointly created an industry report "Electromobility in Poland: Investments, Trends, Employment". It is a comprehensive repository of information about the sector. It shows the state of development of the e-mobility industry in Poland, shows key investments, trends, development directions, as well as the market demand for highly specialized employees.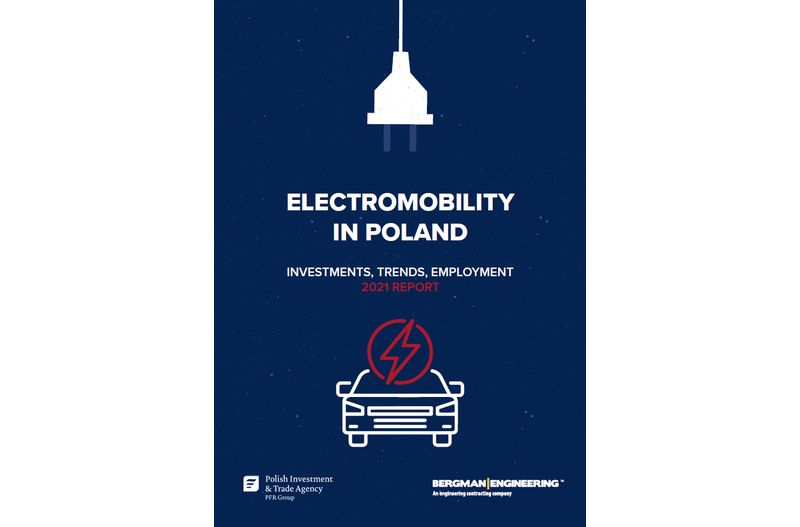 Electromobility is a huge and still growing branch of the economy, which no longer houses only the production of electric vehicles. It is also the extraction of raw materials, as well as the modernization and development of energy infrastructure or charging infrastructure. When thinking about this sector, it is also necessary to take into account the advanced recycling of vehicles and power cells, allowing for the real implementation of the principles of the circular economy. All these industries are integral elements of what today we should understand by the broad concept of electromobility.

Summing up only 2021, we can talk about an increase in sales of electric vehicles by 120% and the implementation of five investment projects with a total value of over 2 billion euros. Meanwhile, the investments planned for the end of 2022 are to create another almost 7,000 jobs.
The number of foreign investments carried out in our country is growing every year. Among the key projects in 2021 were investments of global giants of the e-mobility industry. This shows that Poland, due to its innovativeness and high-quality production in the field of electromobility, is an attractive country for investors and business partners. Already, our country is home to the production of 30% of all batteries for electric vehicles produced in Europe. The number of Polish companies developing production in the broadly understood electromobility sector is also constantly growing, as well as the awareness and interest of the society. Our country is already developing dynamically in the e-mobility industry, and in the future we have a chance to enter the forefront in this segment. - said Krzysztof Drynda, President of the Management Board of the Polish Investment and Trade Agency.
People will be needed for every endeavor. Qualified staff of engineers and specialists, production workers, technicians - without them the electromobile revolution will not take place. The e-mobility sector is developing intensively, which translates into an increase in the demand for specialists in the field of electromobility. In 2021, the demand for electric drive/battery product designers and engineers, test engineers, electrical and electrical engineering specialists, battery quality engineers has increased.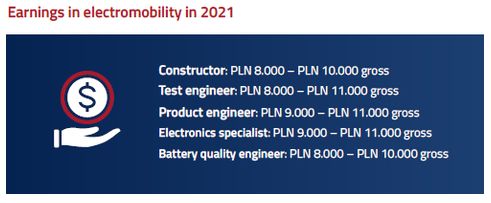 The revolution is happening before our very eyes. Maybe these are high flying words, but this is the truth. More and more companies are reporting a need for staff - engineers and production workers, without whom the change in the automotive market, in the electromobility sector, will not be possible. Of course - electric car factories are technologically advanced, robotization and automation of production is visible at every step, but without people the revolution will not happen. Proportionate and competitive remuneration should go hand in hand with the high level of responsibility and employers are aware of this. - said Tomasz Szpikowski, Chairman of Bergman Engineering.
Changes in the automotive market are very dynamic and are an opportunity for the local market and domestic companies, also for those outside the automotive sector.
Many entrepreneurs do not even know that with just a slight changeover, their production lines could already provide components, products or elements of factory equipment for the electromobility industry. - summed up Krzysztof Burda, Chairman of the Polish Chamber of Electromobility Development.
Electromobility is not only highly advanced components, such as electrodes, separator or electrolyte, it is also: copper electrical leads, module covers, rubber elements or measuring equipment.
The value of exports of lithium-ion batteries for 2021, after an increase of over 60% year on year, exceeded PLN 6.6 billion. Batteries and other components needed to build electric transport are high-margin products that force investments in a modern production model. - said Rafał Biszcz, Director of PIRE Knowledge Hub.
This is a great opportunity for Polish industry to modernize and leap forward - especially at a time when the supply of labour is falling due to unfavorable demographic changes. Components in the electromobility industry are subject to automotive standards - using IATF, VDA or ISO standards.

For us, working in the regime of automotive standards and regulations is something natural, while our competition from Asian countries have many problems with this. In other words, a strong automotive sector is our comparative advantage in deploying batteries for the automotive sector.

There is an other side to the coin - battery technology is still such a novelty that its secrets have not yet penetrated our consciousness. Polish industry does not know how batteries are produced, what semi-finished products are needed and what role this industry could take in the supply chain of the electromobility industry. PIRE estimates that by 2028, over 5% of all Polish exports will be batteries, while knowledge about this area of the economy is still scarce! That is why the PIRE Knowledge Hub which promotes such technical knowledge was created.

We invite you to read the report!

Photo gallery: