Agnieszka Szweda, a PAIH's Investment Center Expert, spoke about Poland and the Polish R&D sector as the best places to invest in, during the Network4Growth: Technology transfer and innovations in Poland conference.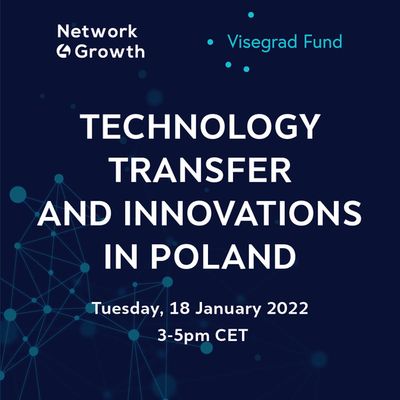 In years 2015-2020, 51 R&D projects worth EUR 233 million were implemented in Poland. The main investors came from the US, Poland, Great Britain, Germany, France, Finland, Denmark and China. In 2020 alone, the value of investments in the R&D sector reached EUR 97.8 million. Currently, 6 R&D projects with a total value of EUR 32.7 million are active.
In the last 20 years, Poland has experienced a real transformation in the R&D sector. - said Agnieszka Szweda. Initially, R&D was carried out within universities and public institutions. Currently, there are as many as 30 large R&D centers working on AI, big data and software in the territory of the Republic of Poland. The main players include IBM, Nokia, Intel, Motorola and Samsung. In the years 2014-2020, 420 new R&D centers co-financed by the EU under the Smart Growth Operational Program were also created.
Poland is becoming more and more competitive, not only on a European but also an international scale. Today the whole world uses Polish technological solutions. These include the Alexa voice assistant, based on the Polish Ivona technology, or key systems and algorithms for the Cortana virtual assistant developed in Europe's largest Intel research and development center in Gdańsk. Advanced and unique on a European scale research and development work on driver assistance systems (ADAS) for autonomous vehicles is carried out in Krakow by the global technology company APTIV.
The Łukasiewicz Research Network is highly appreciated by investors in Poland. The network, consisting of 400 laboratories throughout the country, cooperating with technical universities as well as large industrial partners and SMEs - Agnieszka Szweda informed the audience. Full R&D advisory services are also offered to investors by the Agreement of Academic Technology Transfer Centres.
It is estimated that Poland has approx. 300 startups specializing in AI solutions. Our country ranks 1st in Central and Eastern Europe and 7th in the EU in terms of its pool of specialists in this area. The best programmers in the world also work in Poland, as is evidenced by Poland taking 3rd place in the global HackerRank ranking.

Finally, Agnieszka Szweda talked about the incentives available in Poland that support R&D projects. These include: investment grants, tax reliefs and deductions, including reduced income tax, the so-called Innovation Box or preferential loans. Poland is the largest beneficiary of EU funds for 2021-2027. A total of EUR 160 billion in grants and loans, including: New Operational Program: European Funds for Modern Economy (FENG) with a total budget of PLN 36 billion (EUR 8 billion) to be allocated in the area of research and development, technology transfer, automation, robotization and green projects; operated by NCBiR, PARP, BGK, FNP, OPIPIB.

* * *
The Network4Growth: Technology transfer and innovations in Poland conference was held as part of the Network4Growth project. Its aim is to strengthen the innovation ecosystem in the countries of the Visegrad Group, Armenia and Georgia, through the exchange of knowledge in the field of research and development and technology transfer.