The Polish Investment and Trade Agency (PAIH), the Embassy of the Republic of Poland in Switzerland and the Forum of Polish Entrepreneurs in Switzerland invite Polish entrepreneurs to a two-day Economic Forum "Polish entrepreneurs in Switzerland - a recipe for success". The event in Bern will gather in one place, a wide group of representatives of Polish and Swiss companies, as well as public institutions of both countries, creating a platform for cooperation between the leaders of the world of business and politics. The 1st Polish Economic Forum in Switzerland will be held on September 27-28, with the support of the Ministry of Development and Technology and the Polish Tourist Organization.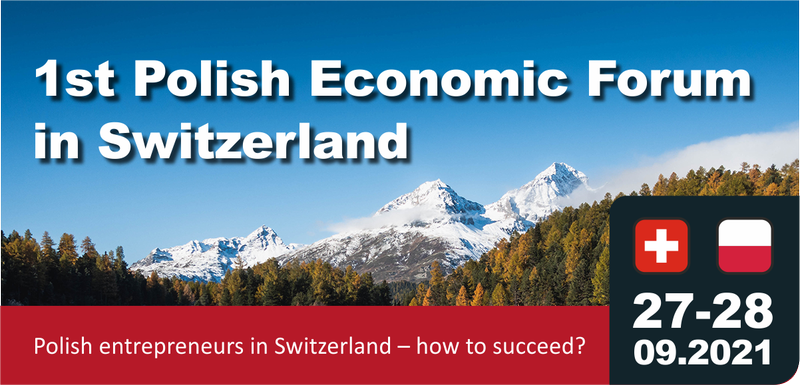 The event will be attended by representatives of business - Polish and Swiss companies, business support organizations and government institutions of both countries. The two-day event will cover issues related to direct foreign investments and trade relations. Poland's potential in terms of advanced technologies, with particular emphasis on information technology will also be represented. Other topics, such as those devoted to the promotion of Poland as an attractive tourist destination or the prospects for the development of Polish-Swiss cooperation in the field of crafts will also be covered. Another session will be devoted to successful economic, scientific and cultural projects carried out by Polish women in Switzerland. The participants of the discussion panels will discuss the business opportunities that have emerge in the post-Covid reality. The Forum will consist of seven thematic sessions.

The forum is aimed at business representatives, but also people who support the building of Polish-Swiss business relations.

Strengthening cooperation

The event's agenda also provides for B2B meetings that will strengthen Polish-Swiss networking. The Bern event will provide a unique opportunity to meet a wide group of potential partners, customers and investors, or to establish and maintain business relationships. The meeting in Switzerland's capital is also an opportunity to listen to the opinions of experts and analysts on the latest trends and challenges facing entrepreneurs.

Switzerland is the eighth largest foreign investor in Poland. In October of this year our countries will celebrate the 100th anniversary of the Swiss diplomatic mission in Warsaw. Our economies are closely intertwined, and bilateral relations are based on a long tradition and mutual friendship. Intensive cooperation takes place both on the cultural and economic levels.

Registration

The forum will be conducted in Polish and German. The organizers will provide simultaneous translation. Applications via the registration form will be accepted until September 23rd. Participation in the Forum is free of charge, but limited by the number of places available and possible only after presenting the EU Covid certificate confirming vaccination, a negative Covid-19 test result or proof of having suffered from Covid in the last 6 months.



Details about the event are available at: www.paih.gov.pl/I_Polish_Economic_Forum_in_Switzerland.