White Goods Sector

Support for Investors:
Centre for Strategic Investment
e-mail: invest@paih.gov.pl

Basic facts and figures

Value of sales: 23 billion PLN (an increase by 14.1% yoy; data for 2020)
Industry share in Polish exports: 2.53%
Number of employees in the sector: 31,000 people
Number of companies in the sector: 40 (manufacture of domestic appliances, companies with 49+ employees)
Average salary in the sector: 5 600 PLN gross (state average for the industrial sector in 2020: 5 432.23 PLN)

Annual production volume: 30 million units of domestic appliances (2020)

Polish share in the EU's production of domestic appliances: 35% (2020)

Export value: 24.42 billion PLN (14.1% yoy increase)

Annual value of FDI invested in Poland by the companies from the White goods sector: > 1 bn PLN
Data for companies employing over 49 people.


Strengths of the Polish white goods industry

Many years of tradition in the production of household appliances


Availability of qualified, experienced staff


A rich network of suppliers, co-operators


The presence of key international corporations in the sector along with a rich technological base


Excellent geographical location of Poland with easy access to foreign markets of the European Union as well as Eastern European countries


Persistent high absorption of the internal market


Growth in demand on the housing market


An attractive support system offered to foreign investors




The production of household goods (AGD) in Poland has many years of tradition. Known created after World War II include Zaklady Filty Pieknego Wromet in Wronki (today's Amica Wronki S.A.) and Wrocławskie Zakłady Metallurgiczne. Wrozamet (now BSH), Zaklady Metalowe Zakrzów (later Polar, today Whirlpool Polska S.A.) and Zelmer (currently in the BSH group), and have been thriving since the 1960s. Since the beginning of the systemic transformation period, the sector has attracted numerous industry investors who, based on the existing infrastructure, knowledge and qualifications of employees, have built an extremely modern and internationally competitive industry sector.

The sector generates revenues of almost EUR 7.2 billion, the equivalent of over 2.53% of Poland's GDP. In recent years, our country has become the European leader in terms of household appliances. Every other washing machine, dishwasher and tumble dryer produced in the European Union comes from Poland. In 2020, Polish factories manufactured over 30 mln units of house appliances, which marks a 3% increase from the 2019's values. The export value of large household appliances in 2020 was almost 21 billion PLN.. Washing machines (30%) and dishwashers (21%) have the largest share in production.

Around 31,000 people are employed directly in the sector, of which 5 000 are working in the R&D sector. Taking into account also sub-suppliers of materials and services based around the entire product life chain, the total employment in the household appliances sector exceeds 100,000 people. The average salary in the sector in 2020 was approximately PLN 5,600.

Most of the production of the large household appliances is intended for export (85% of production). In 2020 the value of household appliance exports amounted to approximately 22.7 million units. The largest portions of this equipment went to Germany (23%, marking a 4% yoy increase), France (11%, a decrease by 7% yoy) and Great Britain (11%, a 3% increase yoy). Amica, the largest Polish manufacturer of household goods - sells approximately 50% of its production in 40 foreign markets. The second Polish leading manufacturer of household appliances, Zelmer, became in March 2013 part of the BSH concern. The Zelmer brand, a renowned manufacturer, among others Vacuum cleaners has a very strong position in Eastern European countries.


Locations of sector companies in Poland

There are currently 35 household appliances factories in Poland. Regional production is located in five voivodships: Dolnośląskie, Łódzkie, Wielkopolskie, Podkarpackie and Podlasie. The main production areas are Wrocław, Łódź, and Wronki near Poznań.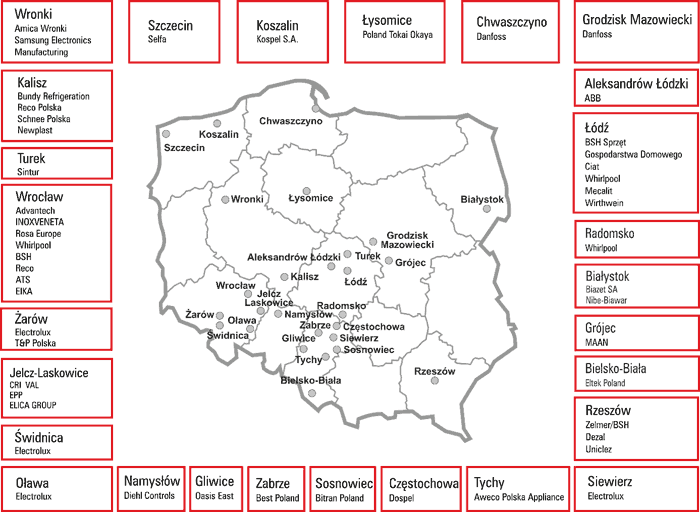 Global companies representing the household appliances sector have located their factories in Poland

BSH Bosch und Siemens Hausgeräte GmbH,
Electrolux,
Whirlpool,
LG,
Samsung Electronics,
Elica.

Case Studies

The agency took an active part in servicing the following investment projects completed with a positive investment decision:
In 2010, the Korean investor Samsung launched the Wronki plant specializing in the production of refrigerators and washing machines. The 37,000 m2 factory, formerly owned by the Polish Amica company, has been modernized and expanded. The plant currently employs over 4,000 employees.
The Swedish investor Electrolux launched a dishwasher factory in Żarów in 2006. This plant, with an area of 21 hectares, has a plant size of 30,000 m2 and initially employed 145 people with a total investment of 22 mln euro. From the beginning of its presence in Poland, the total value of the Electrolux investment amounted to over 132 million euros. Currently, the company has 4 production plants and employs approximately 6,000 employees.

Useful Links:


Source: APPLiA Poland - AGD (White Goods) Report 2020/2021; Labour costs in 2020 (Statistics Poland, 30.11.2021)