Renewable Energy
Business Support:
☎ +48 22 334 98 75
e-mail: invest@paih.gov.pl
Intro
Development of the renewable energy sector is one of the priorities for the Polish government.- according to Directive 2009/28/EC all EU Member States should gradually increase the share of energy from renewable sources in total energy consumption and the transportation sector. The specific objectives of the Polish energy policy are as following: to increase the proportion of energy from renewable sources in final energy consumption up to 15.5% in 2020 (19.3% for electricity, 17% for heating and cooling, 10.2% for transportation fuels). Achieving these objectives requires investments in new generation capacities. Even after 2020 the effort to make the Polish economy greener will be continued. In October 2014 the EU leaders agreed on new EU climate and energy policy targets for 2030. The new policy sets a target of at least 27% share of energy consumption produced from renewable resources, 27% improvement in the EU's energy efficiency, 40 % reduction of greenhouse gas emissions from 1990 level.
The most active foreign investors in the Polish renewable energy sector are RWE, E.ON, EDF, EDP Renewables, GDF Suez (wind farms), Dalkia (biomass combustion), Axzon (biogas plants). The Polish players are also investing in renewables e.g. Enea, Energa, Tauron, PGE.
Poland is also gradually becoming an attractive destination for investments in manufacturing of devices used in energy generation. There are estimated to be more than 200 production companies working for the renewable energy sector (Institute for Renewable Energy data).

Sector in figures
According to the last available EUROSTAT data for Poland the share of renewable sources in total energy consumption has been constantly increasing over the last years reaching 11.3% in 2013. However, according to the Central Statistical Office and the Ministry of Economy it amount to 11.9%.
It is worth mentioning that according to EurObserv'ER Poland is ranked 5th in the EU in terms of production of primary energy from solid biomass. Poland is also leading among new EU member states in terms of total installed wind power capacity.

Renewable energy installations (electricity)
| | | |
| --- | --- | --- |
| Type of installation | Quantity | Power (MW) |
| biogas power-stations | 267 | 198 |
| biomass power-stations | 36 | 1033 |
| photovoltaic power-stations | 225 | 51 |
| wind power-stations | 1003 | 4254 |
| hydro-electric power-stations | 754 | 982 |
| co-fired technology | 44 | n/a |
Source: Energy Regulatory Office (as of December 2015)


Potential of renewable energy in Poland
Type of renewable energy source

Real economic potential - final energy

Utilization of economic potential in 2020 (real market potential)

[TJ]

[TJ]

[%]

Biomass:

600167.8

533117.5

88.8

solid dry waste

165930.8

149337.7

90.0

biogas (liquid waste)

123066.3

72609.1

59.0

wood (forests)

24451.8

24451.8

100.0

Energy crops

286718.9

286718.9

100.0

Wind energy

444647.6

119913.3

27.0

Solar energy:

83312.2

19422.2

23.3

thermal

83152.9

19262.9

23.2

photovoltaic

159.3

159.3

100.0

Hydropower

17.9744

11.144,2

62.0
Source: Możliwości wykorzystania odnawialnych źródeł energii w Polsce do roku 2020, IEO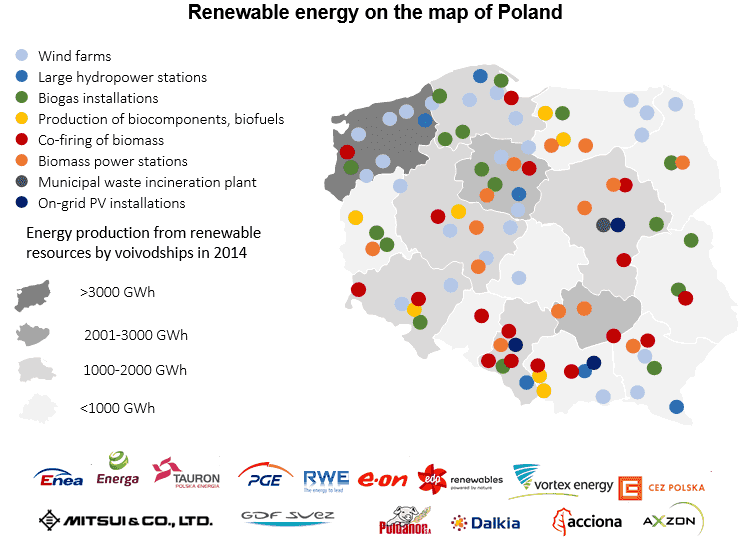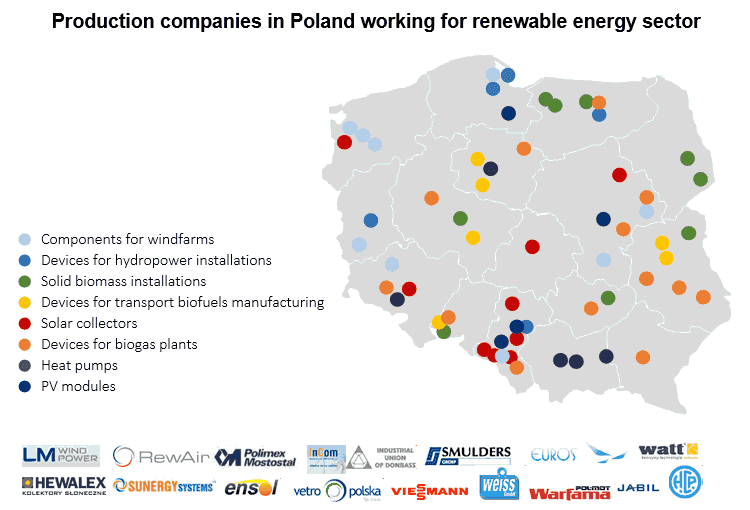 Key drivers of renewable energy sector development in Poland:
dynamic economic growth in recent years, growing number of business entities and domestic market of 38 million consumers,

demand for green energy will grow due to the targets of energy Policy: increase the proportion of energy from renewable sources in final energy consumption up to 15.5% in 2020 (19.3% for electricity, 17% for heating and cooling, 10.2% for transportation fuels).

obligatory reduction of the percentage of municipal biodegradable waste that may be landfilled to 35% by 2020, and building waste-to-energy plants,

favourable wind conditions, a large potential for obtaining biomass and biogas

investment incentives for renewable energy producers

Instruments of support:
The Polish government offers the following forms of support for the production of energy from renewable sources:
investment incentives for renewable energy producers (auction system),

electricity trading power companies are required by law to purchase energy from renewable sources,

renewable energy producers have priority access to transmission grid,

electricity generated from renewable sources is exempt from excise tax,

the grid connection fee for smaller installations (< 5 MW) is reduced by 50%. Such installations are also exempt from the license fee and the annual fee paid by license holders,

investments in clean energy may be co-financed by the National Fund for Environmental Protection and Water Management.
Legislative works on the new renewable energy law are finished. Renewable Energy Act came into force in May 2015. The new rules of support are expected to come into force on the 1st of July 2016. The new scheme will be based on so called auction system. The support will be granted as a result of the auction conducted by the President of Energy Regulatory Office. The price for 1 MWh for the period of 15 years will be the basic criterion for auctions. Installations which offer the lowest price will win.
More information on the future support scheme: Wind energy in Poland, Warsaw 2015: www.paih.gov.pl/publications/sectoral_studies.

Useful contacts:
Polish Power Exchange
ul. Poleczki 23 bud. H
02-822 Warszawa
tel. +48 22 341 99 12
http://tge.pl/en
tge@tge.pl
The Polish Economic Chamber of Renewable Energy
ul. Gotarda 9
02-683 Warsaw
tel. +48 22 548 49 99

pigeo@pigeo.pl
Energy Regulatory Office
ul. Chłodna 64
00-872 Warsaw
tel. +48 22 661 61 07
www.ure.gov.pl/portal/en
ure@ure.gov.pl
National Fund for Environmental Protection and Water Management
ul. Konstruktorska 3a
02-673 Warszawa
tel. +48 22 45 90 000
www.nfosigw.gov.pl/en
fundusz@nfosigw.gov.pl
Publications

Wind energy in Poland,
www.paih.gov.pl/publications/sectoral_studies