Food Processing Sector

Support for Investors:
Centre for Strategic Investment
☎ +48 22 334 98 75
e-mail: invest@paih.gov.pl

Sector in Numbers

Sales Value – 233.55 billion PLN (2018) / increase by 3.9% yoy
Number of employees: 381,200 (Official Statistics Poland data, 2018)
Average salary: 4121.96 PLN (state average for the industrial sector in 2018: 5121.91 PLN)
41% of production from sector is exported abroad (94.68 bn PLN in 2018)
Capital expenditures – 7.22 billion PLN (2018)
Export value: PLN 94.68 bn (6.8% yoy increase)
Number of companies in the sector: 1385 companies (companies with 49+ employees, Statistics Poland)
Production sold: PLN 184.17 bn, 3.9% growth yoy (2018)
Industry share: 16% (percentage of production sold in industrial products manufacturing section, 2018)
Total of FDI positions: EUR 11.74 bn (NBP, 2018)


Strengths of the Polish food sector

Many years of tradition
High quality products
Competitive production and labor costs
Qualified staff
Solid educational base and R&D potential
Well-developed network of suppliers

The food sector is one of the most important and fastest growing branches of the Polish economy. 10.5% (1.7 million) of all employees employed in industry are involved in it. Poland is the 6th largest market in Europe, with a capacity of 38.5 million inhabitants. Polish producers are characterized by high competitiveness both in the EU and in the world. 80% of all exports, in 2017, went to the EU's internal market, which after accession became one of the main driving forces for the sector with a potential of over 508 million consumers. In the first seven months of 2017, the value of agri-food exports to European Union countries amounted to EUR 12 billion and was 8.1% higher than in January-July 2016. Poland's chief trade partner remains Germany with a share of 22% in exports agri-food products.
Poland is a leading producer of fruits (apples, raspberries, blackcurrants, blueberries), meat (poultry, pork), dairy products and mushrooms. The native processing industry is known for its diversity, including the production of tobacco and alcohol in the long list of food products.
The agri-food products that generated the highest export income in the first seven months of 2017 were meat and poultry offal (EUR 1.39 billion), bread (EUR 824 million), beef (EUR 742 million), fish (EUR 731 million),chocolate food prodcuts (EUR 659 million), prepared meats (EUR 592 million) pork (EUR 564 million), cheese and curd (EUR 421 million), wheat (EUR 312 million), fruit and vegetable juices (EUR9274 million). High incomes were also obtained from cigarette exports (1.39 billion euros).
Since the early 1990s, many international interests such as Danone, Heinz, Unilever, Mondelez and Nestle have been expanding their operations into the Polish market. What's more, the continuous inflow of greenfield investments confirms that the business environment in the country is growing and more and more international consortia are interested. It is worth adding that Poland has the fourth largest area of land prepared for investments in the EU and a long history in food processing. Many years of experience have allowed Poland to create a professional education system cooperating with the food industry.
Poland is also the home of many well-known brands from around the world. Examples of such companies operating in the dairy industry are Mlekovita and Mlekpol, followed by Maspex (ie. a producer of juices, nectars, pasta, and cereals), or Hortex, a juice producer. In addition to the above-mentioned,the following brands also originate in Poland: Wyborowa Sobieski (vodka), Tymbark (juice), Grycan (ice cream), Wedel (chocolate), Sokołów and Pudliszki (sauces and ketchups), Kujawski (oil) and Winiary ( spices and various types of ready meals).
In July 2014, the food industry was included in the list of priority sectors by the Polish government. Consequently, Polish companies from the processing industry intent on developing their business or setting up new production centers can count on government grants. Finally, it should be added that interested companies can also take advantage of tax breaks in Poland's numerous Special Economic Zones.


Major foreign companies in the food sector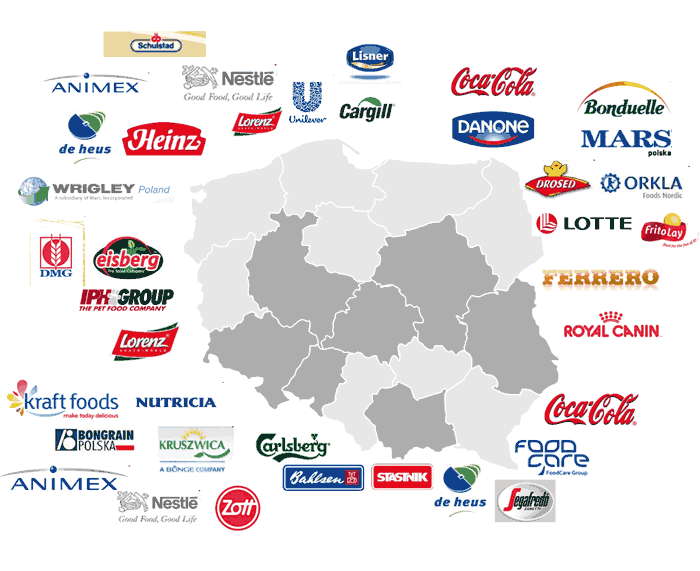 Major Polish companies in the food sector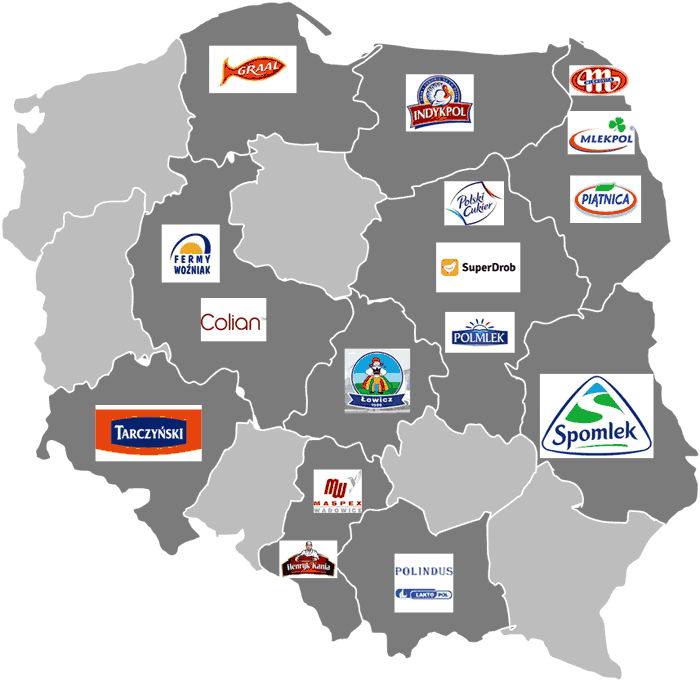 Source: Statistical Yearbook of Industry – Poland 2018 (GUS – Statistics Poland, February 2019); Production of industrial products in 2018 (GUS – Statistics Poland, July 2019); Foreign Direct Investment in Poland in 2018 (NBP, October 2019)