Food Processing Sector

Support for Investors:
Centre for Strategic Investment
e-mail: invest@paih.gov.pl

Sector in Numbers

44,1% of production from sector is exported abroad (23.4 bn PLN in 2020, according to Eurostat)

Export value: PLN 170.8 bn (in 2021, +9.0% yoy increase)

Number of companies in the sector: 1274 companies (companies with 49+ employees in 2020, Statistics Poland)

Production sold: EUR 53 bn, 1.8% growth yoy (Eurostat 2020)

Industry share: 26% (percentage of production sold in industrial products manufacturing section, Eurostat 2020)

Total of FDI positions: EUR 54.55 bn (NBP, 2020)


Strengths of the Polish food sector

Many years of tradition
High quality products
Competitive production and labor costs
Qualified staff
Solid educational base and R&D potential
Well-developed network of suppliers

The food sector is one of the most important and fastest growing branches of the Polish economy. Poland is the 6th largest market in Europe, with a capacity of 38.5 million inhabitants. In 2021, the total value of agri-food exports abroad amounted to a record-breaking PLN 170.8 billion (approximately EUR 37.4 billion), which signifies a 9% increase year-over-year. Over 70% of Polish agri-food exports were exported to the EU countries.

Poland is a leading producer of fruits (apples, raspberries, blackcurrants, blueberries), meat (poultry, pork), dairy products and mushrooms. The native processing industry is known for its diversity, including the production of tobacco and alcohol in the long list of food products.

The agri-food products that generated the highest export income in 2021 were meat and poultry offal (EUR 3.856 billion, of which EUR 2.704 billion were fresh, chilled or frozen poultry), bread (nearly EUR 2 billion), chocolate food products (EUR 1.978 billion), food and feed for animals (EUR 1.595 billion), beef (EUR 1.168 billion), smoked, dried and cured fish (EUR 942 million), cheese and curd (EUR 923 million), wheat (EUR 836 million), pork (EUR 754 million), fruit and vegetable juices (EUR 677 million) and mineral waters (EUR 660 million). High incomes were also obtained from exports of cigarettes and other tobacco products (3.451 billion euros).

Since the early 1990s, many international interests such as Danone, Heinz, Unilever, Mondelez and Nestle have been expanding their operations into the Polish market. What's more, the continuous inflow of greenfield investments confirms that the business environment in the country is growing and more and more international consortia are interested. It is worth adding that Poland has the fourth largest area of land prepared for investments in the EU and a long history in food processing. Furthermore, Poland's position as a key logistical hub for a large number of industries has only strengthened over the decades. Many years of experience have allowed Poland to create a professional education system that cooperates closely with the food industry.

Poland is also the home of many well-known brands from around the world. Examples of such companies operating in the dairy industry are Mlekovita and Mlekpol, followed by Maspex (ie. a producer of juices, nectars, pasta, and cereals), or Hortex, a juice producer. In addition to the above-mentioned, the following brands also originate in Poland: Wyborowa Sobieski (vodka), Tymbark (juice), Grycan (ice cream), Wedel (chocolate), Sokołów and Pudliszki (sauces and ketchups), Kujawski (oil) and Winiary ( spices and various types of ready meals).

In July 2014, the food industry was included in the list of priority sectors by the Polish government, whilst innovative technologies, processes and products of agri-food sector can be found on the 2022 governmental list of Smart Specialisations. Consequently, Polish companies from the processing industry intent on developing their business or setting up new production centers can count on government grants. Finally, it should be added that interested companies can also take advantage of tax breaks in Poland's numerous Special Economic Zones.


Major foreign companies in the food sector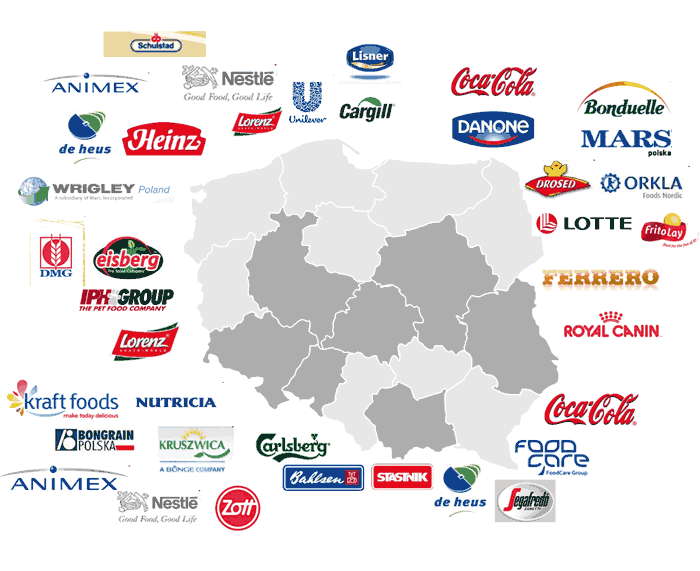 Major Polish companies in the food sector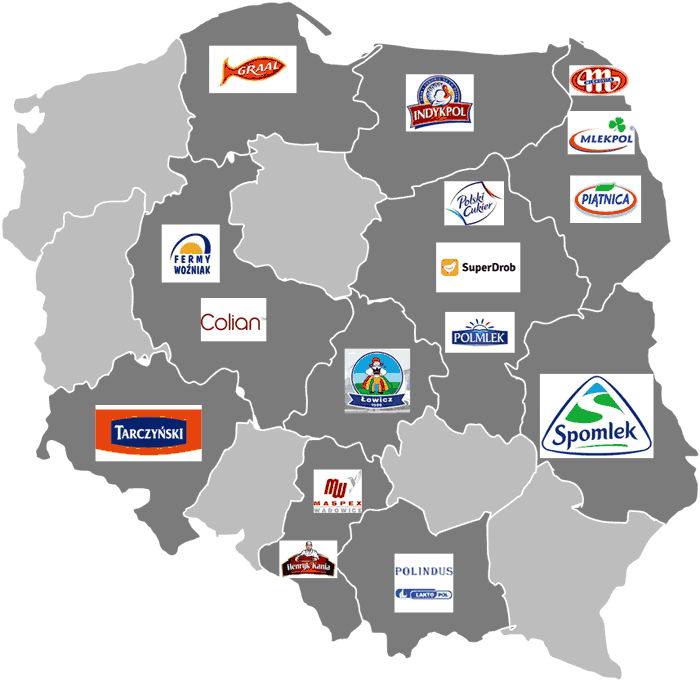 Source: Statistics Poland 2021, Eurostat 2020, NBP 2020, after: The National Support Centre for Agriculture (PL:KOWR) 2021; SWAiD - International Trade (Statistics Poland, data for 2021); Ministry of Economic Development and Technology - Smart Specialisations