Electronics Sector

Support for Investors:
Centre for Strategic Investment
☎ +48 22 334 98 75
e-mail: invest@paih.gov.pl
Electronics sector in numbers

Sales Value: 38.96 billion PLN (2018) / (0.1% growth yoy)
Share in industrial production: 2.7 % (percentage of production sold in industrial products manufacturing section, 2018)
Number of employees: 56,900 employees in computer, electronic and optical products manufacturing (Official Statistics Poland data, 2018)
Number of companies in the sector: 163 companies (Manufacture of computer, electronic and optical products, companies with 49+ employees, Statistics Poland)
Average salary in the sector: 5097.22 PLN (state average for the industrial sector in 2018: 5121.91 PLN)
Annual Production (2018):
a)

Digital machines – 3.33 million
b)

Telephone sets – 415,564
c)

Radio recievers – 2.24 million
d)

TV sets – 35.45 million
Export value: PLN 79.96 bn (7.8% yoy increase)
Total of FDI positions: EUR 2.14 bn (NBP, 2018)
Data refer to business entities in which the number of employees exceeds 49 persons.


Introduction

The development of the electronics sector in Poland dates back to the 1930s. During this period, among others, lighting equipment was manufactured by Polskie Zakłady Philips in Warsaw and electronic transmitting and microwave lamps by Zakłady Elektronowe Lamina in Piaseczno. The post-war years proved that electronics had become one of the fastest growing areas of the economy worldwide, being a carrier of technical and civil progress. With the fall of communism and the beginning of the 1990s, the electronics industry was in the sphere of interest of many foreign concerns that permanently marked their presence on the Polish market. These include Schneider Electric, Alcatel-Lucent or the already mentioned Philips. Today, the electronics industry is one of the fastest-growing segments of the economy in Poland.


Most important investors in the Polish electronics sector include:
Dell (Łódź, woj. łódzkie) production of desktops and servers
Flex (Łódź, woj. łódzkie, Tczew, woj. pomorskie) production of components and telecomminucations products
Humax Poland, (Bełchatów, województwo łódzkie) production of personal video recorders and TV sets
Jabil (Kwidzyń, woj. pomorskie) production of electronic components
Kimball Electronics (Tarnowo Podgórne, woj. wielkopolskie) production of electronic components for telecommunications and the automotive industry
LG Display Poland (Biskupice Podgórne, woj. dolnośląskie) production of liquid crytal displays
LG Electronics (Mława, woj. mazowieckie) production of televisions and other devices for consumers
Nokia (formerly Alcatel-Lucent, Bydgoszcz, kujawsko-pomorskie) productions of telecommunications equipment and other devices for consumers
Sharp (previously UMC, Łysomice, woj. kujawsko-pomorskie) production of televisions
TCL Operations Polska, (Żyrardów, woj. mazowieckie) production of electronics
TPV Technology (Gorzów Wielkopolski, woj. lubuskie) production of computer monitors
Vestel (formerly Compal, Biskupice Podgórne, woj. dolnośląskie) production of televisions


Locations of electronics sector companies in Poland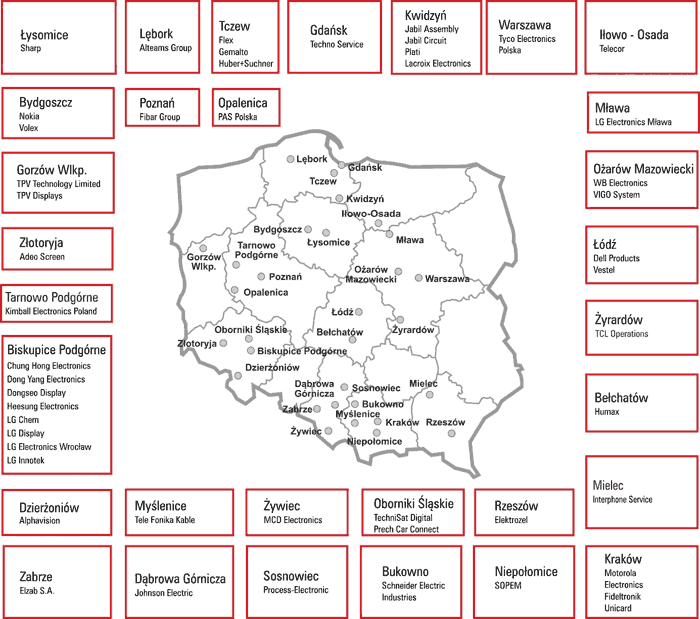 Case studies

The Polish Investment and Trade Agency (formerly the Polish Information and Foreign Investment Agency) actively participated in servicing the following investment projects completed with a positive investment decision:

The American company Dell decided in 2008 to choose Łódź as the place for the implementation of a new investment project to start a computer production plant. The Dell production facility with an area of 37 thousand square meters was built for 200 million euros. Currently, the plant employs 1,500 employees.
American investor Flextronics began its investment adventure in Poland in 2000 when it decided to build a factory in Tczew, Pomerania. Since then, the presence of Flextronics has been characterized by dynamic development. Initially, the company employed only a few hundred employees, but the current employment is about 3,500 people, and the plant is expanding with additional buildings. The company completes orders for global brands, including from the telecommunications and car industries.

Source: Statistical Yearbook of Industry – Poland 2018 (GUS – Statistics Poland, February 2019); Production of industrial products in 2018 (GUS – Statistics Poland, July 2019); Foreign Direct Investment in Poland in 2018 (NBP, October 2019)