Poland has been dynamically developing and modernizing its transport infrastructure both road, rail, air and sea.
Thanks to its strategic location at the crossways of main European transportation corridors along the North - South, as well as East - West, as well as improving transportation infrastructure, Poland has been dynamically accentuating its strong position at the Europe's logistics map.
21 multimodal logistics hubs along TEN-T (Trans-European Transport Networks, programme pursued by the EU, regarding transportation network) will be in place by 2020 r.

Over EUR 11 bn was invested in Poland in construction of motor and expressways in period of 2008-2014.

Over EUR 15.6 bn will be invested in railway infrastructure along the 2014 - 2023 Multi-Year Railway Investment Plan.

Over EUR 32.5 bn will be invested in road infrastructure within the framework of 2014-2020 EU financial perspective. Out of the figure, EUR 21 bn will come from national budget, the rest from EU funds.

1800 km of local and expressways will be constructed by 2023.
STRATEGIC PROJECTS
National Road Construction Program for the years 2014-2023 (with a perspective until 2025) - ensuring the completion of the most important routes of expressways and motorways as well as bypasses, as well as the implementation of investment measures to improve road safety.
National Traffic Management System - a unified, integrated teleinformation system that enables dynamic traffic management in the national road network and support of road infrastructure maintenance processes managed by the General Directorate of National Roads and Motorways through the use of advanced services of intelligent transport systems. The goal will also be integration with ITS systems implemented by other road managers, including in urban areas.
National Road Safety Program 2013-2020 - assuming increasing the level of road safety, reducing the number of accidents, halving the number of people killed on Polish roads, reducing the number of seriously injured by 40%, fighting excessive speed and improving the safety of pedestrians, cyclists and motorcyclists.
National Railway Program - ensuring connection of regional centers by 2023 with modernized railway lines, at least to the average speed of passenger trains 100 km/h, and implementation of the European Rail Traffic Management System (ERTMS) on the most important railway routes.
Multi-annual program - in the scope of financing the costs of rail infrastructure management, including its maintenance and repairs - contributing to the improvement of transport accessibility and communication cohesion of individual regions of the country.
Program for the development of Polish seaports until 2020 (with prospects until 2030) - the main objective of the program is to improve the competitiveness of Polish seaports and increase their participation in the socio-economic development of the country and raise the rank of seaports in the international transport network.
The development of the inland waterway sector - including the development of inland waterways in Poland, strengthening human capital for shipping, development of the fleet of Polish inland vessels and the wider economic and social use of unstable infrastructure in local development.
Construction of a waterway connecting the Vistula Lagoon with the Gulf of Gdańsk - providing access to the Port of Elbląg via a shipping channel through the Vistula Spit.
Development of intermodal transport - defining activities, including necessary investments in transport infrastructure, ensuring an increase in intermodal transport
When it comes to the performance of cargo transport with particular types of transport, in Poland the largest share is transport by road (83.3%) and rail transport (16.6%). Water and air transport are of marginal importance in this area (less than 0.1%).

Road infrastructure in Poland
Road infrastructure in Poland

Since Poland's accession to the EU, thanks to the use of funds under the cohesion policy, there has been a significant increase in the length of expressways and motorways in Poland - in 2003 there were 226 and 405 km respectively. In 2016, the road network in Poland numbered over 19,000 km of national roads, including 1631.7 km of highways and 1531.7 km of expressways. Mainly, thanks to the improvement of infrastructure quality, the number of fatalities in road accidents in Poland decreased from 7.3 thousand in 1990 to 2.9 thousand in 2015.
Thanks to the activities undertaken since the beginning of Poland's use of the Operational Program Infrastructure and Environment funds, drivers have at their disposal a fast-moving route with a total length of 3171 km, including 1637km of highways and 1534 km of expressways. As part of the Program for the development of local and poviat road infrastructure for the years 2016-2019, 850 tasks were carried out, as part of which powiats and municipal roads with a total length of 2055 km were built, developed and renovated.
Source: GDDKiA, 2017, Infrastructure and transport as a motor of the Polish economy, Kraków 23.10.2017

Poland's transportation infrastructure - main figures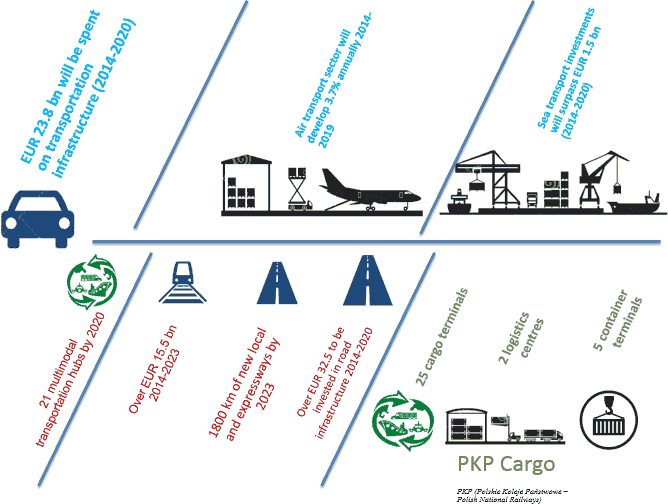 Cargo transit through Poland
Poland hosts cargo transit freight from Western and South Europe and Central and East European states (Estonia, Belarus, Latvia, Lithuania, Russia, Ukraine, Kazakhstan).
Several international routes runs through Poland, with a length of 5 thou. km:
Berlin - Legnica - Opole - Kraków - Rzeszów - Przemyśl - Lvov;
Berlin - Poznań - Warsaw - Moscow;
Białystok - Warsaw - Łódź - Wrocław - Prague;
Gdańsk - Toruń - Katowice - Cieszyn;
Gdańsk - Warsaw - Lublin - Lvov;

Cargo terminals in Poland

Railway infrastructure
At the end of 2017, PKP polish railway lines operated 18 513 km of railway lines.

Between 2011-2016 there were significant investments in railway infrastructure:
Main railway stations modernised: Łódź, Warszawa, Trójmiasto

Modern sets of traction locomotives started its operation including Pendolino, Pesa Dart, Pesa Flirt, Newag Impuls

PKP Cargo invested in modern locomotives Pesa Gama
Significant international railway routs running thorough Poland include:
E30: German border - Legnica - Wrocław - Katowice - Kraków - Ukraine border;
E20: German border - Poznań - Warsaw - Belarus border;
E65: Czech Rep. border - Katowice - Warsaw - Gdynia - Scandinavia;
In 2016-2023, it is planned to increase expenditure on the expansion and modernization of railway infrastructure to PLN 31 billion - of which PLN 22 billion will come from EU funds.

In addition, PKP PLK is pursuing a modernisation programme of the existing railway infrastructure, including the high-speed rail between main cities of up to 160 km/h for passenger trains, and 120 km/h for cargo trains.
By 2016, 421 km of railway tracks were reconstructed as part of the National Railway Program. In addition, as part of the implementation program completed new construction investments - 352 engineering structures (viaducts, bridges, culverts) and 109 platforms. 59 projects have been completed from among 71 EU projects. In 2016, five train stations were made available to travelers (Jarosław, Wieliczka, Puławy Miasto, Poznań Zachodnia, Grodzisk Mazowiecki).
In 2017, PKP PLK carried out further modernization works. PKP PLK in 2017 signed contracts for over PLN 18.5 billion, and it performed work for PLN 5 billion. Modernization works in 2017 include not only almost 600 turnouts, but also the modernization or construction of 95 platforms and 460 engineering structures. Most of the funds were obtained from EU funds.

Rail cargo terminals:
PKP Cargo is the second-biggest cargo logistics company in the EU, having at its disposal:
Most recent intermodal investment by PKP CARGO - that is Poznań-Franowo - located at the crossroads of strategic communication corridors. The terminal is the largest cargo station in Greater Poland (Wielkopolska). Estimate transhipment capacity of the terminal equals to 60 thou. TEU (twenty-foot equivalent unit).
Each terminal has a convenient connection with road transport, which derives from its location in vicinity of E-30 pan-European corridor.
Worth mentioning, the CLIP - intermodal terminal in Swarzędz (near Poznań), located near E-30 route - Rotterdam, Antwerp, Warsaw, Moscow, Bejing.

Railway infrastructure in Poland
Transportation of goods by rail
The data from the Office of Rail Transport shows that the total mass of goods transported in 2017 was 17.6 million tons higher than in 2016 (an increase of 7.9% y/y). The increase took place in all segments of transported loads, with the exception of solid fuels.
The weight of transported loads in intermodal transport in 2017 increased by almost 15% (1.9 million tonnes) and amounted to 14.7 million tonnes.
Source: railway transport office report

Sea transport

There are 3 main sea cargo terminals:

Port of Szczecin - Świnoujście - an important item in the offer of both ports is the handling of general cargoes reloaded using the conventional method, also in containers and in the ro-ro system. The port infrastructure, both in Szczecin and Świnoujście, allows you to service containers and other cargo units. The terminal's annual throughput capacity is 200.000 TEU.
As regards the shipping offer, Szczecin offers regular shipping connections to the Scandinavian countries, Great Britain, Ireland and Russia as well as container connections to the largest base ports - Hamburg, Bremenhaven and Rotterdam. In turn, Świnoujście offers 10 departures daily ferries to Sweden (Ystad and Trelleborg) and regular shipping connections to Norway.

Port of Gdynia - reloaded in 2017 a record 21.2 million tons of cargo, almost 9% more than a year earlier, it is a modern universal port specializing in general cargo handling, mainly unitized, transported in containers and ro-ro system, based on a developed network of multimodal connections with facilities, regular short-sea shipping lines and ferry connections (terminal Ferry). The Gdynia port is an important link in the 6th Corridor of the TEN-T Trans-European Transport Network.
DCT Gdansk port - annual capacity of the terminal: 3,000,000 TEU, storage area: 55,000 TEU, Annual capacity of the railway siding: 780,000 TEU. In 2013, the container terminal reloaded over 1,150,000 TEU. This record result permanently inscribed DCT on the map of the most important container terminals in the world and in 2013 it secured the position of the largest container terminal in the Baltic Sea in terms of reloading.

Reloading in Polish seaports increased from January to October 2017 to 63 million tons, about 4.3% compared to the same period last year. The volume of liquid bulk cargoes increased significantly - by 25.9 % (due to a slight increase last year), including crude oil handling - by 20.8% (after a drop last year). The weight of container reloading increased by 23.2% , rolling loads - by 11.2%, and other general cargo - by 3.2%.
Source: Central Statistical Office, 2017


Air transport

In Poland, there are a number of international airports, that are also perceived as important cargo logistics hubs, out of which the largest include: Warsaw Chopin Airport, Katowice and Gdansk.
Warsaw Cargo Terminal at Okęcie is one of the largest in CEE.
A new cargo terminal operated by DHL Express was opened in 2017 at Warsaw Chopin Airport.
According to the PwC analysis, in 2017 there was a large increase in the number of passengers served by Polish airports - by about 18% y / y (to about 40 million passengers.) This was the second highest increase in the world. about 12%, that is, that Polish airports will send around 45 million passengers.
Direct flights from Poland
| | |
| --- | --- |
| Warsaw | Alicante, Amsterdam, Athens, Babimost, Barcelona, Beauvais/Tillé, Beirut, Belgrade, Bergamo, Bergen, Berlin, Bratislava, Brussels, Brussels, Bucharest, Budapest, Burgas, Casablanca, Chicago, Cologne, Copenhagen, Cork, Doncaster, Dortmund, Dublin, Dubrovnik, Düsseldorf, Eindhoven, Forlì (FC), Frankfurt am Main, Gdańsk, Geneva, Glasgow, Goleniow, Gothenburg, Hamburg, Helsinki, Istanbul, Kaliningrad, Katowice, Kiev, Kraków, Larnarca, Lisbon, Liverpool, London, London, Lviv, Madrid, Málaga, Malmö, Milan, Minsk, Moscow, Munich, New York, Newark, Nice, Odessa, Oslo, Palma De Mallorca, Paris, Poznań, Prague, Reykjavík, Riga, Rome, Rzeszów, Sofia, Split, St. Petersburg, Stavanger, Stockholm, Tallinn, Tel Aviv, Toronto, Torp, Treviso, Varna, Vienna, Vilnius, Wrocław, Yerevan, Zurich |
| Gdańsk | Aalesund, Amsterdam, Bergen, Bristol, Copenhagen, Doncaster, Dortmund, Dublin, Frankfurt, Gothenburg, Hamburg, Haugesund, Krakow, Liverpool, London, Lviv, Malmo, Manchester, Munich, Newcastle, Oslo, Pisa, Sandefjord, Stavanger, Stockholm, Tel Aviv-Yafo, Turku, Warsaw |
| Wrocław | Belfast, Chania, Copenhagen, Doncaster, Dublin, Dusseldorf, Eindhoven, Frankfurt, Glasgow, Gothenburg, Kiev, Leicestershire, London, Malaga, Manchester, Milan, Munich, Naples, Reykjavik, Sandefjord, Shannon, Stuttgart, Tel Aviv-Yafo, Warsaw, Zurich |
| Kraków | Alicante, Amsterdam, Basel, Switzerland/Mulhouse, Berlin, Birmingham, Bournemouth, Bristol, Brussels, Copenhagen, Dublin, Dusseldorf, Edinburgh, Eindhoven, Frankfurt, Gdansk, Girona, Helsinki, Kiev/Kyiv, Leicestershire, Liverpool, London, Manchester, Marrakech, Milan, Munich, Newcastle, Nuremberg, Oslo, Paris, Pescara, Pisa, Prague, Rome, Sandefjord, Stockholm, Stuttgart, Vienna, Warsaw, Zurich |
| Katowice | Barcelona, Bergen, Birmingham, Doncaster, Dortmund, Edinburgh, Eindhoven, Frankfurt, Hamburg, Larnaca, London, Lviv, Malmo, Malta, Munich, Sandefjord, Stockholm, Tenerife, Warsaw |
| Poznań | Athens, Copenhagen, Doncaster, Dublin, Edinburgh, Frankfurt, Kerkyra, Kiev, London, Lviv, Malmo, Malta, Munich, Reykjavik, Sandefjord, Stockholm, Warsaw |
| Rzeszów | Bristol, London, Munich, Warsaw |
| Łódź | Dublin, London, Munich, Oslo |
| Szczecin | Dublin, London, Oslo, Warsaw |
| Bydgoszcz | Dublin, Dusseldorf, Frankfurt, Glasgow, London, Lviv |
| Lublin | Doncaster, Kiev, London, Milan, Munich, Sandefjord |
Date of update: April 2018, source: ourairports.com
Airports in Poland: