Territory
Poland is located to the North of the central European area on the Baltic Sea. Our country is one of the largest in Europe according to its territory. Poland is in the central European time zone (GMT -1). Poland is 312,679 km2 in size; placing it in eighth place in Europe (disregarding the European territory of Russia).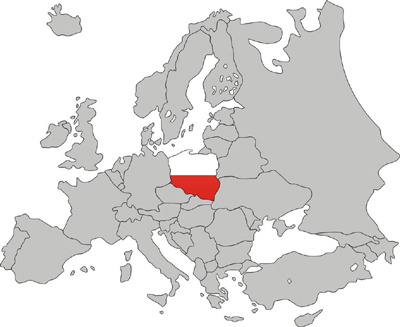 The area of Poland compared to other European states (without Russia)
Position

European Country

Area (km2)

Position
(worldwide)

1

The Ukraine

603,700

43

2

France

543,958

47

3

Spain

505,992

50

4

Sweden

446,964

54

5

Germany

357,022

61

6

Finland

338,145

63

7

Norway

323,877

66

8

Poland

312,679

67

9

Italy

301,268

69

10

Great Britain

244,100

76
Poland's western border is with Germany; the south-western border's with the Czech Republic and to the south it's Slovakia, to the North is the Baltic Sea and the Russian border (the Kaliningrad enclave); to the north-east is the short Lithuanian border and east lie the borders of Belarus and the Ukraine.

The country's total length of borders is 3,504 kilometres. The Russian Kaliningrad enclave border is 210 km, the border with Belarus 418 km and the Ukrainian border is 535 km, all of which form the EU's external border which jointly totals 1,163 kilometres. Poland's border with Lithuania is 210 km, Germany's is 467 km, Slovakia's is 541 km and with the Czech Rep. it's 790 km – all these form internal EU borders and total 1,902 kilometres.

To the north Poland has a coastline of 520 km on the Baltic Sea, the southern border is formed by the Karpaty and Sudety mountains. The eastern border is formed by the river Bug and that of the west, by the Odra and Nysa Łużycka rivers.

The distance between the northern and southern borders is 649 km and between the western and eastern borders it's 689 km. The country's land surface area is 312,685 km2, whilst the territorial waters cover 8.7 thou. km2 and the area of the Szczeciń and Vistula estuaries cover 1.2 thou. km2.

The Polish climate is moderate continental, with a cold winter and very hot summer. The colliding air from the sea-polar and continental-polar weather fronts, causes frequent climate changes and significant fluctuation in the duration of the seasons.