Labour market

Labour costs
Labour costs are one of the most important factors determining investment attractiveness of a country. In 2016, the average hourly labour costs were estimated at EUR 25.4 in the EU-28. However, this average masks significant gaps between EU member states, with hourly labour costs ranging between EUR 4.40 (Bulgaria) and EUR 42.0 (Denmark). In Poland, it amounted to EUR 8.6.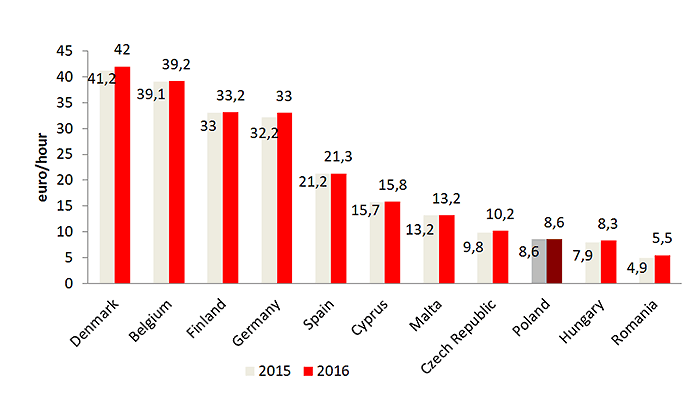 In 2016, the highest hourly labour costs among the CEE countries were registered in Estonia (EUR 10.9), Slovakia (EUR 10.4) and the Czech Republic (EUR 10.2). The chart below represents the hourly labour costs among the CEE countries.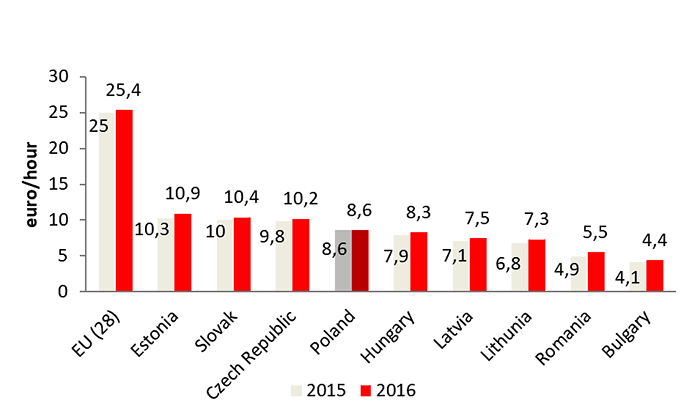 Minimum wage
For day 1 January 2018 the minimum wage ranged from EUR 260.76 (Bulgaria) to EUR 1998.59 (Luxembourg). In January 2018 Poland reached the highest face value of the minimum wage among Central and Eastern European countries - EUR 502.75. Among the remaining countries of Central and Eastern Europe, the highest minimum wage rate was reached in Estonia - EUR 500, and the lowest in Bulgaria - EUR 260.76.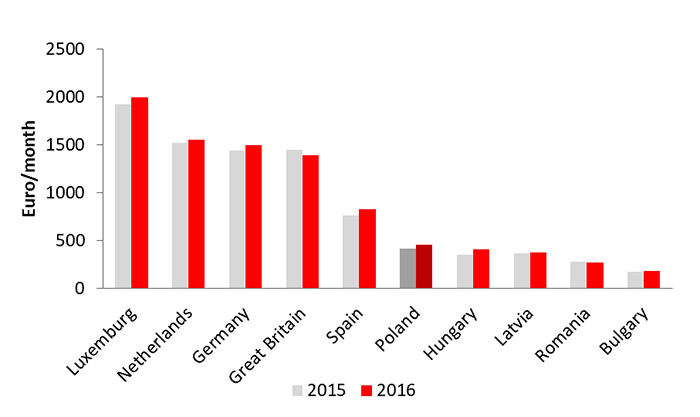 Unemployment rate
In 2017, the average unemployment rate among EU countries amounted to 7.6%. The highest unemployment rates were recorded in Greece - 21.5%, Spain - 17.2% and Croatia - 11.1%. The lowest, in the Czech Republic - 2.9%, in Germany - 3.8% and Malta - 4.0%. Among the countries of Central and Eastern Europe in the same period, the Czech Republic recorded the lowest value - 2.9% and the highest - Lithuania - 8.7%. The unemployment rate in Poland was 4.9% in 2017.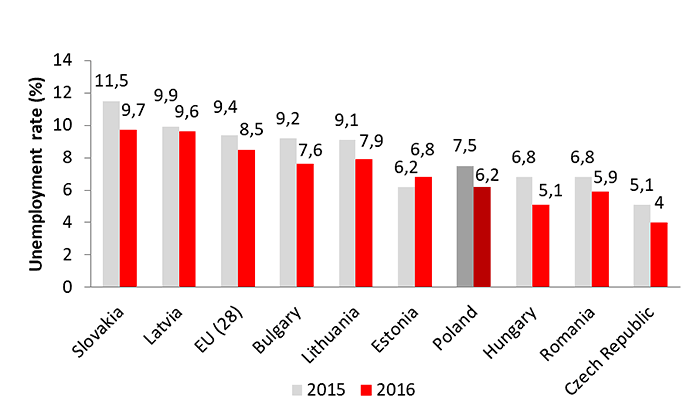 Average gross wage in Poland
In 2018, the national minimum wage in Poland remained fixed at 502.8 euro per month, that is 6,034 euros per year, taking into account 12 payments per year.

If we look at the minimum salary in Polish zlotys, which is the official currency in Poland, we can see that in 2018, it was 2,100 Polish zlotys and accordingly, the national minimum wage has been raised 100 Polish zlotys per month from the previous year, (5%). If we look at the ranking of the national minimum wage, Poland is in 26 nd place of the 96 of the list.