The economy
Poland was one of the fastest-growing economies worldwide pre-crisis and has been the fastest-growing economy in post-crisis Europe.
The last 26 years have showed a huge potential in Polish economy:


its GDP doubled in size (measured in real times)

GDP per capita (at PPP) has moved from 32% to ca 70% of the EU avarage


Strong macroeconomic foundations, stable domestic demand and agile fiscal policy made Poland the only European Union country to avoid recession in times of financial crisis, growing by an outstanding 25% between 2008-2015, with an annual dynamics of 3.6%.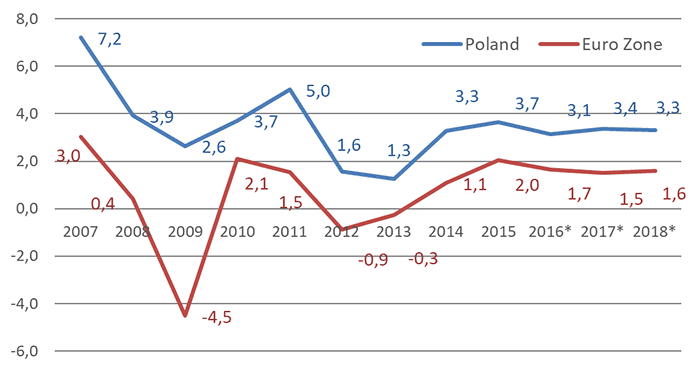 Source: GUS, 2017, Eurostat data for 2016, * forecast


Today Poland is the eight-largest economy in the EU in real GDP terms, with buoyant private sector, internationally competitive export-oriented companies, as well as well-educated and skilled human capital
It is clear that Poland has been perceived as the new Europe's growth engine and natural leader of Central Eastern Europe (CEE)

Poland's growth has been based primarily on 5 pillars:
dynamic exports,

strong internal demand,

productivity improvements,

inflow of foreign direct investment (FDI),

and inflow of EU funds.
Internationalization of economy - calendar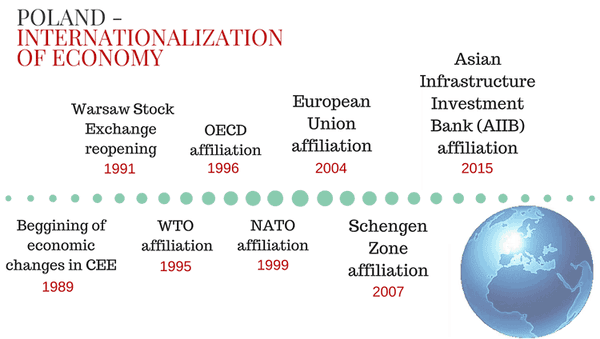 Trade
Along splendid economic growth pace, Poland has been increasingly competitive abroad, as seen in ever-growing exports figures.
Poland, for the first time in its history, has noticed a positive trade balance (EUR 3.7 bn) in 2015 and the tendency continued in 2016 and 2017.
Exports have increased by astonishing 150.3% over the last decade, making Poland the new EU's exporting engine.

Almost 2/3 of Poland's export value is generated by companies with foreign capital.
Poland's traditional trade partners are located in the EU (80% of exports share), but there has been also a gradual increase in trade cooperation with emerging and developing economies. The volume of exports in the third quarter of 2017 was higher with the EU countries by 5.0%, with the countries of Central and Eastern Europe by 18.8% and with developing countries by 1.5%.
Germany is traditionally Poland's number one trade partner with 27.4% of share in exports, and 23 % share in imports.


Trade balance between 2005-2015
Imports in 2016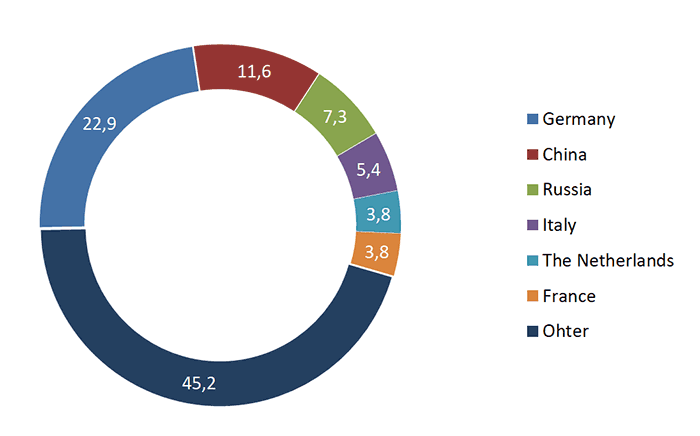 Source: GUS, 2017
Exports in 2016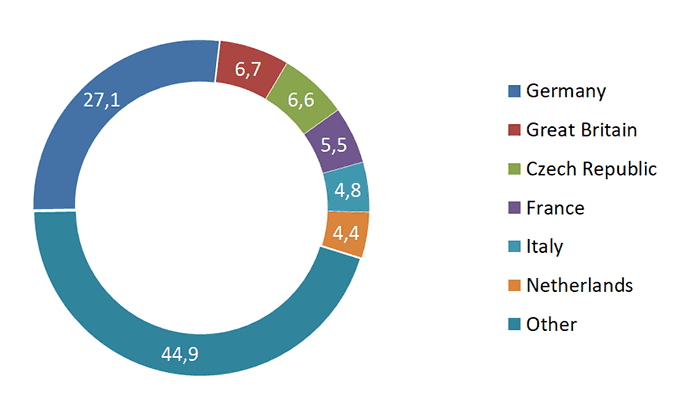 Source: GUS, 2017
Additional information:
Last update: April 2018