Visa Inc. (NYSE: V) is the world's leader in digital payments. Our mission is to connect the world through the most innovative, reliable and secure payment network - enabling individuals, businesses and economies to thrive. Our advanced global processing network, VisaNet, provides secure and reliable payments around the world, and is capable of handling more than 65,000 transaction messages a second. The company's relentless focus on innovation is a catalyst for the rapid growth of digital commerce on any device for everyone, everywhere. As the world moves from analog to digital, Visa is applying our brand, products, people, network and scale to reshape the future of commerce. For more information, visit About Visa, visa.com/blog and @VisaNews.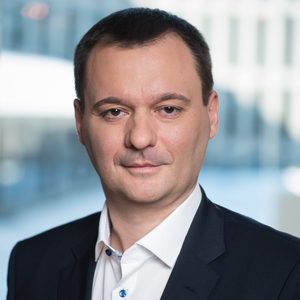 At Visa, he is in charge of the operations of Innovation Incubator in Warsaw, which, in cooperation with many market participants (banks, acquirers, public administration agencies, startup community, fintech companies), is developing market-wide solutions supporting digitialisation of the Polish economy.

His previous responsibilities included Polish launches of contactless and mobile payments, and also of tokenisation, in cooperation with banks, mobile operators and technology partners.

Maciej has been dealing with the card market for more than 15 years, initially from an acquirer's perspective, at eService, where he was head of technology and new launches, overseeing product development and technology support for company operations. He carried out an array of projects modernising internal processes and opening up new business areas.

Before that, Maciej was involved in the designing and commercialisation of new services, including co-founding a startup offering Europe's first GSM-based positioning service.

Graduate of Warsaw's Military Academy of Technology (WAT) in Cybernetics.